Introduction
Total S.A. (NYSE:TOT) is a French multinational integrated oil and gas company. The company is one of six supermajor oil companies in the world with a $113 billion dollar market cap or roughly two-thirds that of Chevron (NYSE:CVX). At the same time, the company yields almost 6%, 5.95% to be exact as of its close for the last day of March 2016.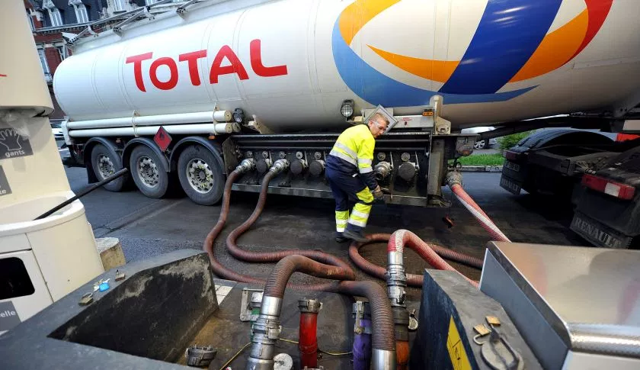 Click to enlarge
Total S.A. Refueling Truck - Fortune Dot Com
From the standpoint of oil majors, Total S.A. has had a less difficult time than most. While the company's stock price has dropped from a peak of over $72 in 2014 to recent lows of just under $40, the company experienced an impressive run up in 2014 and its current share price of just over $45 is in line with the company's stock price throughout the lower portions of 2013.
Performance
To start, let us talk about one of the factors that have been supporting Total S.A.'s stock price, its resilient performance.

Click to enlarge
Total S.A. Safety Performance - Total S.A. Investor Presentation
Total S.A. has had an impressive performance for the year with injuries dropping across the board. The total recordable injury rate has been dropping from a spike of over 2 in 2010 down to just over 1 in the current year. At the same time, the company's operational performance has been increasing as safety performance has been decreasing. This increase in utilization has been minimizing the company's costs while increasing its income.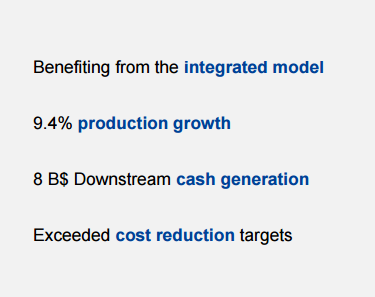 Total S.A. Integrated Model - Total S.A. Investor Presentation
At the same time, Total S.A. has been benefiting from an integrated model that has seen it produce $8 billion of downstream cash generation and increasing production growth by 9.4%. The company has been exceeding its cash reduction targets, which while respectable, is not surprising given how fast prices for exploration have dropped.
Commodity Prices
Now that we have talked about the company's recent results, let us spend some time talking about the commodity prices crash and what has happened.

Click to enlarge
Commodity Price Drop - Total S.A. Investor Presentation
The above graphic shows how crude oil and natural gas prices have fared in the past decade. Henry Hub natural gas prices experienced two peaks, one in 2007 at over $10 / Mbtu and another smaller one in 2014 at $4 / Mbtu. From both instances, natural gas prices are currently noticeably lower than they were a year ago. Similarly, oil prices experienced peaks in both 2014 and 2007 of more than $100 per barrel before dropping down to recent lows of less than $30.
And currently, in most investor presentations from these oil majors, you'll see them increasingly focused on a single sector of profits, downstream profits. That is because most of these oil majors are losing massive amounts of money from the upstream sector, and find the need to highlight downstream profits. Still, most of these companies have upstream prices noticeably above downstream prices and are still having negative earnings.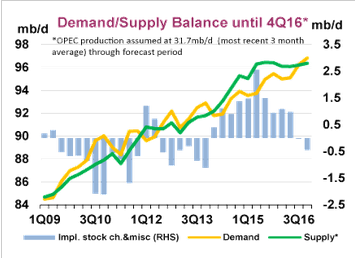 Oil Demand and Supply Balance - Seeking AlphaClick to enlarge
Looking at the oil demand and supply balance, we see that the supply and demand balance isn't expected to come into balance until late 2016. The original oil crash was caused by an oversupply in late 2013 and it took approximately a year until prices began crashing down. Approximately 6-8 months from the start of the crash, prices hit what could be considered the first real bottom.
From that picture, we should expect prices to begin recovering sometime in mid-2018 or another dismal two years for the oil majors. While a grim picture, for a long-term investor in Total S.A., the investor should be able to comfortably expect continued growth and dividend as two years is a short timeframe in the lifetime of an oil major.
Total S.A. Cash Flow and Capex
Now that we have talked about Total S.A.'s performance, as well as the overall oil market and when we can expect a recovery, it is time to talk about Total S.A.'s cash flow and capex.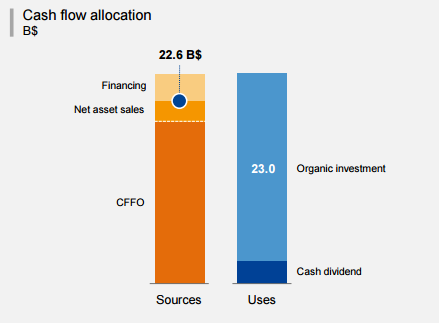 Total S.A. Cash Flow Allocation - Total S.A. Investor Presentation
Since the start of the oil crash, Total S.A. has put itself in the ring with the more elite oil majors by maintaining positive cash flow allocation. The company's 2015 cash flow was a respectable $22.6 billion of which the majority was generated organically. While the company has to sell assets and use financing, it continued to remain strong paying out its easily covered dividend and organically investing $23.0 billion, an impressive amount for a company worth just over $100 billion.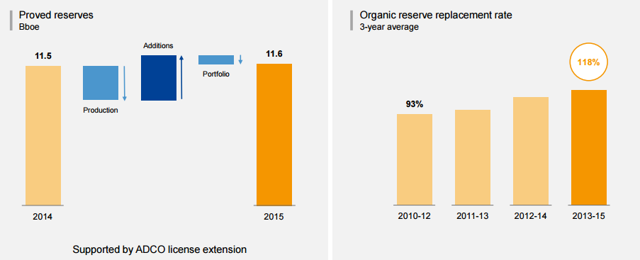 Click to enlarge
Total S.A. Reserves - Total S.A. Investor Presentation
And this continued investment in its business paid off in a big way. Total S.A. beat ExxonMobil (NYSE:XOM) by managing to increase its reserves by 7% for a 107% reserve replacement ratio, a feat not even accomplished by ExxonMobil. At the same time, these continued profits allowed the company's net debt to equity ratio to decrease from 31% to 28%. While other companies such as Chevron have been rapidly increasing their debt pile, Total S.A. has decreased its debt pile.
2016 Outlook
With the company's impressive 2015 results, the company continues to have strong plans for 2016.

Click to enlarge
Total S.A. 2016 Spending Plan - Total S.A. Investor Presentation
The company plans to continue decreasing Capex in the coming years while decreasing spending. The company's 2016 Organic Capex is $19 billion and from 2017 onwards, the company's Organic Capex is $17 - $19 billion. The majority of this 2016 organic Capex is the development of valuable upstream assets. The company is focused on assets that have a higher rate of return hoping to develop them for increased long-term profits.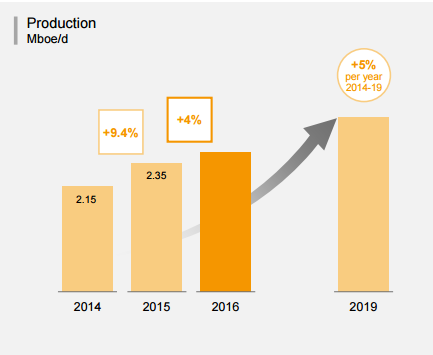 Total S.A. Production Growth - Total S.A. Investor Presentation
More so, as the result of impressive new project start ups, the company expects to continue increasing production by 5% per year from 2014 - 2019 which should result in a total production increase of almost 30%. With the company's Capex decreasing and its costs coming down the company should be able to reach a point in the next year or two where it can manage its Capex and dividend without asset sales of financial offerings.
At the same time, the company's retail network for retail gasoline and lubricants is expected to continue growing by almost 10% per year and currently contributes more than $2 billion of cash flow. This growth will bring the company hundreds of millions of additional cash flow which should minimize its costs.
Conclusion
Total S.A. has had a difficult time recently watching its stock price take a big hit. However, since the start of this crash, the company has put itself in the running for the best oil majors managing to decrease its debt, increase its production, and increase its reserves. The company has done this while spending 20% of its entire market cap annually on Capex growth.
Many lament the death of the oil business as a result of the growth of renewables. And while that is likely true a hundred years from now, there is no denying that oil remains one of the few high dividend high growth industries that continues generating its investors massive profits. As a result, I recommend investors use the price drop from the crash to open or increase their long-term position in Total S.A.
Disclosure: I am/we are long XOM, TOT, CVX.
I wrote this article myself, and it expresses my own opinions. I am not receiving compensation for it (other than from Seeking Alpha). I have no business relationship with any company whose stock is mentioned in this article.