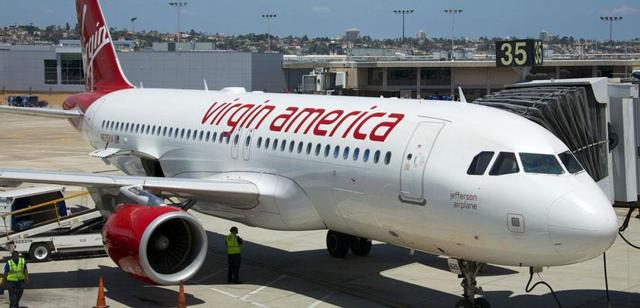 Click to enlarge
Img 1: A Virgin America Aircraft
In a surprise report, the Wall Street Journal is reporting that Alaska Air (NYSE:ALK) has topped rival JetBlue's (NASDAQ:JBLU) bid for Virgin America (NASDAQ:VA) and is close to a deal to acquire Virgin America for close to $2 billion. It was reported that JetBlue executives were already planning to fly to San Francisco on Monday to announce the deal; however, Alaska has upped the bid and swept the deal away for the time being.
Alaska-Virgin America Deal
There are less obvious benefits in an Alaska-Virgin America deal compared to a JetBlue - Virgin America deal. Alaska will acquire a hub at San Francisco airport and become the number two player there, along with a stronger presence in Los Angeles, some transcontinental LA/SF-NY flights, and a few gates and slots at Dallas Love Field. One benefit for Alaska will be from this diversification to new hubs outside Seattle as Delta Air Lines continues to aggressively build up Seattle, hurting Alaska Air. The Dallas slots may be an issue in any deal as the operation of these by Virgin America was causing pain for America Airlines, a close Alaska Air partner who may not be happy to see Alaska Air competing head to head with them in Dallas. The aircraft that Virgin America own are largely not included in the deal since the vast majority of these other than 8 are all leased, so Alaska would simply be taking on the leases.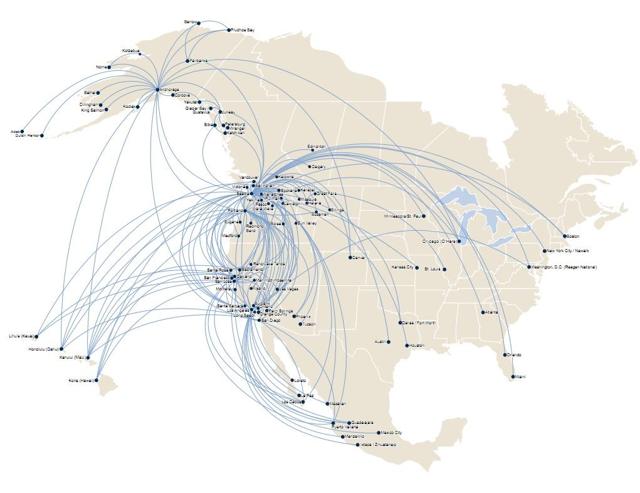 Click to enlarge
Img 2: Alaska Air Route Network
The benefits for JetBlue were much more obvious as the airline has a token presence on the West Coast as opposed to Alaska Air, which is already much stronger, as I explained in my article here. For an airline that is already strong on the West Coast, it seems that Alaska could organically grow itself in all the markets Virgin America has a presence for a fraction of the price of this acquisition and without all the complexities. This deal however is more likely about keeping JetBlue out of the West Coast and Alaska Air territory than it is about Virgin America. Alaska will bring into its fleet a new aircraft type, the Airbus A320 in such a deal, which will add complexity and drive costs up. Alaska could replace the A320 fleet since the vast majority of these aircraft are not owned but that will be at an additional cost in addition to the merger. While other airlines may use the opportunity to bring onboard a second fleet type, it seems that Alaska, which has its largest hub in Seattle, the home of Boeing and notes "proudly all Boeing" on the side of every aircraft, would probably end up replacing the A320 fleet with 737's especially considering the aircraft are mostly leased not owned.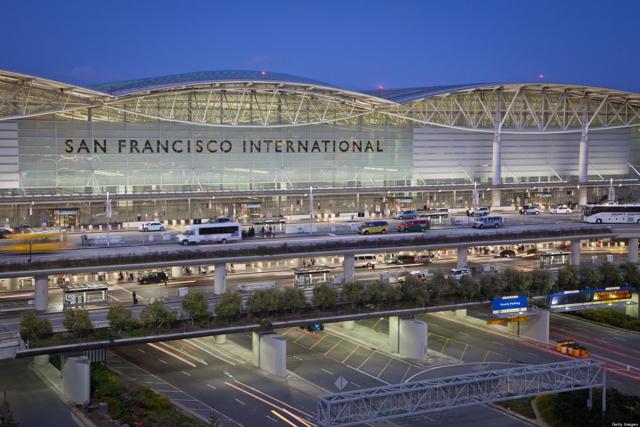 Click to enlarge
Img 3: San Francisco Airport, Virgin America's largest base
Despite the issues at the hubs of Los Angeles and San Francisco, Virgin America's largest hubs, the route networks of Alaska Air and Virgin America will be largely complementary to each other. Alaska will see its market share grow from 5% to 11% in the Los Angeles market and 4% to 15% at San Francisco, making it a strong West Coast player. Overall Alaska in such a deal would grow its U.S overall market share from 5% to 6.5%, leapfrogging JetBlue, which has a 6% share. This larger scale on the West Coast will be beneficial for Alaska in partnering with additional international airlines and connecting the Alaska/Virgin America network to their flights in Los Angeles, San Francisco and Seattle. Alaska will also be able to win further corporate contracts due to its increased size but will still suffer from lack of an East Coast presence as JetBlue does today with its strong East Coast and weak West Coast presence.
Financial
| | | |
| --- | --- | --- |
| | Alaska Air (mainline) | Virgin America |
| Pre Tax Margin | 24% | 5.2% |
| Yield | 12.48 cents | 12.78 cents |
| PRASM | 10.34 cents | 10.36 cents |
| RASM | 12.28 cents | 11.66 cents |
| CASM Ex Fuel, Special | 7.54 cents | 7.49 cents |
| Aircraft Utilization | 10.7 hours | 11 hours |
Table 1: Q4 2015 Operating Results
Alaska Air has an excellent operation from a financial standpoint. It should be able to combine its lean operation with the Virgin America operation to enhance the financial performance of the combined entity.
| | | |
| --- | --- | --- |
| | Alaska Air (mainline) | Virgin America |
| Margin | 25.8% | 11.6% |
| Profit | $1.206 billion | $177.2 million |
Table 2: Full year 2015 results
Virgin America had a strong 2015 primarily due to low fuel costs. For 2014 the airline made $96.4 million so I believe the long term trend should be somewhere between the two. Taking a quick look at the median of these two earnings results gives us $136.8 million and a 9% margin. If Alaska pays $2 billion for Virgin America, this would translate to a purchase price of 14.6x Earnings. If over the long term Alaska could bring Virgin America up to its average mainline margin between 2014 and 2015 that was 22.2%, that would lead to a profit of $336 million for Virgin America annually, and in this case Alaska Air would be getting Virgin America for a mere 5.95x Earnings. Despite the issues that an Alaska Air-Virgin America deal not making as much sense as a Jetblue one, the numbers do add up nicely.
Virgin America was leasing roughly 47 aircraft throughout 2015 for roughly $3.9 million per aircraft. Alaska on the other hand owns most of the aircraft it operates and would likely want to replace the A320 aircraft with Boeing 737 aircraft as I noted above. The list price of a Boeing 737-800 is currently $96 million, with 50% discounts common. Such a deal would then cost $46 million per airframe, or $3.83 million per year under a standard 12 year operating lease at most. Alaska would likely be able to negotiate a larger discount with Boeing as it could threaten to keep the Airbus aircraft and transition from a previously all Boeing airline to a mixed Boeing-Airbus airline. With the greater financial resources that Alaska Air has, it would likely be able to buy many of these aircraft outright rather than leasing which would lead to a situation where after paying $3.83 million per month for 12 years, it would own the aircraft at the end rather than the current situation with Virgin America where it has nothing at the end of 12 years. This combined with the eventual residual value where the aircraft can be sold say 20 years later leads to a superior operation from a financial standpoint. Ultra low cost airline leader Spirit Airlines has tried to transition to a heavily owned fleet due to the cost savings noted above.
Risks
The major risks for this deal are likely to be the merger execution at Alaska Air. The airline has had no experience since the 1980's with executing a merger and likely did not anticipate this acquisition until just over a week ago when the Virgin America reached out to solicit offers from airlines. One only needs to look at the difficulties both Southwest and United Airlines had in executing their recent mergers, and there were more similarities between the two airlines than between Alaska and Virgin America. Such difficulties could push full integration of the two airlines much further down the road than anticipated, delaying any benefits for Alaska Air.
Antitrust Concerns
Antitrust concerns are likely to have no effect on a merger, whether between Alaska Air and Virgin America or JetBlue and Virgin America. As noted above, the deal would result in a 1.5% additional nationwide market share for Alaska Air. The Wall Street Journal also reports that such a deal would involve zero routes that do not have at least a third competitor on them. There may be some concern over things such as the Dallas gates, or Washington DC slots, but at most Alaska would be required to give up some of these slots or gates.
Alternatives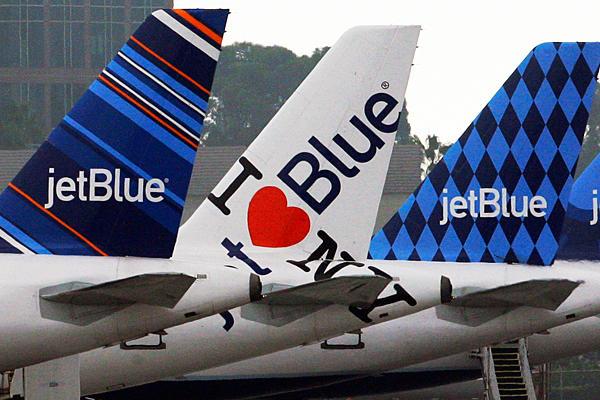 It is possible in the meantime that JetBlue could up its bid and take the deal away from Alaska Air. It is also possible that a third party could do the same, or JetBlue and a third party working together could up the bid to win the deal over from Alaska Air. At this stage many things can still happen, but for now it looks like Alaska Air is the frontrunner to acquire Virgin America.
Conclusion
In conclusion, if such a deal does go through on Monday, Virgin America shares will rally and the upside for the stock will likely be very limited beyond that point unless a bidding war occurs. If a deal with Alaska Air and Virgin America does go through, I would recommend going long Alaska Air. Airline stocks have historically performed very well post merger and this acquisition is likely to be no different. At the surface it looks like Alaska is paying a high price for Virgin America but once it can use its expertise to optimize the operation from a financial standpoint, it looks like Alaska could be getting an excellent deal.
Disclosure: I am/we are long VA, JBLU.
I wrote this article myself, and it expresses my own opinions. I am not receiving compensation for it (other than from Seeking Alpha). I have no business relationship with any company whose stock is mentioned in this article.