In this series of articles I will focus on companies that I either own or would like to own in my buy & hold portfolio. The basic idea is to focus on companies that will not only survive but thrive over the long term, rewarding their owners with both capital appreciation and, in most cases, an ever increasing stream of dividends. We will be taking a look at some of the numbers but mainly these articles are about the reasons behind the success of the company. In this particular article I will be focusing on Trina Solar (NYSE:TSL), a major player in the field of solar energy.
Photovoltaics And Trina
Photovoltaics (abbreviated as PV) is one of the fastest growing methods of energy generation. As you can see from the chart below, from 2003 to 2013 the growth of PV capacity averaged 49% per year. Total number of cumulative installations at the end of 2014 and 2015 were 177GW and 236 GW respectively. This growth is projected to continue by the International Energy Association who estimate that by 2050 cumulative installed PV capacity could reach 3,000 GW, which would account for an estimated 11% of global electricity generation. (source)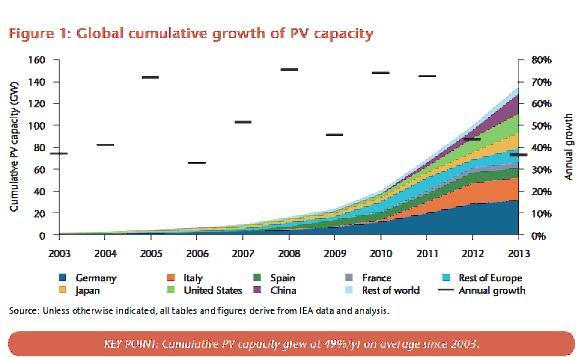 (source - page 11)
As you can see from the chart below, Trina has been able to translate this recent demand into continuously increasing revenue and EPS.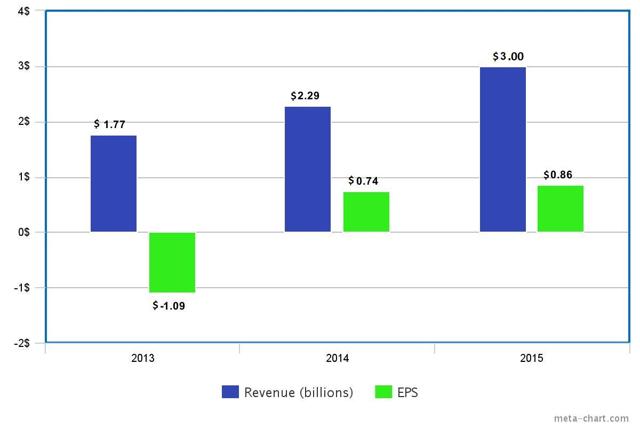 Click to enlarge
Trina has been aggressively growing their production capacity during the past few years while also shifting their focus more towards countries outside of China. While China continues to be their biggest market, significant progress was made in geographically diversifying their production during 2015 by signing agreements for a manufacturing plant in India as well as constructing a manufacturing plant in Thailand. In fact just earlier this week, on the 28th of March, Trina reported that they have launched operations at their Thailand facility. Currently Trina Solar is the number one PV module manufacturer in the world in terms of capacity.
The point of diversifying their manufacturing facilities outside of China is twofold. While these facilities will provide PV modules for use within their respective countries, the long-term objective of Trina is to also use these facilities to overcome duties and trade-restrictions which western countries (mainly the USA) have placed against PV modules manufactured in China.
What the future holds
Growth in this industry is certain. Trina has shown consistently that it can take advantage of these situations and coupled with their increased and more geographically diverse manufacturing capacity this time should be no different.
Trina is also involved in the downstream business both through built-to-own and built-to-sell power plants. Built-to-own is still somewhat of a limited source of profits for Trina but in the long term it could become a factor that would stabilise their revenue and earnings, though this would of course require the company to keep the majority of their plants instead of selling them upon completion. Revenue generated by selling electricity from built-to-own plants is recognized under "Service Revenue" which amounted to $2.3 million in 2012, $4.9 million in 2013, $5.1 million in 2014. It should be noted that in Q4 2015 the company decided to sell parts of their Chinese downstream projects which were originally designed to be held by the company.
Risks
Trina is actually one of the most, if not the most, risky stocks I will cover in this series of articles. The PV industry is highly competitive and companies are heavily relying on their capability to produce cheaper and more efficient products than their competitors. There is also a concern of possible oversupply, which we already witnessed in 2012. We must also take into consideration political risks in the form of new duties and trade-restrictions against Chinese manufacturers or in the form of declining government subsidies for solar energy.
Conclusion
Solar energy is growing and it's growing fast. While there are certainly a lot of risks involved, I strongly feel that solar energy in general will continue expanding both in the form of large power plants as well as individual installations. Competition is tough but Trina has some noticeable advantages such as its large size, geographically diversified production, as well as a relatively strong financial position compared to its peers.
While certainly risky, there is huge potential upside in the long term and the current valuation of P/E 11.5 is certainly not a big price to pay for that potential upside.
Disclosure: I am/we are long TSL.
I wrote this article myself, and it expresses my own opinions. I am not receiving compensation for it (other than from Seeking Alpha). I have no business relationship with any company whose stock is mentioned in this article.