Most of the trades that I have in my portfolio are spread trades. I started to switch from going outright long to an almost flat portfolio in 2014 when growth started to slow. I haven't regreted it since then. Mostly because a huge part of my and my clients portfolio are independent of the 'market'.
In this article I want to discuss a trade that is profitable if Michael Kors KORS keeps underperforming retail stocks.
The chart below shows the most important graph of this article. The upper part of the graph shows the ISM index and the performance of the apparel, leather & allied products industry. The performance is displayed by a six months average (6 per. Zw. Gem. (Apparel, Leather & Allied Products)).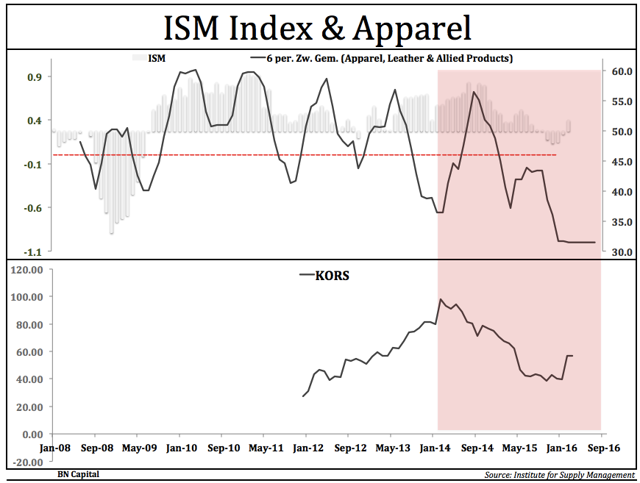 Click to enlarge
Apparel had strong growth until 2014 when the contraction started. Moreover, apparel has been the biggest contractor in the ISM index, hence the horizontal line at -1.
Michael Kors' stock peaked when contraction started, which was at the beginning of 2014. Months before the ISM index started peaking.
Retail sales show the same picture. After 2014 the industry entered a low growth zone.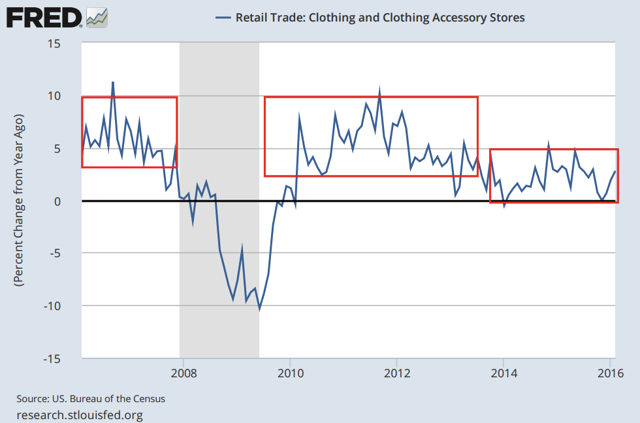 Click to enlarge
Although Kors' revenues are growing (a little slower), we see some contraction when it comes to Kors' bottom line.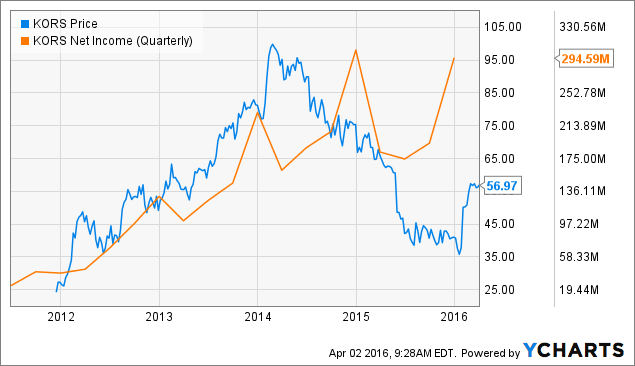 Kors is currently worth roughly 7.5 billion USD and trading at 22 times earnings which is 5 points below the industry average. Growth expectations are listed below.
2016 7.5%
2017 17.1%
2018 0%
5 year average 14%
If we adjust the PE ratio for future growth we get a PEG ratio of 1.60.
Heavily damaged industry sentiment/outlook will put further pressure on stocks in the apparel industry. I therefore buy the SPDR S&P Retail ETF XRT and short Michael Kors stocks. This trade is going to be profitable if KORS keeps underperforming XRT. KORS does not need to fall to make this trade profitable.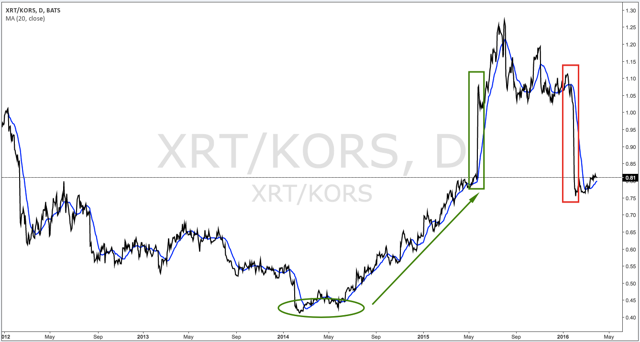 Click to enlarge
Source: Tradingview
The chart above shows the chart of XRT versus KROS. The spread started to soar in Q1 2014. Exactly when apparel sentiment crashed (the magic of leading indicators).
The betas of both XRT and KORS are important in order to calculate the proportion between the two assets. According to my own calculations there is almost no difference between both assets. Kors has a 0.97 beta while XRT's beta is exactly 1.00. My calculations start at the day when KORS went public. Therefore, my KROS short exposure is equal to my XRT long exposure.
I am extremely optimistic about this trade and thing the ratio spread is going to hit 0.90 in a few weeks. My biggest concern is that KORS jumps after a positive earnings release. But that is the risk of shorting and a risk that I am willing to take.
Disclosure: I/we have no positions in any stocks mentioned, but may initiate a short position in KORS over the next 72 hours.
I wrote this article myself, and it expresses my own opinions. I am not receiving compensation for it (other than from Seeking Alpha). I have no business relationship with any company whose stock is mentioned in this article.
Additional disclosure: My KORS short exposure is hedged by a long position in XRT