The recent success of the market has brought many quality companies into overvalued territory. As I look for companies to potentially add to my portfolio in April it has become increasingly difficult to find good deals out there. Fear not fellow value seeking investors, there are still plenty of great companies out there offering some margin of safety and great dividends to boot. We will take a look at Johnson Control (NYSE:JCI), Disney (NYSE:DIS), and Monsanto (NYSE:MON). For this analysis I've decided to use the 5 year averages for P/E and P/CFL provided by FAST Graphs.
Johnson Controls
This $25 billion market cap industrial facing behemoth has an incredibly diverse product portfolio. The company is divided into four segments; buildings, batteries, distributed energy storage and automotive seating. The company is about to complete a merger (tax inversion) with Tyco (NYSE:TYC) which will create a truly massive company.* The company is expecting impressive growth as a result of the merger.
On top of the growth they boast a yield in the 3% range and have grown the dividend payment for six years now. The $1.16 paid to investors each year is incredibly well covered and the payout ratio sits at just 36.8%, plenty of room to run there. Income seeking investors will
Like many industrial companies they've been beaten down lately. With 5 year P/E and P/CFL of 13.8 and 13.9 respectively the company appears undervalued trading at 10.8 and 13.3. Due to the upcoming merger, the increased cash flow is what makes this company more appealing to me.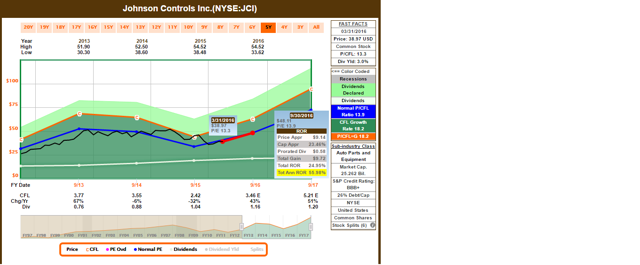 Click to enlarge
If the company trades back in line with their historical P/CFL that leaves us with 23% upside. As industrials appear to be crawling out of their trough a well diversified company such as JCI could do well.
Disney
Unless you've just very recently emerged from underneath a rock you already know about Disney, the entertainment giant with a $161 billion market cap. The company has had an odd last 52 weeks, trading in a range of $122 and $86. The biggest question facing the company today is what will happen when current CEO Bob Iger steps down in about two years. The company has also been bogged down over concerns with ESPN and the "cord-cutting" sweeping the nation. Not to gloss over those negatives but the current positives handily outweigh them for me. They own Star Wars, multiple amusement parks with one set to open in China shortly that is already sold out and their merchandising channels are incredible. Their recent box-office success with both the new Star Wars (I have never seen a Star Wars film...please proceed to the comments to voice your displeasure) and Zootopia has reestablished the company as a film powerhouse and is opening it up to incredible merchandising channels that reach virtually all ages.
Their dividend has only recently become a focus for the company. The most recent increase was substantial, 15%, and their payout frequency was bumped up to two times a year. While not a significant yield at just 1.3% I expect the company to rely heavily on the dividend to create value for shareholders in the coming years. The business is a cash generating machine and as a result the payout ratio is incredibly low at just 37% of earnings and about 50% of FCF.
From a valuation standpoint there is still some margin of safety. The 5 year P/E and P/CFL are 19.9 and 14.7 respectively with current numbers at 18.1 and 14.2.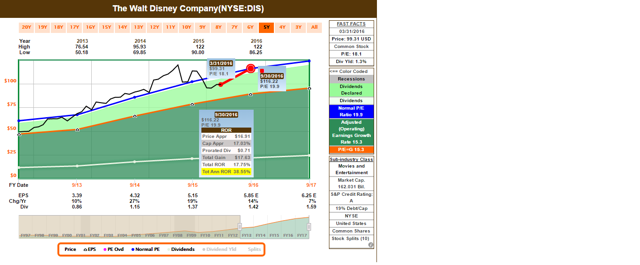 Click to enlarge
If the company retraces back to their 5 year average there is 17% upside going through 2016. An extra bonus is their A credit rating and 19% debt/capital. I also look forward to seeing what the company acquires to grow even more.
Monsanto
Another well-known company that has undergone some turbulence. With a $38 billion market cap and a wide variety of products, the most well known being the Roundup line, the company has been a well known player in agriculture and seed technology for decades. The company has recently faced notable headwinds in India and the broader agriculture market that has been under intense pressure worldwide. The company is still financially sound and is a major force in their market with decades of experience.
Their dividend of $2.16 a year is good for a 2.46% yield. The company has increased the annual payout for 15 years and in the past five years the growth averages 13.3%. The strong growth of the dividend and healthy yield still results in just a 35% payout ratio from earnings, with strong FCF of $2.1 billion in their last fiscal year the dividend is plenty safe.
The company has five year P/E and P/CFL of 21 and 17.3 respectively with current numbers are 17.2 and 14.4 making this the most undervalued company of the bunch.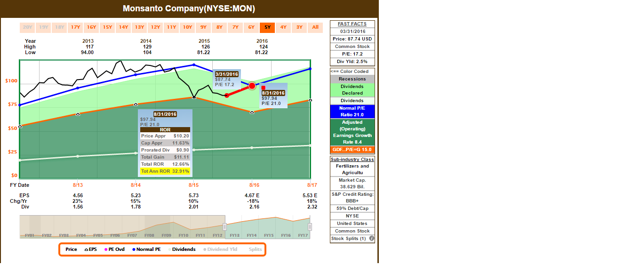 Click to enlarge
With 11% upside based on historical P/E, even with a down 2016 expected there is still a margin of safety at the current price. An added bonus is the strong balance sheet with $3.7 billion cash on hand and just $8.4 billion in long term debt.
While none of the above are screaming buys they still present themselves as compelling investment ideas based on their valuations. All of the companies enjoy solid dividends that management has put an emphasis on maintaining and increasing in the future. I like all three, but out of the bunch I like Disney the most based on their growth potential. The company has done a wonderful job transforming itself from a cartoon making child-focused company to a true media powerhouse appealing to all age groups. Monsanto is appealing from a "steady as she goes" standpoint and being the most undervalued of the bunch is a bonus. The company provides a constantly in demand product that will only increase in demand as the world population increases. I like JCI, but the upcoming merger and spin-off details are murky. I think taking the TYC route and receiving shares via that channel would be best for those not already invested. Each company at least deserves a deeper look by any parties interested.
*The recently announced merger with Tyco adds a layer of complexity into any potential investment into JCI so please utilize the hyperlink and familiarize yourself with the details.
Disclosure: I/we have no positions in any stocks mentioned, and no plans to initiate any positions within the next 72 hours.
I wrote this article myself, and it expresses my own opinions. I am not receiving compensation for it (other than from Seeking Alpha). I have no business relationship with any company whose stock is mentioned in this article.