The solar industry has experienced an extraordinary amount of volatility in recent quarters. The market appears to be growing increasingly wary of the high risk and high-growth approach, which is most evident in SunEdison's (SUNE) spectacular collapse. In fact, SunEdison is now teetering on the brink of bankruptcy despite being hailed as a potential energy supermajor just a few quarters back. SunEdison is a clear reminder of the highly unpredictable nature of the solar industry.
In the absence of cheap financing, high-growth solar business models appear to be increasingly vulnerable. Not surprisingly, more conservative solar companies like First Solar (NASDAQ:FSLR) and SunPower (NASDAQ:SPWR) have outperformed their more aggressive peers over the past year. First Solar is actually experiencing a huge upswing despite a general industry downturn. Given the highly volatile and somewhat immature nature of the solar industry, more conservative solar companies will likely continue to outperform moving forward.
SunEdison's Collapse Is a Reminder of Industry Volatility
SunEdison's rapid decline serves as a stark reminder of the risks involved with high-growth solar business models. SunEdison continues to plummet to all-time lows with recent news that the company is planning to file for Chapter 11 bankruptcy. Given the countless problems plaguing SunEdison, the company's survival has been in doubt for a while now. The company's ambitions to build one of the largest and most comprehensive renewable energy companies has clearly backfired to an almost unimaginable extent.
A mix of growing market skepticism and volatile financing has put tremendous strain on SunEdison's ability to operate. The billions of dollars SunEdison spent on acquiring companies have only compounded the company's financial troubles in the increasingly harsh market environment. With growing legal battles, strained investor relations, an increasingly unviable business model, and billion dollars in debt, SunEdison is in a hopeless situation.
Given the collapse of SunEdison, the market will likely be far more wary of high-growth solar companies moving forward. Even traditionally high-growth companies like SolarCity (NASDAQ:SCTY) are starting to sacrifice rapid growth for higher-quality growth. As uncertainty is starting to once again plague the solar industry, investors would likely be better off avoiding more unstable high-growth companies.
SunEdison has experienced one of the solar industry's most dramatic collapses over the past year.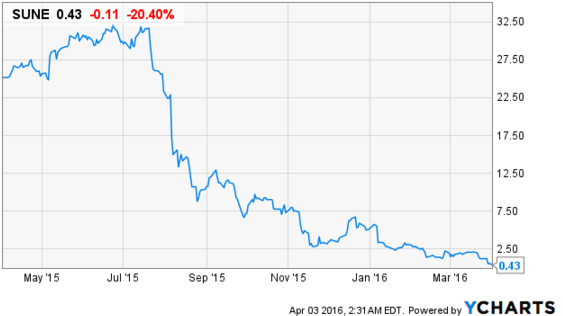 Source: YCharts
Proven Business Models
Given the relatively early-stage nature of the solar industry, many solar companies are experimenting with innovative and oftentimes high risk business models. While some of these business models should be successful, the proven business models employed by companies like First Solar will likely be far more durable in the long run. First Solar's traditional business of manufacturing modules, building utility-scale plants, and maintaining utility-scale plants is proving to be superior to flashier high-growth businesses.
The dominance of First Solar's business is clearly evident in the company's profitability. At a time when major solar corporations are bleeding cash, First Solar is proving to be a major exception. In fact, First Solar reported a net income of more than $500 million over the past two quarters alone, putting the company in a separate league in terms of financial health. Moreover, the company is poised to become even more profitable given its rapidly improving cadmium telluride technology.
SunPower is another major solar company that should outperform the industry moving forward. While SunPower is not as profitable as First Solar, SunPower may be an even greater investment at its relatively low valuation of $3 billion. Its focus on quality, technology, and proven businesses should propel the company to new heights. In addition, SunPower's growing exposure to the residential solar market is a huge positive for the company.
Rather than focusing on riskier long-term residential solar products, SunPower has decided to put a bigger emphasis on cash sales and loans. As the riskier SolarCity model of long-term solar products has yet to fully prove itself, SunPower is smart to focus more heavily on cash sales and loans for the time being. While many of the high-growth business models pushed by companies like SolarCity could very well turn out to be highly viable, the proven business models of First Solar and SunPower are still safer bets.
Conclusion
The solar industry will likely continue to experience turmoil for the foreseeable future. The SunEdison collapse is a clear indicator that the solar industry is still maturing. As such, investors in this space should be better off investing in proven companies like First Solar and SunPower. While First Solar and SunPower have conservative growth paths compared to most of their peers, their long-term potential still enormous.
Solar only accounts for approximately 1% of total global energy generation, which puts First Solar and SunPower in a great position. As both of these companies have some of the industry's strongest balance sheets and technologies, they are well poised to take advantage of the industry's growth potential. On the other hand, overly ambitious and unproven solar companies like SunEdison should be avoided.
Disclosure: I am/we are long SPWR, SCTY.
I wrote this article myself, and it expresses my own opinions. I am not receiving compensation for it (other than from Seeking Alpha). I have no business relationship with any company whose stock is mentioned in this article.
Editor's Note: This article covers one or more stocks trading at less than $1 per share and/or with less than a $100 million market cap. Please be aware of the risks associated with these stocks.