MARP (the Macro Asset Rotation Portfolio) is a theoretical, top down macro portfolio which takes positions in broad asset classes and rotates between these classes based on the current state of what we believe are the three fundamental drivers of risky asset prices: liquidity, risk tolerances and economic fundamentals. The portfolio has a longer term focus which best aligns with a multi-year investment horizon and trades occur on a monthly basis marked at the end of the month.
MARP's objective is to outperform long term passive or buy and hold portfolios while also avoiding the massive drawdowns of these more passive approaches. Its focus is primarily for US based investors, though we consider global impacts on US investments and asset classes to attempt to outperform buy and hold approaches. This is done by intelligently rotating into positions expected to outperform during the current market outlook.
April Update on Market Outlook:
In the last update (the portfolio initiation), my outlook was moderately bearish, based on declining global liquidity and precarious fundamentals.
Since then, while much of the market's outlook has whipsawed with various comments from the Fed, not much in the fundamentals have changed. Liquidity continues to moderately contract, earnings continue to decline, and investor risk tolerances may be improving on the more dovish tone from the Fed, but remain volatile.
Against the backdrop of confusing messages from the Fed, a potentially falling US dollar (at least in the near term) and precarious but potentially slowly improving US fundamentals, several bullish divergences have recently emerged that suggest treasury yields have further room to fall (prices more room to rise).
Divergence #1: Treasuries and the US Dollar
While the US dollar has shown signs of weakness from the Fed, given the current balance of affairs and the fact that treasury yields have continued to fall (rising prices) even during this recent dollar rally, US treasuries continue to look like a very strong asset.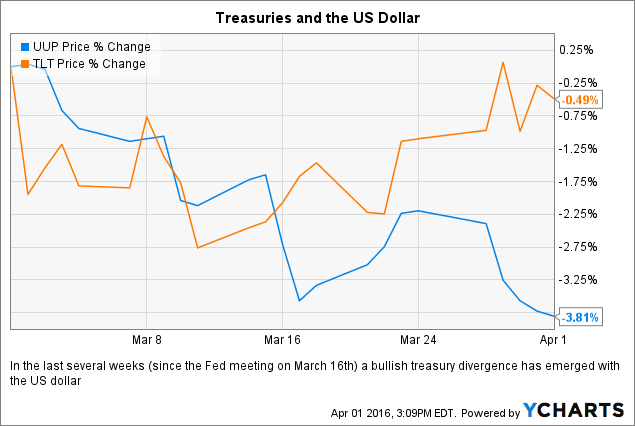 UUP data by YCharts
Divergence #2: Treasuries and Economic Surprise
Perhaps more significant is the fact that treasury yields seem to have broken their ties to fundamental economic data (once again one can likely blame the Fed and other central banks worldwide for this). As seen in the below chart, even recently improving economic fundamentals have not slowed the decline in treasury rates, suggesting that regardless of future growth treasury prices will continue to fall.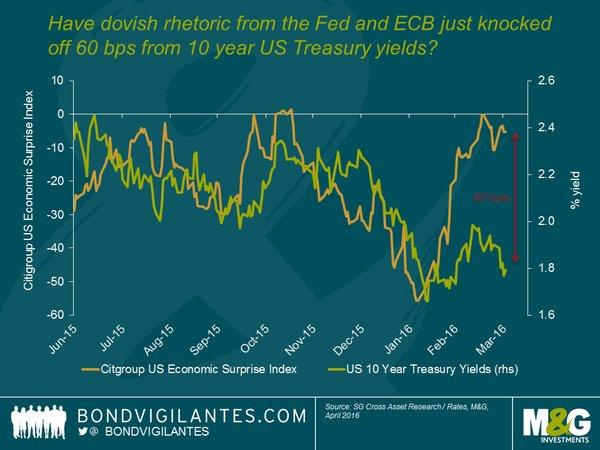 As outlined in depth here, US treasuries stand to gain in a wide variety of outcomes and potential actions (or lack of actions) by the Fed. This broad degree of support makes treasuries further attractive given the high level of relative uncertainty for the remainder of 2016. Since more temperamental risky assets (equities) require a more delicate balance of events to occur (benign Fed, investor risk premiums remaining stable, earnings contraction slowly or reversing to growth) they look less favorable to treasuries on a risk adjusted basis.
Until evidence emerges to the contrary, declining rates seems to be the new well established norm, and this may only be exacerbated in the near term by other countries' negative interest rates, driving investors seeking yield into US treasuries.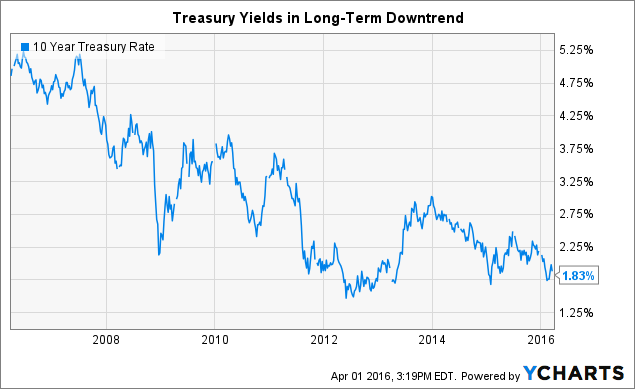 10 Year Treasury Rate data by YCharts
Portfolio Holdings as of 3/31/2016:
The only change this month was an increase by 20% in allocation to US treasuries in the form of TLT- as per the portfolio rules this was marked as of the closing price on month end.

Click to enlarge
The portfolio underperformed the S&P 500 during March, mainly due to the portfolio's overweight positions in cash and falling gold prices. While gold prices may see further weakness and that position may be eliminated, with further expected volatility on the horizon and uncertain monetary policy conditions overall positioning remains in line with a moderately bearish outlook and long-term investment horizon.
Thank you for reading, please add your thoughts in the comments and follow for monthly updates on the MARP portfolio and analysis on global markets.
Disclosure: I am/we are long GLD, PBP, TLT.
I wrote this article myself, and it expresses my own opinions. I am not receiving compensation for it (other than from Seeking Alpha). I have no business relationship with any company whose stock is mentioned in this article.
Additional disclosure: The MARP (Macro Asset Rotation Portfolio) is a theoretical portfolio only. The author's personal holdings which overlap or conflict with MARP will always be discussed in the disclosures listed above, but at times the author's holdings can and will differ from MARP holdings.