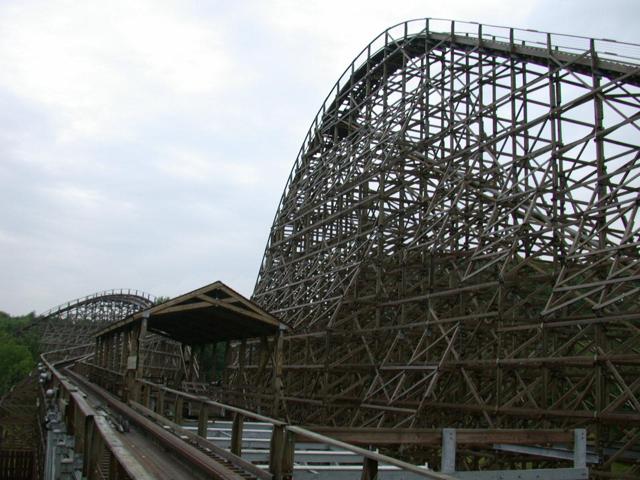 It is probably the most widely-used trope related to the stock market. However, I can think of no other image that would define this market - the first quarter, in particular.
We were treated to the worst four days to open the year on record. By January 20th, the S&P had lost over 10% of its value and the DJIA was having its worst January ever.
Articles and talking heads started surfacing calling for investors to sell their profitable holdings and go to cash. Though they conceivably made perfect sense for some investors at the time, what happened next makes this advice in hindsight look exponentially less profound.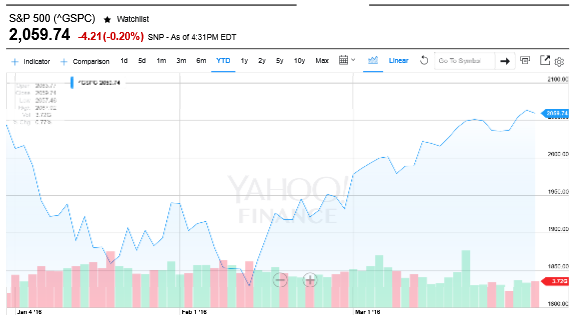 Though it seemed highly unlikely in the middle of January, the month of March featured record gains to close in the green for the quarter. In short, just like a roller coaster, there were precipitous drops, prodigious climbs, but at the end of it all, we ended almost right back where we started.
Total Return
Rather than panic and sell everything, leaving myself to try to pick a great exit and reentry point for my positions, since the focus of my portfolio like many dividend growth investors is income, I did what many other of my ilk did - nothing. And it looks as if I/we were rewarded.
S&P 500 - 0.77%
My Portfolio - 8.53%
There are a number of pretty good reasons for this:
| | | |
| --- | --- | --- |
| Stock Symbol | Price 12/31/2015 | Price 3/31/16 |
| CVX | $89.96 | $95.40 (6.04%) |
| MAT | $27.17 | $33.62 (23.74%) |
| O | $51.63 | $62.51 (21.07%) |
| PH | $96.98 | $111.08 (14.54%) |
| STAG | $16.85* (Purchase date 1/22/16) | $20.36 (20.83%) |
It just so happens that the top three items listed above are three of my larger positions. Since for the moment my portfolio is heavily concentrated, I expect my portfolio's fortunes to continue to be tethered to the price of oil, a pending turnaround in Mattel (NASDAQ:MAT), and whether or not Realty Income (NYSE:O) continues to be prodigiously overvalued.
However, I must say that even though I am "3-for-3" in beating the market ever since I converted to Dividend Growth Investing, my focus is not on beating "the market", or Total Return even.
Rather than making it a primary focus, for DG investors, total return happens a bit more organically. Companies pay ever-increasing dividends to their shareholders, which are coming from ever-increasing earnings and cash flows that support those dividends, and if investors are willing to pay the same amount in the future that they do now for every $1 of earnings, this will lead to price appreciation.
True, it's not the focus of the portfolio, but I would be lying if I said I wasn't pleased. To those who are unaware, this portfolio is in a self-directed portion of a 401(k), and it is particularly gratifying to know that not only did I beat the market, but I trounced all other professionally-managed investment options available to me.
Income
Since this portfolio is about a growing income stream to sustain me and mine in retirement, this is where the true performance metric for me lies. I am absolutely pleased to see this line start to tick up: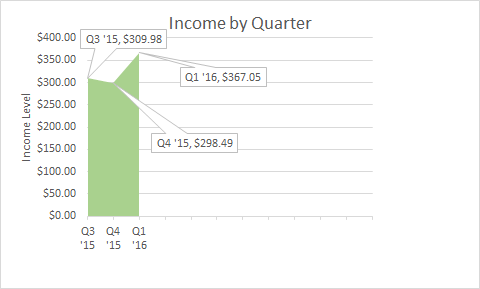 The decrease from Q3 to Q4 last year (from when I missed a Q4 dividend payment to buy a position that had already paid theirs) has been eradicated, as the effects of switching from Daktronics (NASDAQ:DAKT) to HCP, Inc. (NYSE:HCP) and from Chubb (NYSE:CB) to STAG Industrial (NYSE:STAG) have begun to take root.
I'll be glad to get to Q3, for this will represent the first quarter where I can compare income levels YOY. But for now, my income total for Q1 represents an 18.4% increase from the previous post-rehab high set in Q3 '15, and a 22.9% increase from last quarter. Forward Twelve Month income has increased roughly 10% from last quarter, leading to a YOC of 4.56% - up roughly .4% from three months ago. I don't expect this level of growth going forward, and consider the fortunes so far under the heading of "law of small numbers". Admittedly it feels good to "beat the market". But the idea that a well-thought-out plan is rounding into shape and working feels even better.
To say I am pleased would be an understatement. However, there is still one vestige left from my pre-rehab days. As I shared three months ago, my harebrained forays into chasing yield resulted in $1,612.35 of income for 2015. I would love to be able to match or even exceed this total in 2016. However, if I were to annualize Q1's income, I'd be almost 10% behind this mark. I have my work cut out for me if I want that goal to be more than a pipe dream.
Transactions
Transactions have really slowed to a crawl since I have changed strategies - from 113 trades in 2013 to two in the first quarter - the aforementioned switch from Chubb to STAG. However, it could reasonably be maintained that I made a fantastic blunder by not making two more.
I shared that back in August I bought Parker-Hannifin (NYSE:PH). Even though it was under my estimation of fair value when I bought it, that did not insulate it from price degradation. Here's its chart since I bought it: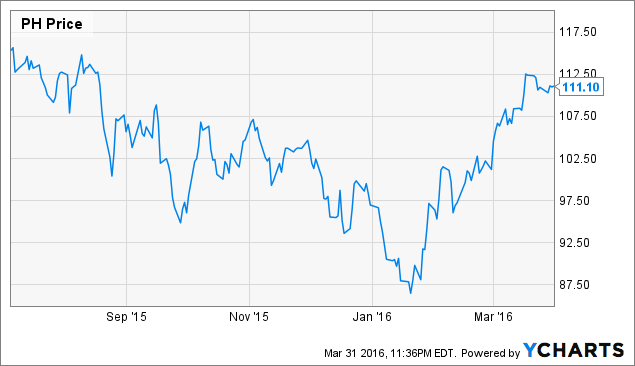 At any point after I bought it, I could have had a decreased cost basis had I only waited. However, there were two grand opportunities to buy more and still be able to do that - October and January - but I was so intent on finding another company to add and further diversify my portfolio that I failed to do this. That would be missed opportunity #1. Now, it happens to be roughly 3.5% under my purchase price, which is much too close to matter.
However, as David Fish has noted, Parker-Hannifin must increase its dividend by the end of June to stay on his venerable CCC list. I would expect if more time passes before they announce, there could be some volatility that would allow me to add to my position. Personally, I'm expecting a miniscule raise simply to say they have done so. However, if July 1 rolls around and they still haven't, PH would immediately move from the Tier 1 section of my portfolio (25+ years of increases) to Tier 3 (no dividend, <10 years, or companies in probation).
#2 would be the tale of Archer Daniels Midland (NYSE:ADM). I've been watching this for a while and almost pulled the trigger in the great hullabaloo that started the year:
On January 19, ADM touched $30.29 on the way to closing at $30.51. However, I had made up my mind that I wanted it at an even 4% yield ($30.00). There's really nothing special about that number - it's arbitrary, really:
But since it did not get to this number, I ultimately did not put my chips in. It's a little too early to tell, but this seems to be a missed opportunity, since that day represented the absolute low price for the quarter, and as of right now it would need to fall over 17% for it to get to where I had originally wanted it. Barring some type of macro event, I don't see that happening for a while. However, it remains on my wish list.
Warts
Since there were very few transactions, the problems that I had at the end of Q4 still remain. Here is my current portfolio allocation: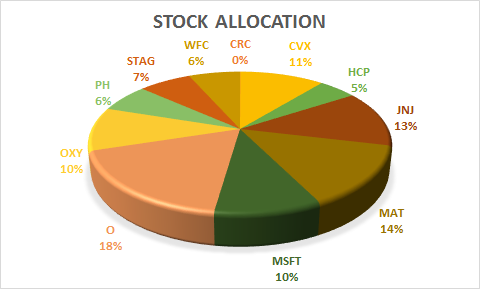 There is much to notice here:
Due to the runup in STAG Industrial, it has more of a portfolio weighting than Wells Fargo (NYSE:WFC), Parker-Hannifin or HCP, Inc. It does not deserve this.
Oil sector stocks still represent 21% of my portfolio.
Due to the runup in Realty Income , it is now my largest position by a lot. I'm really going back and forth on whether or not to trim it back. There's really good arguments on either side.
When my portfolio's allocation reflects income rather than market value, it looks even more gaudy: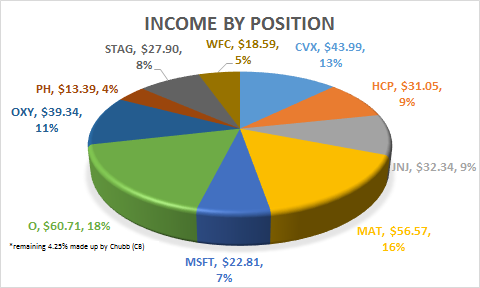 58% of my portfolio's income in the first quarter came from just four positions (O, MAT, CVX and OXY). I am confident that the dividends at both Chevron and Occidental Petroleum are safe. As a result, I don't have a great sense of urgency regarding them. What remains then is the price of oil to rebound to bring with it the price appreciation that will allow me to sell one of these (probably OXY) to diversify into more sectors. Having 24% of portfolio income being derived from one sector is just not healthy.
Wish List
I have often shared in these updates that I'm trying to get up to twenty companies to own. These are the ones I'm actively looking to add currently (in no particular order), provided I can get them for a fair price:
Lastly, I Need Your Help
As I was starting with this new DG adventure, the new question came up in my head, "What shall I do with my cash?" Earning 0.01% for a cash balance seemed offensive, so what I had decided to do was to hold it "off the books" in a better yielding money market fund, and then transfer it over whenever I had something to purchase.
It was a great idea until I learned that my plan administrator views that money market fund and this self-directed brokerage account as competing investing options. As a result, I am in the midst of serving out a 90-day "must-be-in-noncompeting-fund-first" restriction.
So I will pose the question to you. What do you do with the cash you are actively seeking to deploy?
I've heard of people putting it in Berkshire Hathaway (NYSE:BRK.B).
I've heard of a variety of ETFs. ETFs will not be a part of my overall portfolio strategy, but for the cash portion I may not have a choice. If that's your strategy, which one?
CD and bond ladders, and probably CEFs are off the table.
I would enjoy getting your feedback and suggestions.
Until next time, good luck and happy investing!
Disclosure: I am not a professional investor, and as such, the companies and/or positions mentioned and any associated analysis are related to my personal experience and expertise, and is not intended to be a recommendation to buy or sell. As everyone has their own risk tolerance, goals and needs, it is important that you perform your own due diligence.
Disclosure: I am/we are long CRC, CVX, HCP, JNJ, MAT, MSFT, O, OXY, PH, STAG, WFC.
I wrote this article myself, and it expresses my own opinions. I am not receiving compensation for it (other than from Seeking Alpha). I have no business relationship with any company whose stock is mentioned in this article.