Advance Auto Parts (NYSE:AAP) offers its customers the key essentials, low prices, large amounts of inventory, and excellent service. Not once have I ever walked into an Advance Auto Parts store and not found the part I was looking for. Although the stock price has fallen recently, AAP offers an excellent investment opportunity now. With individuals keeping their vehicles longer than ever, along with strong financials and a cheap valuation, the company and its brand will drive new sales and the company will continue to grow in the years to come.
Coming out of the recession of 2008-2009, Americans changed many habits, including how they viewed vehicle ownership. The mentality shifted to try and save money by fixing their existing vehicles, rather than continuously upgrading and purchase new ones. The chart below demonstrates this change in behavior.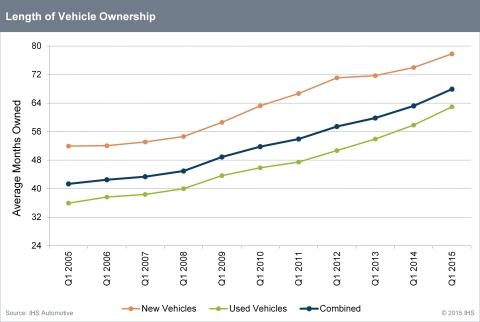 As you can see the average vehicle owner is holding onto their vehicle for nearly 2 years longer than 5 years ago. What this means is these owners are going to have to purchase more parts to keep their vehicles running. Advanced Auto Parts is perfectly positioned to capture additional sales from this continuing secular trend of individuals holding onto their new and used vehicles for an extended period of time.
From a financial and valuation perspective, Advance Auto Parts is in outstanding shape. Sales are up over 50% in the last 5 years, and EPS has risen over 30%, indicating the company is driving both top and bottom line growth. On the balance sheet, the company's current ratio is 1.3, indicating AAP has ample liquidity short term. Long term debt actually decreased last year by 400 million, demonstrating the company's commitment to financial discipline. In addition to a strong set of financial statements, the company's stock price is significantly undervalued given the strong sales and EPS growth track record. Using Ben Graham's valuation model, and assuming an EPS growth rate of 10%, AAP's current intrinsic value is $182.4. This means that the company is trading at a 14% discount to fair value, let alone the fact that this company should trade at a premium due to its financial discipline and management.
Advance Auto Parts started out small in 1932, but today has over 3,800 stores in 40 US states. Its brand of red, white and black parts stores are instantly recognizable, and customers understand what the company represents: affordable parts with incredibly fast service. This, along with the aging vehicle secular trend, excellent financial discipline, and a cheap valuation make Advance Auto Parts a perfect investment for anyone who wants a stock to hold in their portfolio for the next several years. Buy AAP today and enjoy the slow and steady growth of an outstanding vehicle parts company!
Disclosure: I am/we are long AAP.
I wrote this article myself, and it expresses my own opinions. I am not receiving compensation for it (other than from Seeking Alpha). I have no business relationship with any company whose stock is mentioned in this article.