Zayo Group (NYSE:ZAYO) is a large and fast growing provider of bandwidth infrastructure within the United States. Recently the stock fell substantially when the company missed revenue and EBITDA projections. We believe this sell-off was overdone given the company can reasonably expect to achieve over $3 million net installs in the near term leading to 10% revenue growth, which is indicative of a strong demand environment. Overall we are bullish on the shares given the strong ability of the company to continue achieving returns through successful acquisitions, the high demand environment for Zayo's services, the long-term predictability in Zayo Group's dark fiber business, and an attractive valuation given the recent decline in the shares.
Zayo group has shown an ability to execute on acquistions, with relatively easy access to the credit markets and the ability to have additional capital when needed for acquisitions. Recently Zayo Group acquired Viatel for $101 million, net of cash acquired. The acquisition provides Zayo group with 8,400 kilometer of fiber networks in over 8 countries. Zayo Group also recently acquired Allstream for roughly $465 million, making Zayo Group the only Pan U.S./Canada communications infrastructure provider. This acquisition was also reasonably priced in our view at a pre-synergized EBITDA of less than five times. Additionally roughly half of Allstream's revenue is a direct fit with Zayo's existing business segments, providing Zayo with a strong regional brand with which to expend its top line. We feel these acquisitions are attractive uses of Zayo Group's capital and will add to the companies ability to generate free cash flow going forward. We also note that the company's large list of acquisitions act as a competitive barrier as they scale, limiting the ability of other companies to challenge their scale. Management continues to reiterate this outlook, writing in their SEC filings that one of the company's significant competitive advantages is their ability to intelligently expand through acquisitions.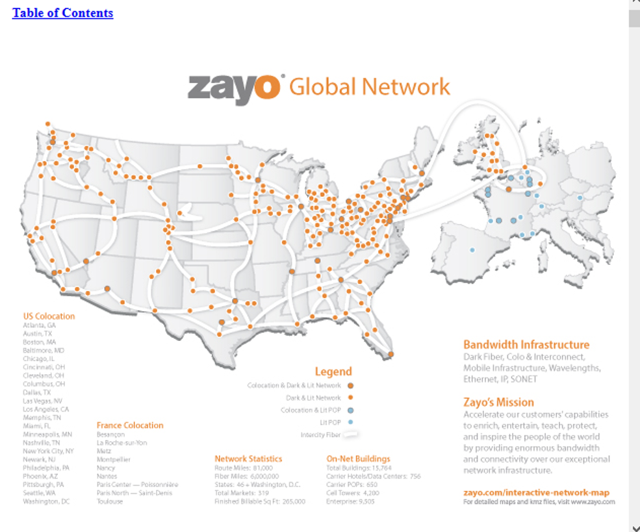 Click to enlarge
Source: Zayo Group Investor Relations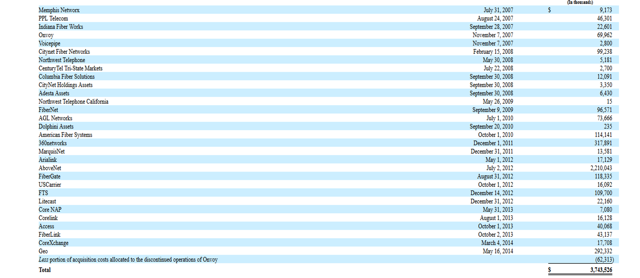 Source: Zayo Group Prospectus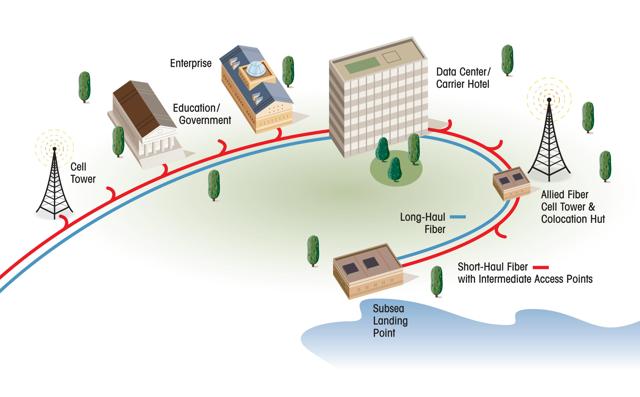 Click to enlarge
Source: Imgmob Dark Fiber Illustration Image
Dark fiber is a great business segment in our view. Dark fiber is fiber that has not yet been connected to telecommunications transmission equipment or optronics and is therefore not active or "lit" by the fiber cable owner. As private enterprises(media, financial institutions) and public sectors(schools, hospitals) continue to evolve to adopt more data, they will look to procure more scale, security, and control over their network operations. Numerous large internet conglomerates have expressed interest in expanding into the data infrastructure business given the enormous profits that Verizon and AT&T enjoy as a result of controlling the fiber networks. Google is in the midst of rolling out Google Fiber, possibly even expanding to major cities such as New York soon. Zayo group markets and sells dark fiber under long term contracts typically between five and twenty years in length. The length of these contracts provides great visibility into Zayo Group's topline, with Dark fiber accounting for over 37% of the company's revenue in the most recent quarter.
Given the recent lock-up expiration, we like that management has expressed its intent to use their share buyback capacity when needed. Share buybacks should function to place a relative bottom on short-term share price declines and help investors better withstand the volatility of this company's common equity. The share buybacks would also signal to investors that the company views shares as undervalued and possibly increase the companies return on equity by virtue of having less shares outstanding.
Overall Zayo Group offers investors the ability to invest in the increasing trend of data usage where people are demanding more and more bandwidth (see below). We are bullish on Zayo group given that (1) it has other attractive acquisition opportunities in the pipeline, (2) dark fiber is a segment with sticky revenue and great industry growth, and (3) the unique and expansive nature of the company's infrastructure assets. We feel given the volatility in the shares and no immediate value correcting catalyst the best way to open a position in Zayo Group is through using limit orders over a multi-month horizon. We believe shares could trade up to the mean analyst price target of $31 over the next 18 months as investors better appreciate the opportunities we outlined here.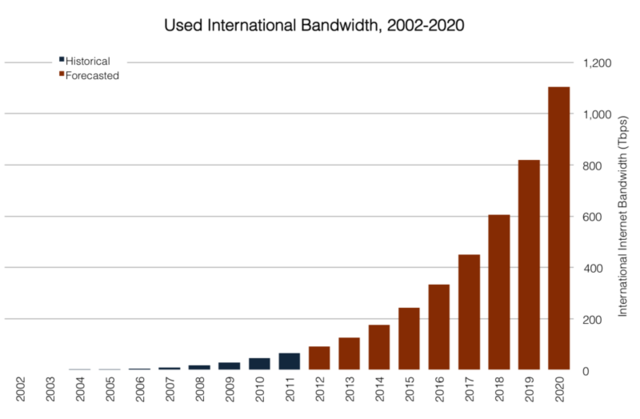 Disclosure: I/we have no positions in any stocks mentioned, but may initiate a long position in ZAYO over the next 72 hours.
I wrote this article myself, and it expresses my own opinions. I am not receiving compensation for it (other than from Seeking Alpha). I have no business relationship with any company whose stock is mentioned in this article.