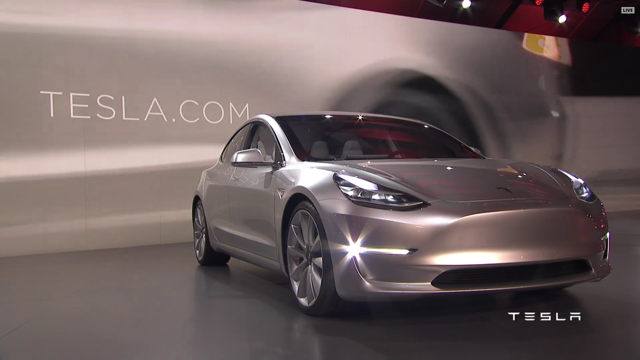 Img 1: The Tesla Model 3
Since the launch of the Tesla (NASDAQ:TSLA) Model 3, it has blown expectations away, with over 250,000 reservations at the time of writing this article, something previously unheard of in the auto industry before. It certainly seems like many I talk to in North America and Europe are enthusiastic about a greener future and specifically the Tesla Model 3 that manages to be environmentally friendly without sacrificing on car performance. I decided to see what people in China, the second largest market for Tesla, were saying about the Model 3, and interact with some to get a feel for their opinion on it. I came away from my exercise seeing a number of issues for Tesla in China but also opportunities going forward.
Brand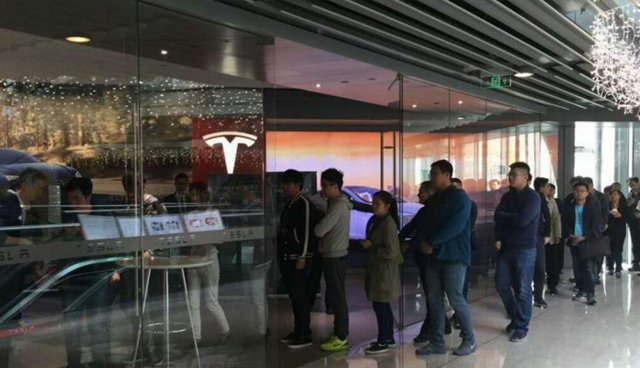 Img 2: Tesla customers line up in Beijing
I was a bit surprised by my findings when it came to the Tesla brand in China. It generally appeared to not be too well known and many Weibo users commented and told me that they would prefer domestic electric cars that were more cost effective. Many talked highly of the BYD Qin as an affordable electric car rather than the Tesla Model 3.
While the launch of the Tesla Model 3 trended across Facebook and Twitter in the United States and Canada, it seemed nowhere to be found on Chinese social media. "iPhone SE Yellow", referring to a small complaint among iPhone SE users was one of the top trending items on Weibo, while Tesla, Model 3, or anything similar was not found within the top 150 trending items. The Chinese media did not seem to be reporting much on the Tesla Model 3 launch either, however some more tech and business focused news sites did mention it in passing. Despite this the Tesla stores in Beijing and Shanghai reportedly did have some customers lining up to place deposits for the car.
The Tesla brand in China has not reached the status that it has in many other parts of the world. Whether the Chinese will begin to see Tesla more highly as they see more excitement around the car outside their country remains to be seen. Alternatively Tesla may have to resort to advertising in the country or deploy the "secret weapon", Elon Musk referred to last year saying he could use it to increase sales of the Model S.
Price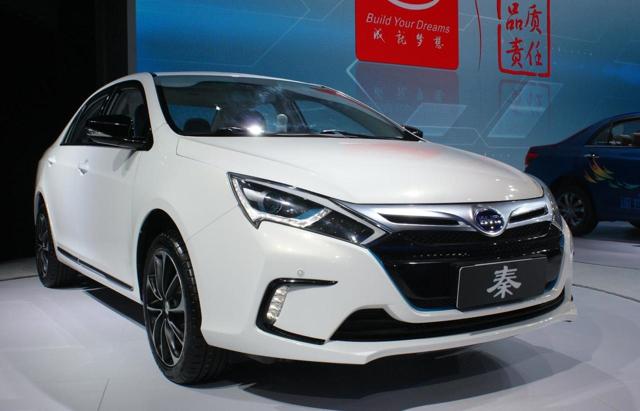 Img 3: BYD Qin, a popular Chinese electric car
The vast majority of comments on Weibo in relation to the Model 3 focused on its price, and at roughly $49,000 in China many users commented it was far too expensive and they could not afford one. Zhang Yu, managing director of Automotive Foresight (Shanghai) Co had some comments on the issue of the Model 3's pricing in China, stating, "The price would be too much for China's mass-market consumers. Affluent consumers may also not be very interested, as the entry-level Model 3 would fail to serve as something that they can show off." The price for the Model 3 in China will be around $49,000 with shipping and import taxes included.
While exporting the Model 3 to China from the U.S would be a huge boon for the American workerת it looks like Tesla will have to open a local factory to make the car more competitive when it comes to price. The company is already reported to be looking at setting up a factory in Suzhou, an area just outside Shanghai. The challenges will be finding a suitable local partner and finding local suppliers or ensuring that third party parts can be made at a high enough rate to support both the U.S and Chinese factory.
Even if Tesla can reduce the price to $35,000 in China with a local factory the car will not fall into the mass market range, since the BYD Qin, the top selling electric car already on the market in China is priced at $23,000.
We could look at income data, propensity to spend on a car and an abundance of other data to see the Model 3 potential in China but due to the substantial differences between the USA and China I decided to take a more simple approach. To get an idea of what the demand is for a car in this price range in China vs the USA I decided to look at a car already popular worldwide and established in this price category, the BMW 3-Series.
Table 1: BMW 3 Series sales in China & USA
The results show that an almost identical number of BMW 3 series are sold in the USA in China or 4.3% more in China are sold to be exact. From a quick look at this data one could conclude that the Tesla Model 3 should be able to do as well, or if it followed the 3 series, slightly better in China compared to the USA. In fact the Model 3 should have an advantage in China as certain cities restrict the number of licence plates given out to gasoline cars giving buyers a greater incentive to own one compared to in the United States. The big negative for now is likely the Tesla brand in China not being as well established and recognized along the price disadvantage due to the import taxes.
Aesthetics
Many Chinese on Weibo did not seem to have the same appreciation for the cars aesthetics as those in North America did. One of the top comments on a Weibo post featuring the car said that the "Front looks like Voldemort." Many others made similar comments regarding the front while many also noted they were not huge fans of the interior. The general opinion on the interior appeared to be it was not enough and it should have more in it for the price that the car is. Many commented on it being "appalling" or "far too basic given the price." Despite this, some other users had more positive notes on the car, saying it looked nice and commending the unique glass roof.
Tesla may find itself in a similar situation as Apple was in China years back with the older iPhones and many Chinese complaining of the small screen size. After adopting a larger screen size, something Steve Jobs said he would never do, iPhone sales took off in China. From reading the online comments it seems an adjustment to the front grille, interior, and possibly other design adjustments for the local Chinese market could help the car do better there.
Charging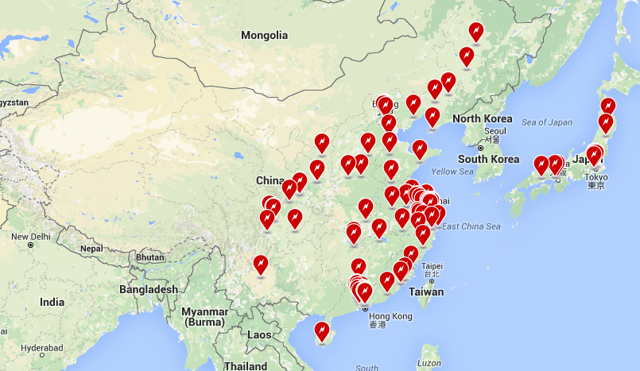 Img 3: Tesla Supercharger network in China
Many Chinese commented at electric cars slow charging, and uncertainty of where they could charge such a car. The challenge will be for Tesla to develop an extensive charging network in China, similar to what it has done in the United States. By looking at the above map it is obvious the charging network is still quite sparse compared to Europe and the United States. Another issue is that with many of the middle and upper class living in apartments in the city, will there be a way for those apartments to incorporate charging infrastructure and allow residents to charge electric cars?
Hong Kong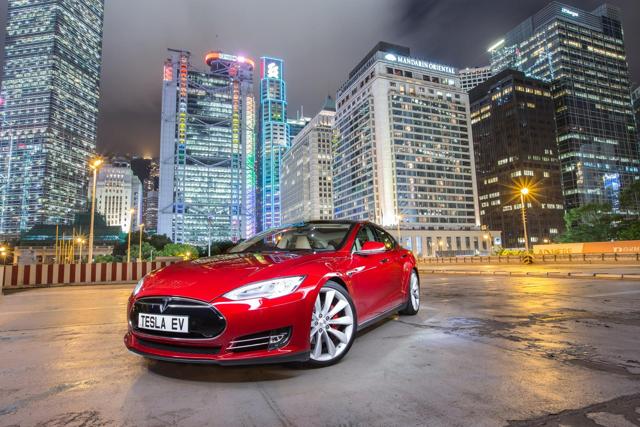 Img 4: A Tesla Model S in Hong Kong
Hong Kong is one market that Tesla does tremendously well in, and I was shocked to see it in person only a few weeks ago when I spent some time in the city myself. There are 3 Tesla showrooms and the number of Tesla's on the road there is quite staggering, with the Tesla brand being viewed very highly in the city, a self administered region but part of China.
Tesla has a few things going for it in the city with a guaranteed value scheme, allowing owners to sell their cars back to Tesla at a guaranteed price. The city also benefits from its small size, and numerous charging points that make a Tesla more attractive. With the worlds most expensive fuel prices at around $7.50 per gallon, just ahead of Norway, it also makes sense why the car has done so well in the city.
John Zheng, an automotive analyst at LMC automotive in Shanghai, said the car will suffer in China due to lack of charging ports and that the customers there would expect a similar value guarantee to Hong Kong as consumers in China expect value for money.
Forecast

Img 5: EV sales in China
The work that Tesla has put in place already to try and bolster sales in China appears to be paying off. The general manager of Tesla China, Zhu Xiaotong reported that in March 2016 the automaker saw a 400% yoy increase in sales, impressive figures in a country that is generally seeing slower economic growth as the days of high growth come to an end.
BYD, the Chinese electric car company backed by Warren Buffett and likely Tesla's largest Chinese competitor recently predicted sales would almost triple this year from 58,000 in 2015 to 150,000 this year. This is on top of the three times jump to 58,000 in 2015.
The Chinese government sees the positives for electric vehicles in the county as the government seeks to reduce air pollution and fossil fuel usage. The Chinese EV market is already 50% larger than the US market with the Chinese government having a goal of 5 million electric cars on the road by 2020.
Conclusion
At this point it clearly seems that demand is not an issue whatsoever for the Tesla Model 3 with enough orders raked up in only a matter of days for well over a year of production. Tesla will not have to worry about stimulating sales in China for the time being, however at some point, specifically if they open a factory in the country, they will have to look at fixing a number of issues they face.
Despite the issues, as shown above, demand for the Model 3 in China could in theory at least equal the demand in the United States in the long term. For now, however, the market has a number of issues but also a lot of opportunities ahead for Tesla.
Disclosure: I am/we are long TSLA.
I wrote this article myself, and it expresses my own opinions. I am not receiving compensation for it (other than from Seeking Alpha). I have no business relationship with any company whose stock is mentioned in this article.