Starting today, we will be publishing a daily article on the information we are finding in the market and, in particular, the hedge fund space. Let's get started.
Window Dressing
It's April 1st and all the good old window dressing is gone. All the fund managers that didn't want to associate themselves with names like Valeant Pharmaceuticals (NYSE:VRX) are finding themselves in for a scalp.

Click to enlarge
Perhaps buying a hated name on the last day of the quarter and holding it for one day is a viable strategy? Adventure Capitalism has a good post on this.
Oil (NYSEARCA:USO) Drops Below $37
On the energy market front, Saudi Prince Mohammed bin Salman commented that Saudi will only freeze production if Iran joins.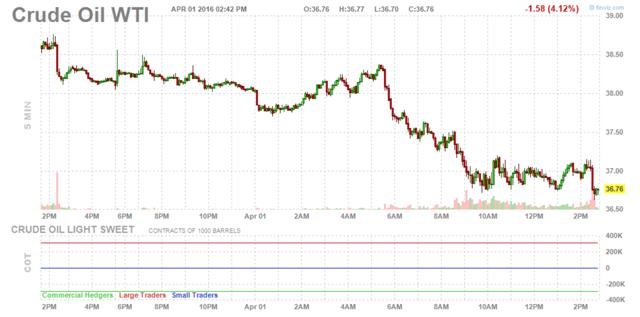 Click to enlarge
WTI did not respond very kindly to this news and is now down just a little over 4%.
On the other end, rig counts continue to drop with the overall rig count in the U.S. falling -14. Oil rig count fell by 10 to 362 and natural gas rig count fell by 4 to 88.
Despite bearish news, oil trader Andurand, who predicted the fall to $25 per barrel, now thinks the bull run is just starting.
As we write in our weekly reports, we believe the bottom is already in with a likely pullback to $33-$34 WTI in the short run. Fundamentals are already trending in the right direction as supplies are falling while demand continues to beat expectations.
Andy Hall, in his recent bullish letter, noted that prices could easily rise to $80, which is also what Andurand is predicting.
"For the reasons set out above, we believe the global oil market is already close to being balanced yet prices are at a level that will continue to destroy supply. The longer they stay at current levels the greater the risk that the world will face a significant supply shortfall in 2017. At a minimum, prices need to rise to a level that stops further supply destruction - that is probably close to $50. Later this year prices will need to rise further to create supply. We believe that level to be $60 rising over the next 12 months to $80. There is a reasonable risk that the supply response will be insufficient in which case prices will need to rise to levels that destroy demand. That would imply prices above $100."
You can find the full letter here.
Value Investor Insight March Edition Out
If you haven't read the latest Value Investor Insight, we recommend that you do. Jeff Ubben, founder of ValueAct Capital, rarely appears in interviews, so when he does, we are quite ecstatic.
Jeff goes onto explain some of VAC's positions and the thesis behind each idea. The stock that he couldn't comment on, though, was the controversial Valeant Pharmaceuticals. Despite the stock being down so much, ValueAct ended last year slightly down and is in much better shape than Bill Ackman's Pershing Square, which is currently down over 25% for the year.
Kyle Bass on United Development Funding IV
A few months ago, ValueWalk reported a hit piece released on Value Investors Club on United Development Funding IV (NASDAQ:UDF), and their sources learned that Kyle Bass had built up a short position in UDF.
ValueWalk released the story on Twitter, and the stock immediately tanked and has since been halted due to a FBI investigation.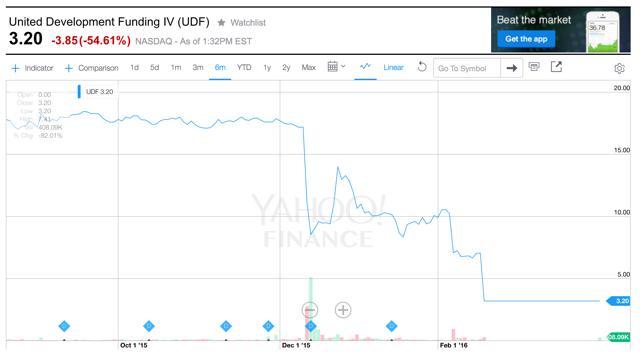 Click to enlarge
Today, Hayman Capital released new slides explaining just how UDF stole shareholder money.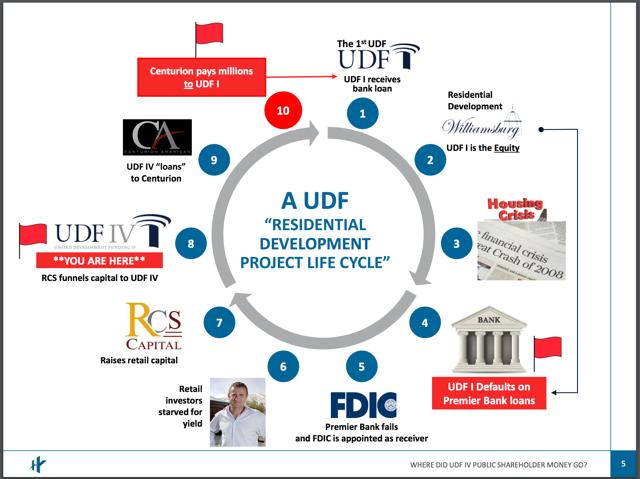 Click to enlarge
Just like any Ponzi scheme, the goal is to raise investor capital to pay off its old losses.
If you haven't followed the story, I recommend you to read the delayed VIC write up here, and the slides.
Asta Funding Board of Directors Rejects Unsolicited Tender Offer
The Mangrove Partners Master Fund is attempting to make an unsolicited tender offer to acquire up to 3 million shares of Asta Funding (NASDAQ:ASFI) between $9.50 to $10.25 per share. The board of directors rejected the offer, citing that the tender significantly undervalues the company and is not in the best interest of shareholders.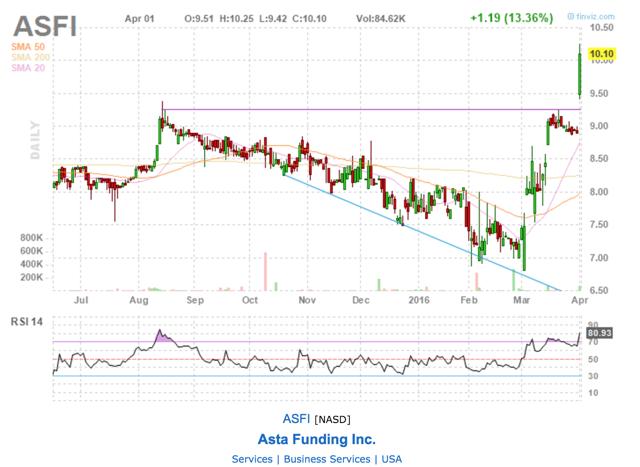 Click to enlarge
ASFI has been a battleground stock over the last several years, with value investors battling on both the long and short side. The longs contend that the high cash balance gives it a margin of safety, and the business is profitable, while the shorts contend that the management isn't shareholder friendly.
Given the staggering share price performance and inaction by management, I consider the short side to have won the battle on this name. The tender offer could prove to be a catalyst for the share price and investors could push for additional shareholder accretive opportunities.
Wrapping it up
Quarter-end window dressing usually leaves savvy investors with profitable opportunities. Valeant was a classic example of fund investors dumping their shares.
Two of the best traders in the oil business believe oil will go up to $80 in 12 months, and that's a big positive for those that are long energy names. However, despite having these great traders on your side, it doesn't make the event more probable.
Lastly, Hedge Fund Insights also runs a premium research service where we write up detailed articles on companies and share with our subscribers real time trades and portfolio tracking. Subscribers also get to join a group of like-minded value investors that take advantage of market mispricing. If you are interested, please consider joining.
Disclosure: I/we have no positions in any stocks mentioned, and no plans to initiate any positions within the next 72 hours.
I wrote this article myself, and it expresses my own opinions. I am not receiving compensation for it (other than from Seeking Alpha). I have no business relationship with any company whose stock is mentioned in this article.