At the end of last year, I decided to develop a growth portfolio which was centered around achieving a mid-teen rate of return over a period of 10 years or so to ultimately enable me to grow a $1M portfolio.
The vision that I had at the time for the portfolio was to invest an amount just over $200,000 as quickly as I could across a range of growth stocks that I had identified and then just sit back and watch the businesses compound in value.
I thought a lot about the approach and the methodology that I wanted to take to invest the money. Ultimately, I settled on businesses that were growing revenue by double-digit percentages, generating high returns on equity in excess of 20%, and that were substantial cash generators.
I aim to just buy and hold these businesses and accumulate further on weakness. Now this approach is easier said than done because the market rarely prices businesses of such high quality at bargain basement levels.
Fortunately, Q1 2016 saw a market aversion to growth names, and I was able to make a significant number of purchases toward my growth portfolio. I am now more than 2/3 invested and will be looking to steadily invest the final 1/3 of my targeted capital into these same names, and perhaps 1 or 2 additional ones.
The only slight change that I will be making to the implementation of my approach will be to identify 1-2 names that are a little earlier on in their growth cycle. I'd like a couple of early stage, high growth businesses to provide a bit of an 'X' factor to my expected returns. A couple of businesses that have the potential to increase 10x over my investment horizon could pack some punch in my investment returns.
The table below represents the investments made in the growth portfolio at this present time.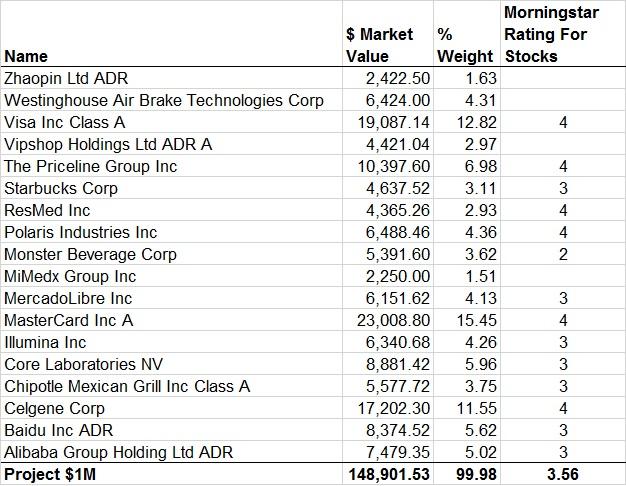 My portfolio value is up close to 7% over February, where it was at a valuation of $138,000. While stocks were at a marked discount in January and even February, there was a definite narrowing in the attractiveness in valuations through March. While my Morningstar portfolio rating was over 4 (out of 5 stars) in February, this had fallen back to only 3.6 stars by the end of March.
Strongest Performers
My strongest performers for the quarter were all international, emerging market names. Heavy selling in Chinese markets and emerging markets provided an opportunity to pick up Alibaba, Baidu and MercadoLibre. The snapback in March re-rated all these names back up. I like all of these names for the long term.
Alibaba
Alibaba's (NYSE:BABA) e-commerce marketplace platform is a business with a high level of profitability that produces significant levels of cash. BABA's gross margins hover near 70%, and the business manages to retain 30% of revenues as operating margin. The sheer number of buyers and sellers on the platform will provide a long-term competitive advantage for the business. I bought $6k worth of BABA shares at $66 per share in January, which have returned almost 17% since I purchased stock.
Baidu
My central thesis behind my decision to include Baidu (NASDAQ:BIDU) within my growth portfolio is that Baidu is the "Google of China". Typically, search engines with the largest market share tend to dominate searches and ad revenue. Baidu recently plummeted to $150 a share. I couldn't resist making a purchase of $8.5k worth of shares in the mid $160 range. Baidu has returned close to 17% since my purchase.
MercadoLibre
I view MercadoLibre (NASDAQ:MELI) as the emerging eBay of Latin America, conducting a greater volume of e-commerce than eBay (NASDAQ:EBAY) or Amazon (NASDAQ:AMZN) in the region. E-commerce is in its infancy in Latin America and accounts for just 5% of total commerce in the region, or a market of about $20B. MercadoLibre was also smashed with the emerging markets rout that took place in January. I topped up my purchase and invested about $4.5k worth of stock at $90. The position has returned almost 30% since investment.
Weakest Performers
Celgene
Celgene (NASDAQ:CELG) is a strong player in the biotechnology space, with a portfolio of drugs targeted toward cancer and inflammatory conditions. With patent protection on its key drugs likely to last well beyond the end of the decade, Celgene is poised for long-term growth.
Celgene's return on equity have been hovering around 30% for the last few years, which indicates that it is a good steward of shareholder capital. Celgene has managed strong double-digit revenue growth for the last decade.
Concerns over regulatory intervention and questions over Celgene's blockbuster Revlimid have depressed the stock. I made a purchase of close to $19k of stock at $110 per share. With Celgene trading at $100, I'm down close to 10% on this position. I don't have too many concerns longer term with Celgene. In fact, I think this should be one of my strongest performers long term.
Disclosure: I am/we are long BIDU, CELG, BABA, MELI.
I wrote this article myself, and it expresses my own opinions. I am not receiving compensation for it (other than from Seeking Alpha). I have no business relationship with any company whose stock is mentioned in this article.