Source: Apple
Fellow Seeking Alpha contributor Erik Bergseng recently wrote: Apple is Grossly Mispriced. Bergseng argues it is mispriced below its intrinsic value, but his views are dangerously optimistic. I'll go over his arguments one-by-one to counter them:
Even if we assume the worst and revenues stagnate or even slightly decline, AAPL is still a phenomenal investment.
By putting the word "still" in there it gives the impression revenue stagnating or slightly declining would be something of an outlier. Implying in the vast majority of possible futures Apple (NASDAQ:AAPL) continues to grow, like it has in the past. It also appears prudent to start off by assuming a worst case scenario, but revenue stagnating or slightly declining is hardly a worst case scenario.
In fact, revenue stagnating is one of the optimistic scenarios. The market is pricing in a drop in revenue and earnings.
Apple has not been so pessimistically priced relative to the market in the past 10 years.
The past decade of Apple's performance and the growth rate it resulted in should not be mistaken to be easily repeatable or as a normal kind of growth rate.
Ten years ago Apple started its global expansion, now nearly everyone who can afford an iPhone has one. The iPhone, a miraculously successful product, was introduced in 2007. For the first time since that introduction there is widespread talk of peak iPhone.
Once again, we see that the free cash flow yield of AAPL at the moment completely outstrips the S&P 500. If we look at the chart on the right, we notice that Apple has double the free cash flow yield of the S&P 500.
Bergseng makes a great point. In this particular case the market discount makes sense, and it does not necessarily mean Apple is attractive. Reuters shows the mean of 39 analyst estimates is for Apple to achieve EPS of $9.07 for the year ending Sep-16. This estimate is trending down, and analysts are notorious for being slow to adjust earnings estimates downward.
That mean estimate is down from the current diluted EPS of $9.40 now. This is not a worst case scenario, but the consensus scenario.
Apple has great free cash flow because it makes only a limited number of products on a tremendous scale. This allows the firm to capture above average margins. Once it starts to lose scale and/or is forced to introduce a larger number of products to generate the same amount or even less revenue, free cash flow will fall faster than revenue. Incidentally, that's exactly what is happening - Apple is both losing scale and starting to introduce more products to generate less revenue. The market is correctly anticipating free cash flow falling.
Consider Blackberry's (NASDAQ:BBRY) profit margins between 2005 and 2011. A long stretch of very strong margins. Currently, gross profit is still very good, but net profit isn't. Competitive markets are in flux. Today's winner can be tomorrow's loser.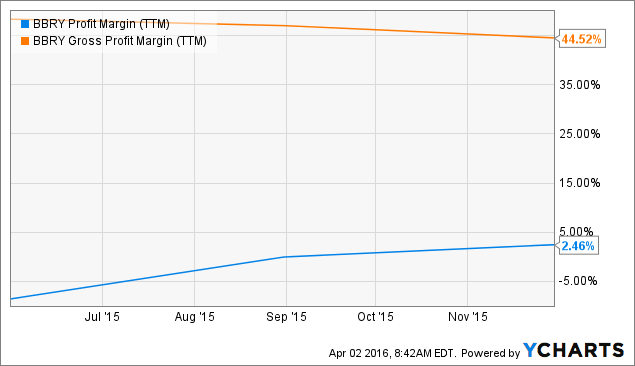 A key risk is free cash flow going into a tailspin due to a string of underperforming products after which the brand could start to deteriorate as well. As unlikely as this may seem, keep in mind the pressure is very much on Apple. Apple needs to deliver short product cycle after short product cycle. That's why Bergseng's next argument makes no sense to me:
Consistently high gross profit margins are considered the hallmark of a durable competitive advantage. Although this is historical data, I still see absolutely no indication here that Apple's position as a market leader is under threat.
A durable competitive advantage does result in consistently high profit margins, I don't question that. When there is an obvious threat to the high profit margins, and the durability of the competitive advantage is actually quite questionable, it's a terrible idea to rely on a short and super anomalously profitable preceding decade as a baseline.
Apple's strong cash position allows it to pursue countless growth opportunities that can be exploited by leveraging their strong brand and customer loyalty.
Sounds great, but in practice this is very difficult. The brand is easily diluted. Finding investments that offer attractive RoIC rates is difficult already, it is even more difficult to find these opportunities at the size Apple needs to identify them to move the needle. A huge cash balance is a great impediment to achieve high returns for shareholders.
Don't get me wrong. I actually don't hate an investment in Apple. In my most recent article on Apple, I highlighted the growth in its services segment. If services made up a much larger slice of revenue I would be much more inclined to believe in sustainable margins. As things stand right now, I want to caution against naively buying into a ten-year trend extrapolation story.
Disclosure: I/we have no positions in any stocks mentioned, and no plans to initiate any positions within the next 72 hours.
I wrote this article myself, and it expresses my own opinions. I am not receiving compensation for it (other than from Seeking Alpha). I have no business relationship with any company whose stock is mentioned in this article.