Tesla (NASDAQ:TSLA) revealed the Model 3. I placed the order for mine online the second reservations opened up. I was one of 115,000 people to place an order for the car sight unseen. The car was revealed about an hour after I placed my order and saying that it did not disappoint is an understatement.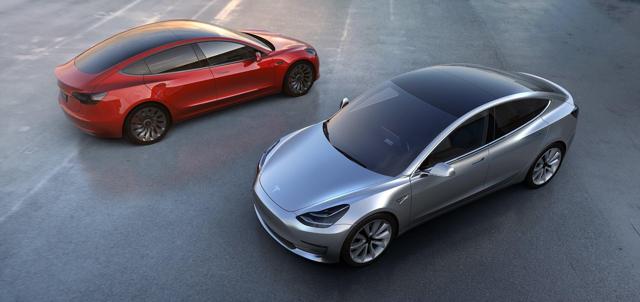 Click to enlarge
With Autopilot safety features and supercharging standard, $35,000 starting price, trunk and a frunk and an expected five-star safety rating in all categories, this will be the most compelling car in its segment.
Here is the gas car competition:
| | | |
| --- | --- | --- |
| | Click to enlarge | Click to enlarge |
The pictures show the BMW (OTCPK:BAMXF) 3 Series, Mercedes (OTCPK:DDAIF) C Class and Audi (OTCPK:VLKAY) A4.
Here is the supposed EV Competition - GM's (NYSE:GM) Chevy Bolt. I say supposed because the car is in a different size/class segment.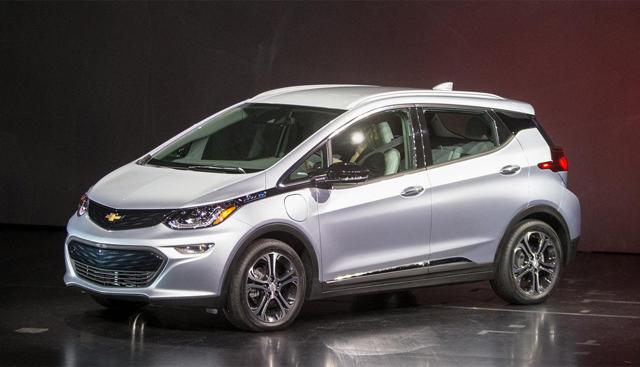 Click to enlarge
The similarities end at it being another long-range EV.
None of the competition has the autopilot safety features standard. As an example, to get the equivalent safety features on a BMW you would need to pay an extra $5,400 ($1,700 for their driver assist package which forces other packages on you). Mercedes will charge you at least $3,350 for the features. You are forced to get something more comparable (but in in my opinion still inferior) to the Tesla autopilot to get even the safety features.
None of the competition even has OTA updates. Also the competition has very dated looking interiors compared to the Model 3 Dash: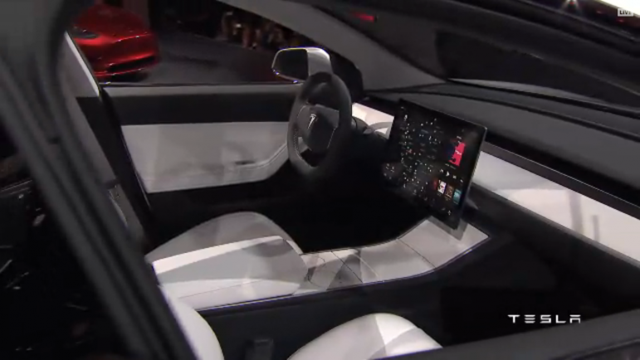 Click to enlarge
Source: IBTimes
Historically Tesla has stayed very close to their concept dashboards and I expect the Model 3 to follow suit.
During the Model 3 reveal event, video here, Tesla had a live reservation counter and by 9:30 Pacific time had more than 128,000 reservations. By this afternoon, reservations had climbed to 198,000. Just for comparison, over the first two days the original Apple iPhone sold 270,000 units. So 200,000 reservations for a $35,000 car to be delivered two years from now or more is an impressive feat by any measure.
Here are the US sales for some of the competition in 2015:
| | |
| --- | --- |
| BMW 3 Series | 94,527 |
| Mercedes C Class | 86,080 |
| Acura TLX | 47,080 |
| Audi A4 | 31,577 |
| Total Small Luxury | 611,973 |
Source: GoodCarBadCar
My estimates for lines at US Tesla stores are an average of 500 based on pictures, enthusiast forum posts and local news coverage of lines at Tesla locations nationwide. Tesla has over 100 locations in the US and I estimate more than 50,000 of the initial 115,000 came from the US. I expect Tesla to have more reservations over the next few months from the US than the annual sales of all the competition. Here is a picture of a line of people waiting in the rain to reserve a Model 3.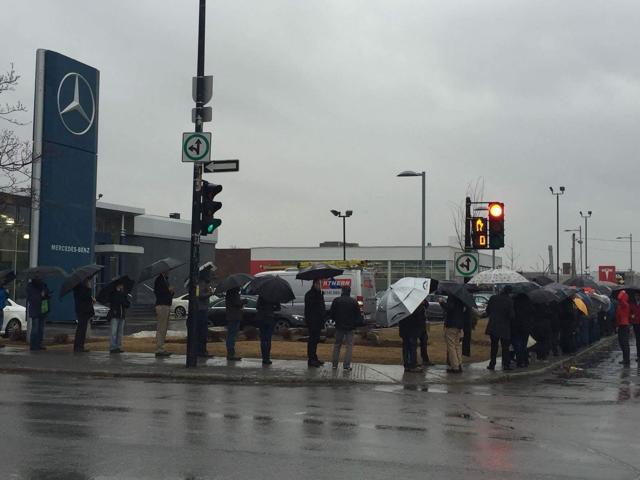 Click to enlarge
In January, even before Tesla mentioned this in their Q4 2015 shareholder letter, I wrote about how Model S is taking away serious market share from the competition. I expect the Model 3 to be no different. The sales of the Model 3 will easily surpass all the competition. A few days ago even Audi admitted that Tesla has done everything right. Let's assume reservations slow down and they just double from the current number by the time the Model 3 launches. And let's say that Tesla takes two years to deliver these 400,000 orders. That's an average rate of 200,000/year in 2018 and 2019. And if this is split 50/50 US/International, we have 100,000/year in the US, which represents a 16% market share of the small luxury sedan market. Bigger than any of the competitors and essentially a repeat of the Model S success.
While the first competition for the Model S - the Porsche (OTCPK:POAHF) Mission E - is at least five years away, I expect the first real competition for the Model 3 is at least a decade away. As much as some like to point to the Bolt or upcoming Leaf 2 as Model 3 competitors, they are not in the same segment at all. In fact, unless the Nissan (OTCPK:NSANY) Leaf 2 is exactly like the Nissan IDS Prototype, Nissan has no hope of selling even a fraction of the Model 3 numbers and I say this as a Leaf driver.
I'm not sure what time is considered end of quarter for Tesla (midnight Pacific or midnight Eastern). Assuming midnight Eastern, the Model 3 reservations will have added at least $120 million to Tesla's customer deposits. Tesla customer deposits stood at over $280 million last quarter and that included Signature Model X deposits of over $40,000 each. It is an impressive feat to have a car with only a $1,000 deposit to add a $120 million to the customer deposits.
Just yesterday I had my first Model X sighting and I now await Tesla Q1 results which should point to Model X production going smoothly in addition to the fantastic reception of the Model 3. As more Model Xs hit the road, the rest of the year should be great for Tesla and Tesla stock.
Of course, the Model 3 represents new challenges for Tesla like the completion of the Gigafactory and an order of magnitude of larger volumes than its previous cars. This could lead to delays like we are used to with Tesla. And maybe Model 3 customers will not be as tolerant as previous early adopters. But on the other hand, in the opinion of many (me included), there is just no comparison with anything else. So the likelihood is that people will wait.
In conclusion:
The Model 3 exceeded the expectations of both reservation number and standard feature wise.
The reception was overwhelmingly positive.
Tesla is likely to receive US deposits for more than any of the competitions annual sales and I expect Tesla to take market share from all of them as soon as deliveries start.
Q1 results should point to a great year ahead.
Disclosure: I am/we are long TSLA, AAPL.
I wrote this article myself, and it expresses my own opinions. I am not receiving compensation for it (other than from Seeking Alpha). I have no business relationship with any company whose stock is mentioned in this article.
Editor's Note: This article discusses one or more securities that do not trade on a major U.S. exchange. Please be aware of the risks associated with these stocks.