Overview
Amazon.com (NASDAQ:AMZN) is in the process of further developing and expanding its fulfillment center footprint across the U.S. This strategy is important as the company is always focused on its primary objective, customer service. As part of the customer experience, Amazon is pushing the limit on fulfilling orders as quickly as possible within hours and days.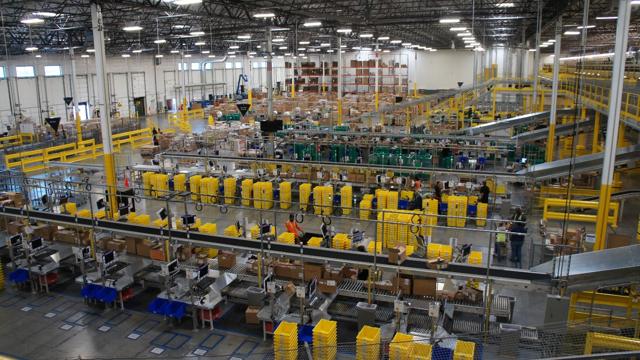 Click to enlarge
Everyone knows the story and criticisms regarding Amazon's strategy, so nothing is new here; the basic premise is still that the company continues to spend money at the expense of its bottom line. Focusing on the e-commerce business segment, this is directly tied to the costs Amazon must incur for its current and future fulfillment strategies.
Amazon is always in the news, and the recent buzz surrounds the company's new lease agreement for 20 cargo planes with Air Transport Services (NASDAQ:ATSG). This stir quickly led to speculative suggestions that Amazon would be going toe-to-toe with the likes of FedEx (NYSE:FDX) and United Parcel Services (NYSE:UPS). From these circumstances, we also know that Amazon has a fixed price at $9.74/share to purchase 20 percent of Air Transport's stock by 2019 leading to thoughts of an entire acquisition.
FedEx and UPS have been adamant that their successes during the previous holiday season are a testament to their timely delivery capabilities, but this does not change the opportunity for Amazon to begin to use its new air freight capacity to not only reduce its own cost, but to add new customers to expand its revenue. Companies such as FedEx and UPS own a portion of their cargo planes, but Amazon is staying true to its leasing approach adding to its purchase and lease obligations rather than direct debt.
What investors should think about is that Amazon is not only pursuing this type of strategy with Air Transport Services. The company is also relying on a private transportation company called Progistics Distribution for last-mile package deliveries. Additionally, Amazon has been linked to attempting to take a stake in HERE; combining the benefits of a new cloud customer and exposure to the highly lucrative autonomous vehicle market potential.
Clearly, Amazon is interested in developing and being a part of transportation-based technologies; drones anyone? But Amazon could potentially acquire companies like Air Transport Services and Progistics to quickly offset shipping costs and further expand customers relying upon these services. For Air Transport Services, this includes DHL Group (OTCPK:DPSGY) and the U.S. military. For Progistics, this includes Ryder Systems (NYSE:R), Alphabet (NASDAQ:GOOG) (NASDAQ:GOOGL), The Walt Disney Company (NYSE:DIS), W.W. Grainger (NYSE:GWW) and YRC Worldwide (NASDAQ:YRCW).
HERE includes an existing consortium of investors and has a heavy interest from many auto manufacturers and technology companies. Regardless, the opportunities will continue to abound for Amazon. Even an acquisition like UPS's recent one for Coyote Logistics could be an option in Amazon's near future.
The key focus for investors needs to be the fact that Amazon will diligently assess the benefits of using these transportation services; air freight for Air Transport and last-mile delivery and warehousing services for Progistics. The company will continue to evolve and invest in transportation-based technologies. These areas will help the company continue to meet its primary objective, being a leader for customer service. Currently, this is clear for e-commerce and AWS; at some point in the near future, it will begin to become clearer for transportation services.
Does Amazon Really Have A Shipping Cost Problem?
There are some quick disclosures to think about before jumping to Amazon's shipping revenues versus the company's costs associated with shipping. The first is the fact that for Amazon's shipping revenues, the company excludes charges to third parties, and includes a portion of amounts earned from Amazon Prime memberships, and amounts earned from fulfillment by Amazon programs related to shipping services.
So investors and most others tend to think about shipping revenues and/or costs as the charge for the delivery portion from a fulfillment center to a customer. This is clearly not as simple as how revenues and costs are determined. The cost side of the equation also includes sorting and delivery center costs.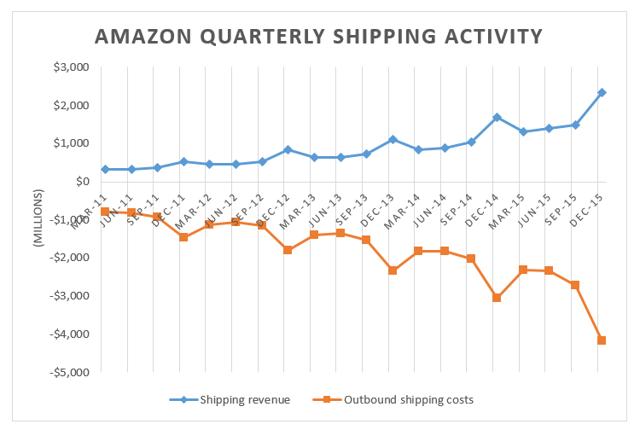 Click to enlarge
Source: Company filings and personal database
Since the first quarter of 2011, Amazon's shipping revenue has increased from $330 million to $2.3 billion. This reflects growth of over 600%, averaging about 11% per year. For outbound shipping costs, growth has gone from around $790 million to $4.2 billion over the same time period. This reflects growth of around 530%, averaging about 9% per year.
So despite the large cost associated with outbound shipping, shipping revenues have actually grown at a faster rate since 2011. This trend was also prevalent during 2015 with shipping revenues growing 45% and outbound shipping costs growing 33%.
The $11.5 billion shipping cost for 2015 reflected roughly 86% of Amazon's total fulfillment cost of $13.4 billion. Between 2011 and 2015, Amazon's fulfillment cost as a percentage of revenue has increased from 9.5% to 13.5%; 400 basis points. This growth excludes the AWS services for both 2014 and 2015.
During this same period, Amazon's revenues grew over 105%, averaging 20% per year to $99 billion, excluding AWS services. So on a net outbound shipping cost basis, Amazon's cost has increased by less than 8% per year since 2011.
From this perspective, Amazon's shipping costs are not a problem when compared to the company's successful growth in e-commerce revenue. Amazon Prime has been a substantial benefit to offsetting these costs as well as contributing to revenue growth. Additionally, Amazon supplies its customers with fulfillment services.
Fitting The Pieces Into The Future Transportation Services Puzzle At Amazon
Since Amazon has made strides to reduce shipping costs prior to entering into its lease agreement with Air Transport Services, the company's interest in the transportation space should be thought of as proactive rather than reactionary to cost pressures.
From this perspective, Amazon is looking to fundamental industry-changing opportunities including drones and autonomous driving. Amazon is not alone in the drone space as DHL Group and others are attempting to test this delivery option. For autonomous vehicles, the primary question surrounds whether or not we will see driver-less delivery vehicles in the next couple of decades. Legislative safety mandates in the U.S. and Europe will support technologies in this space and companies such as Mobileye (NYSE:MBLY), HERE, Bosch, Alphabet and others are competing for what some have labeled as a $50 billion industry.
More near-term opportunities are Amazon's use of its new lease agreement with Air Transport Services and use of Progistics. Both of these companies are giving Amazon's technology systems information regarding efficiency for customer service and insights into cost savings. For these reasons, either one of these companies being acquired in the near term would not be a surprise.
What investors should be looking towards as a primary indicator is Air Transport Services' revenue growth as a guide to Amazon's use of leased air freight. Currently, DHL Group accounts for roughly 55 percent of Air Transport's revenue. This reflected just less than $350 million of the company's $620 million in total revenue. DHL Group currently leases just less than 20 air cargo planes.
Analysts are only expecting Air Transport's revenue to grow a little over 10 percent per year over the next couple of years to $765 million. This begs the question as to whether Amazon will take full advantage of the company's new agreement to 20 air cargo planes. The new estimated $145 million in revenue does not even reflect half of DHL Group's current revenue generated from its leasing agreement.
This type of growth makes sense based upon Amazon's approach to its developments. One thing investors can expect is a lot of questions for both Amazon and Air Transport Services during the upcoming 2016 first quarter earnings calls.
The lesser known is Amazon's relationship with a company like Progistics. Additionally, there is no indication as to the difference in shipping costs between air freight and surface delivery. Many products are delivered via container shipping lines to the West Coast and possibly the East Coast. Air connections for further distribution will be key.
But the one commonality is the fact that both Progistics and Air Transport Services offer Amazon benefits to improve customer service, the ability to reduce costs and the ability to grow beyond Amazon's market to serve other customers.
If Amazon is truly going to transition into the transportation services market, adding companies like Air Transport Services and Progistics with combined developments of internal and external transportation technologies will be on the table for near-term acquisition and/or implementation.
Investor Perspectives
Amazon is a very difficult company to feel comfortable investing in. But there are areas where the company exudes a lot of confidence for investors. Amazon is without question the top performing e-commerce company. This is driven by the focus on customer service which goes beyond getting packages to customers on time. Wal-Mart (NYSE:WMT) has witnessed its e-commerce business decline through all of 2015; at a substantially lower scale versus Amazon. Target (NYSE:TGT) has had some success with its e-commerce and all physical retailers are looking at multichannel pick-up/drop-off and direct delivery services.
Amazon has defined what an e-commerce business at a large scale should function like in a world driven by mobile smart devices. The company's valuation for diluted EPS is not going to give the comfort level investors are seeking. Today, the company's free cash flow yield is among the best when considering physical retail companies. Over time, as the company continues to grow its obligations related to the leasing model, this yield may decline below today's comfort level.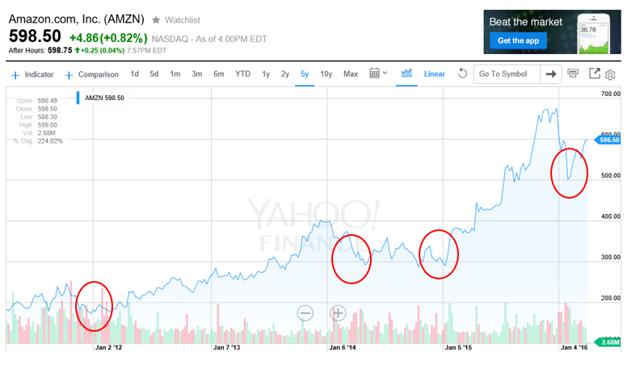 Click to enlarge
I have seen articles written alluding to the January or first quarter time period as a good time to buy Amazon's stock. This chart seems to suggest the same. I have bought during these times in 2014 and 2015, and will continue to take advantage of these types of opportunities.
My focus moving forward is on the business model and new transportation service opportunities the company is seeking. I am not betting on Amazon becoming a post-modern version of today's FedEx or UPS. But I do expect that the company will be well-positioned to take advantage of the many opportunities in the transportation sector.
Amazon's intent to consider how the company will transition into the transportation services industry will benefit both top line and bottom line growth. Compared to larger technology peers Amazon's valuation still has room to double or triple in the event a larger share repurchase program becomes a reality over the next decade. The key focus for investors is understanding that the company will go through cycles of volatility and taking risk investing in Amazon during these lower levels provides for a good opportunity.
Disclosure: I am/we are long AMZN, DPSGY, MBLY, YRCW.
I wrote this article myself, and it expresses my own opinions. I am not receiving compensation for it (other than from Seeking Alpha). I have no business relationship with any company whose stock is mentioned in this article.