By Contributing Analyst Maxwell Parker
About the Company:
Towne Bank (NASDAQ:TOWN) offers retail and commercial banking services to Richmond, Virginia, the Greater Hampton Roads region in southeastern Virginia, and northeastern North Carolina. Emphasis is placed on serving individuals, small, and medium-sized businesses in the local area. The company offers three reportable segments of banking, realty, and insurance. Towne Bank is headquartered Portsmouth, VA.
Interest Income Growth:
Towne Bank's primary source of revenue comes from interest income. With such a reliance on interest income we are looking for strong growth figures. Towne Bank has not disappointed, bringing in $212.87M in 2015. This is a 21.88% increase over its 2014 figure of $174.65M. Town Bank has substantially improved its return on average assets and average equity over 2014, lending support to the notion that leadership is becoming increasingly effective as assets rise. We feel that this large spurt of growth could be indicative of even more impressive numbers to come in the future. At the very least it is confirmation that leadership's growth strategy is indeed working.
Loan Portfolio:
Towne Bank's loan portfolio is broken down into three categories; real estate loans, commercial and industrial loans, and consumer loans and other. Real estate loans make up nearly 78% of the portfolio, a number which has gradually declined from being over 83% in 2011. Real estate loans are further broken down into four subcategories; 1-4 family residential, commercial, land and development, and multifamily. As you can see in the figures below Towne Bank has made a concerted effort to diversify this facet of its business. By aggressively increasing its number of multifamily loans, Town Bank has been able to increase all other types of real estate loans while simultaneously decreasing their weighted averages in the category. Town Bank has done a fine job decreasing its dependence on real estate loans as a whole, balancing its loan portfolio through additional commercial, industrial, and consumer loans.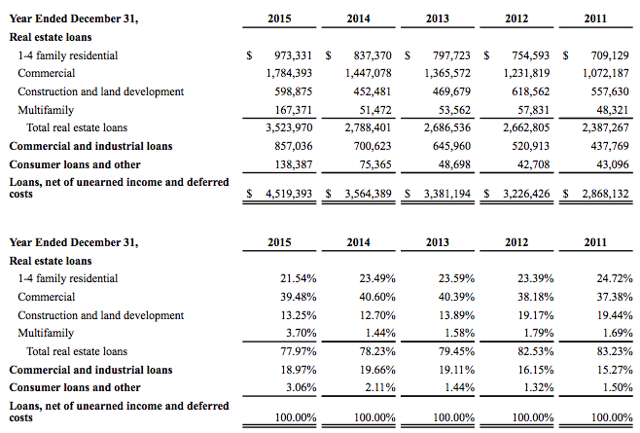 Click to enlarge
(Source: Towne Bank 2015 Annual Report)
Dividend:
Towne Bank has consistently increased its dividend, without ever lowering it. Towne Bank is currently paying quarterly dividends at $0.12 a share. At a current share price of $19.19, Town Bank has an impressive dividend yield of 2.5%. According to Morningstar the industry average dividend yield is currently 2.3%. Investing in Towne Bank will give you a 0.2% edge over the industry, providing yet another incentive to add this company to your portfolio.
Cream of the Financial Crop:
The chart below is the performance of Towne Bank against the Financial Select SPDR ETF (NYSEARCA:XLF). XLF tracks and corresponds price performance to publicly traded equity securities in the Financial Select Sector Index. The chart demonstrates the performance of both securities over the course of the last year. Towne Bank is up about 17.5%, while XLF remains negative, down roughly 7%. Towne Bank is strongly outperforming its sector benchmark, yet still remains undervalued. Towne Bank has a wide array of opportunities to capitalize on going forward.

Click to enlarge
Relationship-Driven Local Bank:
Towne Bank gains its edge on the larger national banks because of its commitment to developing strong relationships with the local communities that it operates in. As Towne Bank has continually garnered the trust and business of the residents in southeastern Virginia and northeastern North Carolina, they have been able to expand their role and the services offered to clients. The company now has three reportable segments; banking, realty, and insurance.
Towne Bank has been able to effectively expand its operations through strategic merger activity. In 2015 alone, Towne Bank acquired seven new entities. Five of these acquisitions were insurance companies. Towne Bank is aggressively expanding its operations in the insurance field, further diversifying its revenue stream. As Towne Bank continues to acquire assets, it will likely have an opportunity to expand into the neighboring areas of which it already operates. The company will be looking to generate more interest income to drive revenue higher.
Virginia Home Sales on the Rise:
After home sales were suppressed in January due to severe winter weather, they bounced back in February as year over year sales increased by five percent. January and February are usually the slowest home sales months of the year. Strong growth in February could very well be an indication of what to expect for the remained of the year. As the Federal Reserve continues to slow rate hikes, remaining home affordability is attracting buyers into the market. As real estate loans make up nearly 78% of Towne Bank's loan portfolio, we see this trend as one of the key drivers to company growth in 2016.
Another interesting point to note is the military presence in Greater Hampton Roads, where Towne Bank has a major presence. The local economy relies heavily on defense spending, which ultimately translates to Towne Bank's success in the area. A cut in spending could have adverse effects, while an increase or maintenance of current budget could further jolt business in Greater Hampton Roads. It will be important to keep an eye on the presidential frontrunners stance on defense spending if you add Towne Bank to your portfolio.
Competitor Analysis:
Towne Bank's quarterly revenue growth is at 0.19, which is ahead of the industry average. This revenue growth is even more impressive when compared with competitors such as SunTrust Banks Inc. (NYSE:STI) and BB&T Corporation (NYSE:BBT), who post quarterly revenue growth at -0.04 and 0.05 respectively. We see Towne Bank's strong revenue figures to sustain a level of growth ahead of the industry average. Towne Bank currently has a P/E ratio of 15.77. With an industry average P/E of 15.83 Towne Bank is in a great spot to enter a position. The increased revenue growth should be enough to keep giving earnings a boost and drive share value up.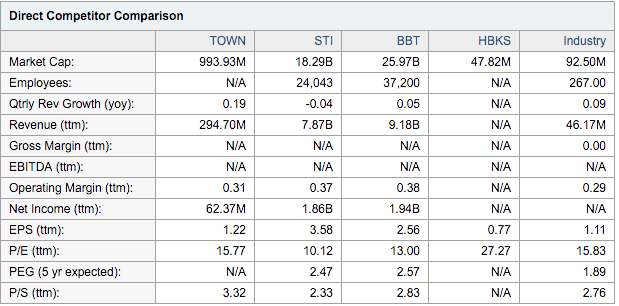 Primary Risk Factors:
As is the case with all financial institutions, Towne Bank is vulnerable to the effects of an economic downturn. Towne Bank operates primarily in southeastern Virginia and northeastern North Carolina, making these local economies the primary concern of the company. Economic downturn would mostly hurt Towne Bank's ability to collect loans, a primary driver of revenue for the company.
Interest rates also pose a significant risk factor for the company. While any good financial institution makes an effort to manage changes in market interest rates, the landscape can be rather unpredictable. Interest rates have a significant impact on financial institutions, making it extra important to keep an eye on the Fed when investing in the financial sector. We feel that Towne Bank's senior leadership has been taking proactive action against interest rate risk through its evolving revenue streams and diversified loan portfolio.
Summary:
Towne Bank offers investors an opportunity to own a strong company that operates exclusively in a small portion of the United States. If Virginia home sales continue to rise through 2016 Towne Bank will be in a great position to increase its interest income once again. With a strong dividend yield of 2.5% you're getting a company that outperforms the industry in terms of share value and yield. As the United States economy begins to experience slower growth it may well weigh on Towne Bank. Interest rate risk and economic downturn are very real threats to the strength of the company. However we feel that Towne Bank is in a better position than its peers to weather any storm that may come its way.
Disclosure: I/we have no positions in any stocks mentioned, but may initiate a long position in TOWN, STI, BBT over the next 72 hours.
I wrote this article myself, and it expresses my own opinions. I am not receiving compensation for it (other than from Seeking Alpha). I have no business relationship with any company whose stock is mentioned in this article.