Alibaba Group (NYSE:BABA) is a well-known international group of companies whose main focus is providing services for sellers and buyers of various goods. Fellow contributors have presented bullish views on BABA from different angles. We'd like to discuss the way we think about Alibaba from another approach and why we believe the strategy makes sense and fits in the situation in China.
China's General Business Condition
China has long been known as the "world manufacturing facility", and "Made in China" is the strongest manifestation of China's dominance in manufacturing today. During the past three decades, China's economic growth was driven by the "three carriages": Export, Infrastructure investment, and Consumption. Infrastructure investment and the changes in the population policies freed up rural populations in the urbanization process. As a result, infrastructures were built; productivity and standard of living were improved. On the international trading front, China stimulated export activities by depreciating RMB against foreign currencies. While foreigners enjoyed cheap goods from China, exporters in China created wealth and the nation's foreign reserve hiked significantly over the past thirty years. The table below lists major Chinese export categories as of 2015: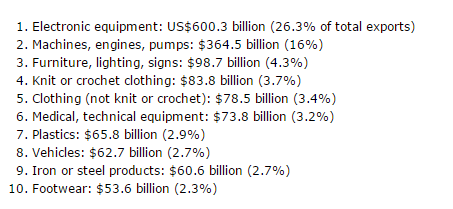 Although the dollar value of exports is very large, the exporters are relatively small in size. The competition is intense and sub-sectors are fragmented. Labor intensive manufacturing facilities are mostly competing based on cost rather than technological advancement. Small and middle-sized companies often have trouble in expanding due to a lack of resources, channels, infrastructure, technologies, and financing. Alibaba attempts to solve the problem for small and middle-sized businesses by providing platform, financing and technology for growth.
Alibaba's Business Model
The goal of Alibaba is to enable international and domestic businesses. This goal is manifested in a number of different forms - from building online payment platform (Ant Financial) to strengthening local logistics services. We believe the best way to analyze Alibaba is to understand its business divisions and the meanings of some of its investments. The following table includes subsidiaries of BABA and their respective roles within Alibaba Group:

Alibaba's core business is to provide a platform for small and middle-sized businesses. We categorize Alibaba's services in three separate groups. The first group includes Alibaba.com, Alibaba.cn, AliExpress, Taobao, Tmall, Juhuasuan, and etao.com. The first group comprises of various e-commerce platforms. The second group includes Aliyun and the third group includes Alipay. Alibaba creates value to its users by successfully integrating these three business groups.
The first group ("Online Platform") is the platform for online users. The most valuable assets of Online Platform are the users. Users on the Online Platform kept growing over the past couple of years, and is expected to continue to expand as the quality of living has improved in China. The Online Platform that has already attracted loyal users is serving as a broker for consumer and service/good providers. In order to complete a business transaction between unknown parties, a third party administrator is needed to help settle the cash payment. This is where Ant Financial comes in.
Ant Financial, formerly known as Alipay, is an affiliate of Alibaba Group that operates corporate payment platform and Sesame credit rating system. Ant Financial was launched to process third party transactions. As Ant Financial grew, more and more services are being offered, including underwriting, mobile payment, online banking, wealth management product services, etc. One of the most important services is the Sesame credit rating due to its importance in raising fund for small and middle-sized companies. We'd like to explain how it works from an Ant Financial user's standpoint. Hypothetically we are in the business to wholesale lubricants in China. We use the Alibaba's Online Platform to purchase inventory overseas and resell to retailers domestically. Ant Financial would be able to track all the transactions related to the business, including the run-rate volume, profitability, and all other specifics of the book. Ant Financial will run the business financials through the Sesame credit rating system and approve a loan for the business to expand. The loan application process is easy, which will facilitate the growth of small business in China. According to the latest news, Ant Financial raised new funding at $60B valuation ahead of IPO.
Aliyun, the Alibaba Cloud service, offers cost effective storage, processing and database services. It is a service provider to more than 14 million developers globally. The following chart shows the global data centers for Aliyun. In 2014, Aliyun enabled the broadcast of the Nanjing Youth Olympics, allowing television broadcasters to film and broadcast the live events simultaneously. With Taobao launching Buy+ (VR product that facilitates shopping experience) on 4/1/2016, we believe that individuals will be able to watch live sports/movies/concerts at home using Virtual Reality gadgets before long, and Aliyun will be the main cloud server to support the successful delivery of the live events in China.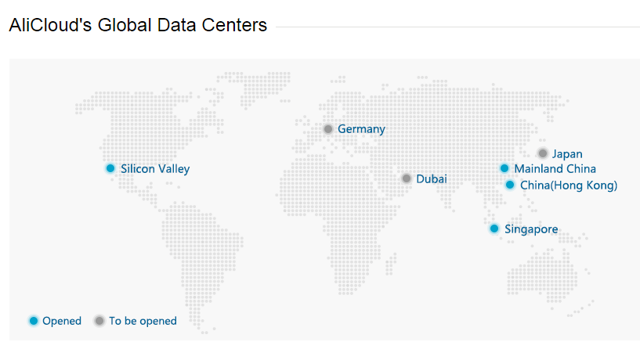 Click to enlarge
Alibaba Investment
Part of Alibaba's story lies in its investments in domestic and international companies. Alibaba has invested heavily in technology companies in United States and China for the past three years. The most notable investments include funding Kuaidi Taxi (similar to Uber in China), acquiring YOKU (similar to YouTube in China), Gaode Map (similar to Google Maps), and H. Brothers (Chinese movie producers). These investments seem unrelated; however, in our opinion, Alibaba is investing to strengthen the respective businesses for the future. The commonality of these businesses is that they all serve individuals, and part of these businesses has already been digital. As these companies grow, Alibaba will be able to find a way to synergize the investments with the Online Platform and monetize.
Valuation
Alibaba is hard to value by the traditional relative valuation or DCF approach. It is hard to standardize because it is really different from all the other companies out there - the different business groups are so interconnected and the business synergy is hard to measure. Having said that, we asked the following questions to help us determine the bulk part of the valuation. Should Alibaba be more valuable than Amazon (NASDAQ:AMZN) in the future? We'd like to think so - Alibaba should have a more lasting growth curve than Amazon. Investors bought into Amazon's story more than Alibaba when comparing the market valuation, and we believe that Amazon's growth path is more transparent and foreseeable for investors when compared with BABA's growth path. We believe the huge discount as compared to Amazon's valuation is a manifestation of a lack of understanding of BABA's growth strategy together with the uncertainty in the length of the growth curve.
Currently, BABA is trading at the IPO price of $78/ADR. From a fundamental standpoint, the change on the positive side since IPO is that Aliyun and Ant Financial are much stronger/valuable than before. The change on the negative side since IPO is that weakness in China's economic growth, weaker overall Chinese stock valuation, and counterfeit products. We believe China's economic growth slowdown will not hurt BABA that much, since China has one of the highest level of savings rate. As BABA has started to investigate counterfeit products, less counterfeit products will appear on the Online Platform. We believe the shortcomings are short-lived, and the long growth curve will continue to drive up valuation of BABA.
Disclosure: I/we have no positions in any stocks mentioned, and no plans to initiate any positions within the next 72 hours.
I wrote this article myself, and it expresses my own opinions. I am not receiving compensation for it (other than from Seeking Alpha). I have no business relationship with any company whose stock is mentioned in this article.