Last fall, I published an article titled, "Kinder Morgan: What Should I Do?" It was one of a pile of articles published about the company in a short time frame.
The intense level of interest revolved around Kinder Morgan's (NYSE:KMI) precipitous price slide, its credit outlook being changed to negative by Moody's, and the endangerment of its dividend - all happening at the same time. There was bad news on every front.
The price slide had taken KMI's yield into double digits, while questions swirled about whether KMI could pay, let alone raise, its dividend at levels it had been stating that it would maintain.
To my astonishment, my little article, which I wrote as a byproduct of thinking through a portfolio management question, garnered more than 45,000 page views and 780 comments. It turns out that a lot of people had strong opinions about the company, its dividend, and the intelligence of investors who owned it.
If there was bad news on every front for KMI, the situation is the opposite lately for Realty Income (NYSE:O). Once again, we have a spate of articles (at least a dozen on SA alone since March 1). Most of the articles revolve around O's high valuation and its plunging dividend yield. In contrast to KMI, Realty Income's price has shot up, causing its yield to drop to quite a low level for a REIT.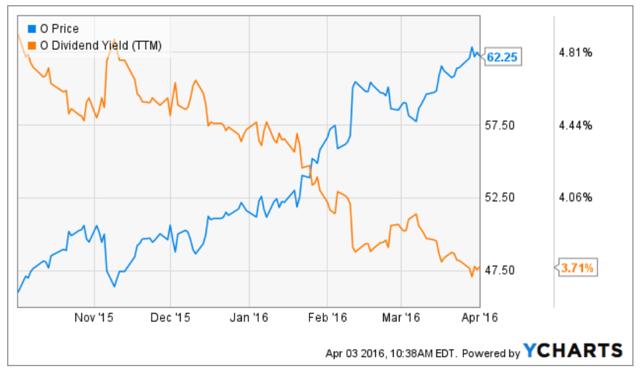 At its current price, O's valuation has risen into a territory that I consider clearly overvalued. Using the valuation methods described here, I developed the following summary of O's valuation.

At a current price of about $62, I reckon that Realty Income is about 32% overvalued. Its forward (indicated) yield is 3.8%. At fair value, that would be around 5%. O's 5-year average yield (per Morningstar) has been 4.8%.
I have owned O since 2008, having bought it in two purchases during the Great Recession. I have not dripped dividends since then; simply held the shares. On a combined basis, I have a capital gain (price only) of 147% and yield on cost of 10.5%.
In a recent article, Adam Aloisi summed up selling decisions in a great sentence: "A trim, swap, or sell should be looked at in terms of its impact on your entire portfolio and your overriding strategy." I have a strategy document for my Dividend Growth Portfolio (DGP), and its selling guidelines are how I implement the principle embodied in that sentence.
My portfolio management question for O is based on these facts:
Because its capital value has gone up so much, O now comprises 11.6% of my portfolio's value. My selling guidelines call for me to seriously consider trimming a position if it exceeds 10% of the portfolio.
The stock is 32% overvalued. My selling guidelines call for me to seriously consider selling a position if it becomes seriously overvalued. To me, 32% is seriously overvalued.
Please note that the fact that I have a big gain or large yield on cost do not enter into the question. In an article in 2012, I explained that yield on cost is not relevant when considering a sale.
That may sound odd coming from me, given my history of defending YOC as a useful metric. It is true that I think YOC is useful, but not very much when it comes to selling. Here's why: When you are deciding whether or not to sell, your primary view is looking forward. YOC looks backward and right up to the present moment, but it does not look forward.
Likewise, the 2.5-bagger capital gain is good news but old news. The stock's past performance does not enter into the decision whether to trim Realty Income.
My selling guidelines are just that, guidelines but not hard and fast rules. They define times to seriously consider selling. For Realty Income, this is one of those times.
My current thinking is this. Realty Income has been at or above 10% of my total portfolio for several months, and I have let it ride. The reason that O's proportion is that high is because it is seriously overvalued. At fair value, it would be under 8% of the portfolio.
I am thinking that if O continues to rise to where it exceeds 12% of the portfolio, I will probably trim it back to 8%-9%, and invest the proceeds elsewhere.
I know what the arguments against trimming are:
O is doing exactly what you bought it to do. Why sell it?
Let your winners run. Strong companies get stronger.
What can you possibly replace it with that would be as good?
My guideline against oversized positions is a strategic safety measure. It pushes me in the direction of diversification. Indeed, at 10%, my guideline is far wider than most investors, many of whom have maximum position sizes of 3% to 5% of their portfolios.
My target number of positions is 20-25; I currently have 18. Diversification trumps "let it ride" considerations by my way of thinking, since at its foundation it is a risk-coping technique.
The last bullet point - what would replace O - is a strong question. I never sell anything without knowing what I will replace it with. So the possibility that I would trim O and replace it depends on having a strong replacement candidate waiting in the wings. I would require a stock that at least replaces the income lost, is of equal or better quality, and has strong prospects going forward. If no such stock exists, I won't sell O.
Disclosure: I am/we are long O.
I wrote this article myself, and it expresses my own opinions. I am not receiving compensation for it (other than from Seeking Alpha). I have no business relationship with any company whose stock is mentioned in this article.