In this article, I would apprise investors about the latest developments in Pakistan's economy, effecting NYSE: PAK ETF. Further, I would also give my opinion and analysis based on that development.
One of the biggest news items that poured out of Pakistan was the suicide attack in Lahore, the second largest city of Pakistan, killing more than 70 people and rendering more than 100 injured. In my view, attacks like these are desperation on the part of militants as they are being denied space from all quarters within Pakistan. I believe, after the successful completion of on-going military operations in FATA (Federally Administered Tribal Area), the security environment will become much more conducive as compared to current situation.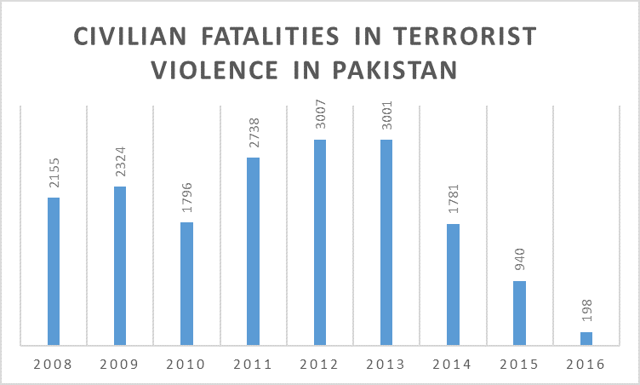 Click to enlarge
However, even today, if we compare the number of bomb blasts to those which occurred during 2008-2013 era, then the security environment has improved remarkably. As the above graph shows, the trend is on downward trajectory. However, it is incumbent on the law enforcement apparatus of Pakistan to halt even sporadic incidents that have been happening lately.
Granted, Pakistan has a law and order issue, which is largely limited to its western border but global financial markets have already incorporated its turbulent situation by jacking up the CRP (country's risk premium). I assume Pakistan's CRP would come down, given improving security landscape.
Further, MSCI has started discussions on possible reclassification of MSCI Pakistan index from frontier to emerging markets. Market participants expect $500 million of foreign investment to flow into Pakistani equities, if Pakistan reclassifies into an EM index. I think, the market has started factoring in the highly probable reclassification as there is a sudden surge in the volumes and index points. On Friday, the benchmark index broke the psychological barrier of 33,000 points with a rebound in volumes which clocked in at ~204 m against the CYTD (Calendar year to Date) average of ~125 m.
Moreover, in SBP's (State Bank of Pakistan) quarterly review, the two main takeaways are: firstly, the inflation would be in the range of 3% - 4% per annum in this fiscal year, and, Pakistan's debt servicing would not be more than $6 billion per year till 2020. Given the latest CPI (Consumer Price Index) figure of March 2016 clocking in at 3.94% YoY with an average of 9MFY16 estimated at 2.65% YoY, I foresee CPI for the FY16 would finally settle at ~3.5% largely due to subdued commodity prices which would lead to lower utility rates.
In conclusion, though Pakistan's growth rate is lower when we take regional countries into account, the GDP growth rate has remarkably increase when compared to previous years. Going forward, an upsurge in construction activity and credit off-take will bode well for the economy.
Disclosure: I/we have no positions in any stocks mentioned, and no plans to initiate any positions within the next 72 hours.
I wrote this article myself, and it expresses my own opinions. I am not receiving compensation for it (other than from Seeking Alpha). I have no business relationship with any company whose stock is mentioned in this article.