By Roger Thomas
Aptly summed, the American labor market is fine. The baseline forecast suggests the remainder of 2016 will see moderate opportunity for workers to gain employment.
Here are 9 charts summing up the state of American labor.
American Workers – Average Wage Growth
First, here's Average Hourly Wage Growth on a year-over-year basis. At 2.3% year-over-year, wage growth is decent. American workers have nothing to complain about.
With that said, it is certainly not the 1980s, 1990s, or 2000s type recovery. It probably never will be.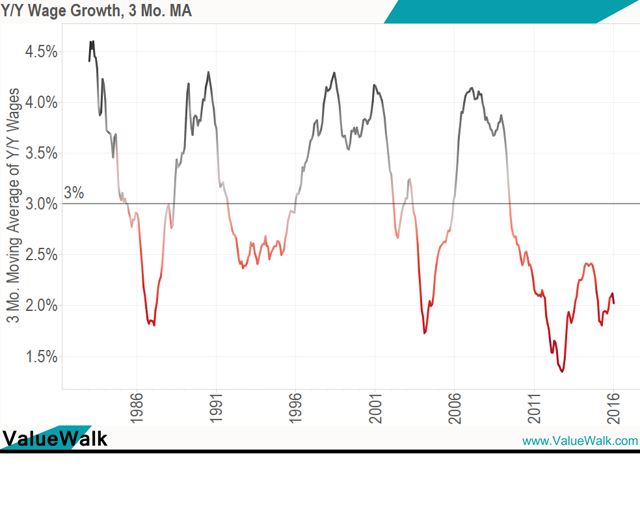 Click to enlarge
Labor Force Flows
Today's labor force flows were weak for March, but overall still in a strong uptrend direction.
The flow of individuals from Not in the Labor Force to In the Labor Force decreased by 75K to 4.484 million. The decrease, though, doesn't indicate any shift in upward direction of labor force participation.
Similarly, the flow of individuals from In the Labor Force to Not in the Labor Force continues on a marginal downward direction, although March's figure showed an increase of 5K for individuals dropping out of the labor force.

The Labor Force In-Flow Causes a 1 Point Jump in the Unemployment Rate
The increased desire to participate in the labor force caused a 1 point increase in the Unemployment Rate.
On the net, this is probably a "good" increase in the Unemployment Rate.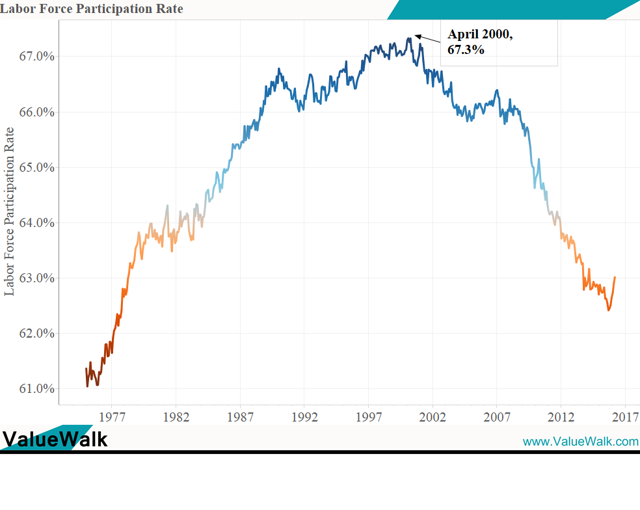 Click to enlarge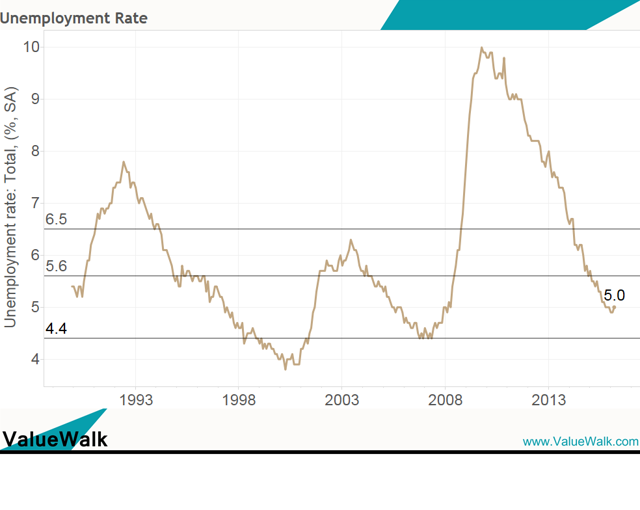 Click to enlarge
Month-over-Month Job Growth is Fine.
The jump in labor force participation comes as job growth is decelerating.
Except for the anomalous jump in February from January's low 168K job growth figure, job growth is decelerating, and has been decelerating since October's +295K.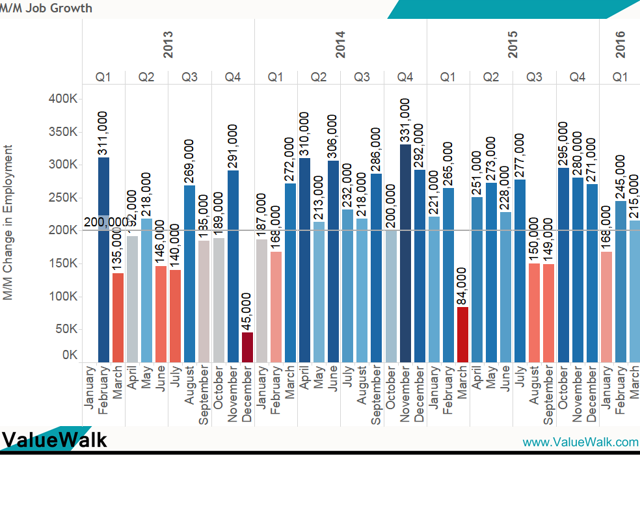 Click to enlarge
The Full-time Jobs Picture is Almost Unbelievable
Today's full-time jobs number puts year-over-year growth in full-time jobs at 2.5%, a half percentage point above the economy as a whole.
Must be crappy jobs. If wage growth is the indication of job quality, the jobs are fairly low-paying jobs.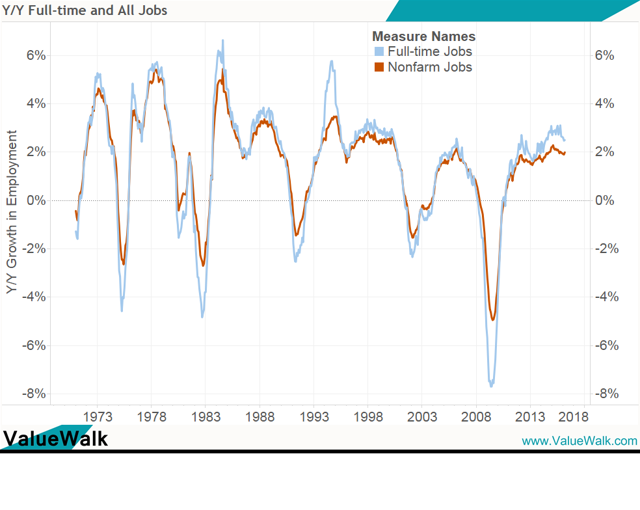 Click to enlarge
Sector Difference Probably Explain Some of the Wage Weakness Anomaly
Normally at this stage of the economic cycle, wage growth would be at least above 3%, perhaps approaching 4%. Instead, wage growth struggles to get above 2%.
What's behind the weakness?
Well, a number of factors, one of which is industry differences. Individuals are trading in what-used-to-be high wage employment in manufacturing and mining for lower wage jobs in retail and hospitality.
Here's the evidence.
The top figure is month-over-month growth in manufacturing employment. The bottom is retail employment. In a way, it's kind of sad.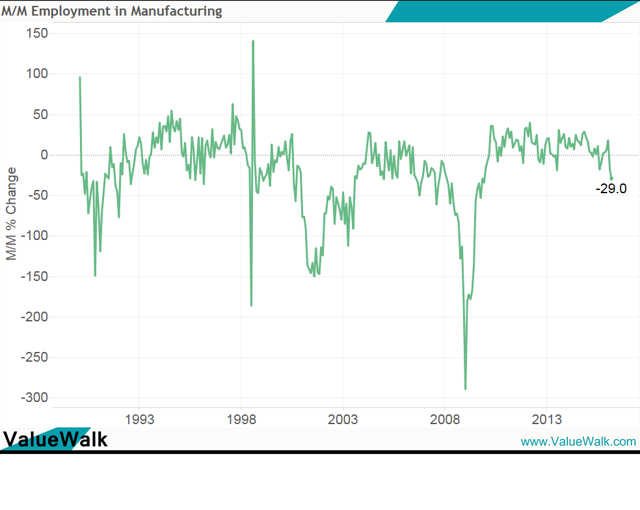 Click to enlarge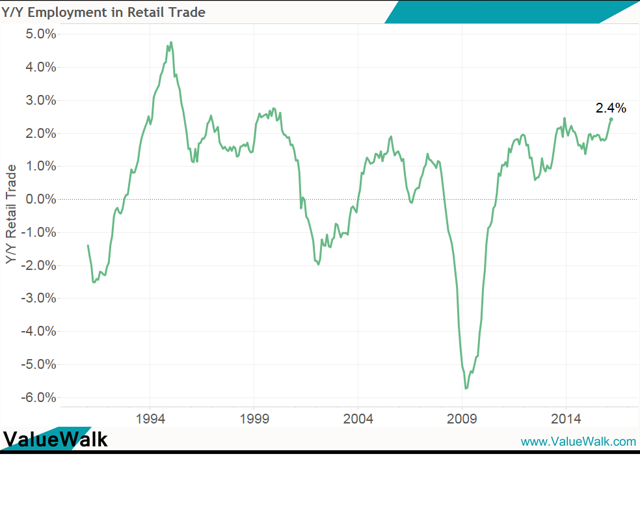 Click to enlarge
Conclusion
American labor is OK. Compared to many business conditions across the world, American workers have nothing to complain about.
Sure, wage growth is slow and the new jobs are showing up generally pay lower wages. But, wages are still growing, full-time employment is still expanding, and opportunity hasn't disappeared.
Disclosure: None