Walgreens Boots Alliance (NASDAQ:WBA), for years the staid, conservative, US retail drug store chain which has now become a global, jet-setting, hipster, acquirer, buying Boots Alliance of the UK, talked about doing a tax inversion deal, and entered into deals with the likes of Amerisource Bergen, Duane Reade, now Rite-Aid (NYSE:RAD) and even Theranos, reports their fiscal Q2 '16 financial results on Tuesday morning, April 5th, before the opening bell.
This is a whole new company and business model, very different from the Dan Jorndt-run, conservative, staid, retail drug-store giant of the 1980's and 1990's, which consistently put up 10%-15% organic earnings growth, and was a darling of growth and GARP (growth-at-a-reasonable-price) investors for decades.
Today, WBA is a grower-via-acquisitions, with Boots Alliance the major deal, increasing revenue generation by 25% and giving the former US drug-store retailer a significant UK retail footprint.
The irony of this business model transformation is that the reason WBA (formerly WAG in 1990's through the last decade) was afforded such a premium valuation in the growth stock hey-day's of the 1990s was that all their growth was organic, and it was CVS that traded at a discount back then thanks to acquired growth.
In effect the teacher , became the student (formerly CVS) and is now replicating CVS's business model, and CVS really started transforming the sector in the early 2000's with their acquisition of Caremark.
Substantially, WBA and CVS have transformed their business models over the last 15 years, and WBA more so in the last 5 years, away from primarily retail drug store operations, to broader-based healthcare companies with the drug-store still the primary customer access point.
You can't really look at WBA without looking at CVS in tandem as the retail drug story industry consolidates around these two giants, but since this is an article on Walgreens, here is what we are looking at for Tuesday and beyond:
Gross Margin:
Gross

Margin

y/y

change

11/15 q1
25.84%
-124 bp's
8/15 q4
25.47%
-248 bp's
5/15 q3
25.98%
-206 bp's
2/15 q2
25.90%
-318 bp's
2/14 q2
29.08%
-99 bp's
2/13 q2
30.07%
+118 bp's
2/12 q2
28.99%
+12 bp's
Source: earnings reports, 10-Q's
As readers can see the big change to WBA's gross margin compressed after WBA acquired the remaining interest in Alliance Boots. CVS is actually seeing the same compression in the retail drug store business just not to the same degree.
Acquisitions: WBA has increased their fully-diluted shares outstanding the last 3 years from roughly 800 - 900 million to 1.1 billion and increased their long-term debt from $2 - $3 bl to $13 billion to acquire Alliance, Amerisource Bergen and lately Rite-Aid, which acquisition will close later in 2016.
The Rite-Aid deal is expected to be accretive as with the December '15 earnings report, WBA raised the low end of 2016's earnings guidance to $4.30 - $4.55. The current fiscal '16 WBA EPS consensus is $4.47.
The one aspect to all of WBA's acquisitions is that it will give management to take costs out of the acquired businesses as they are fit into the retail store model. However WBA's operating margin which was in the 5% - 6% range in 2011 - 2012 has now narrowed to the low 4% range, or roughly compressed by 100 - 150 bp's, which is not the trend we like to see. However WBA has traditionally been a very good operator and we expect - if gross margin pressure continues - that management will make up for it with the operating margin and sales, general and administrative (SG&A) leverage.
Valuation: It is hard for readers to find "mid-teens" EPS growth in the stock market today, without taking a lot of risk and both WBA and CVS are expected to generate low-to-mid double-digit EPS growth for the next three years, with potential upside from cost / expense savings.
The issue for WBA (and CVS) is that both companies are trading for 16(x) - 17(x) 4-quarter trailing cash-flow and depending on whether you add acquisitions to capex (as I do), both companies have negative free-cash-flow.
Both companies have a dividend yield under 2% (about 1.75% for both) so I suspect dividend growth will be restrained until all these acquisitions can be incorporated under the umbrella and management can work out the costs that need to be taken out of the acquired companies.
In terms of relative valuation, I have CVS about 10% undervalued while WBA is about 10% overvalued.
Technical analysis: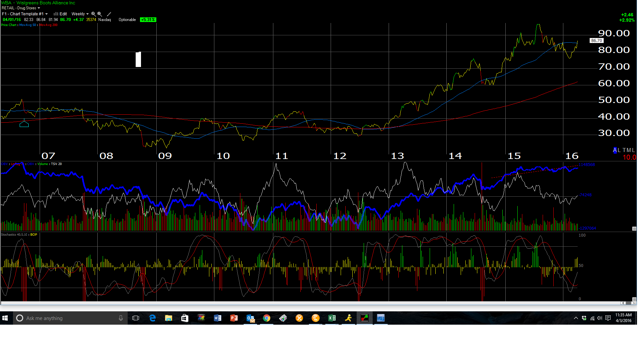 Click to enlarge
As readers can see, WBA is oversold on the weekly chart and recently traded above its 200-day moving average. I would expect at least some attempt for the stock to trade to its all-time high near $97 at some point, but whether Tuesday morning's earnings report is the catalyst, I'll leave that up to readers to decide.
Analysis / conclusion: As we noted in the last earnings report for WBA here the kind of earnings and revenue growth WBA and CVS can generate are tough to find in this market, but it is the price you pay for that growth that is usually the issue, and both WBA and CVS today are no exception.
Clients own a small position in CVS currently and none in WBA since I would prefer much lower prices to take a bigger stake.
If the SP 500 trades at an all-time high, WBA and CVS could easily run with the general equity market as P.E's expand, thanks to what should be consistent and dependable earnings growth.
The Street analysts seem pretty bullish on WBA. I simply prefer to wait for a bigger pullback. When the tax inversion deal was abandoned and WBA fell sharply, from the $80's - 90's into the low $60's in mid-2014, i probably missed a good chance to load up on WBA, but i was waiting for even lower prices.
There is a lesson in there somewhere.
Disclosure: I/we have no positions in any stocks mentioned, but may initiate a long position in WBA, CVS, RAD over the next 72 hours.
I wrote this article myself, and it expresses my own opinions. I am not receiving compensation for it (other than from Seeking Alpha). I have no business relationship with any company whose stock is mentioned in this article.