I'm bullish on Verizon (NYSE:VZ) following an insightful webcast from the Jefferies 2016 Media & Communications Conference. My key takeaways from the interview with David Small, EVP Wireless Operations are as follows:
High quality customer segment has low churn (high retention)
Equipment Installment Plans to drive recurring revenue
Upgrades create growth opportunities
The dividend is stable with room for increases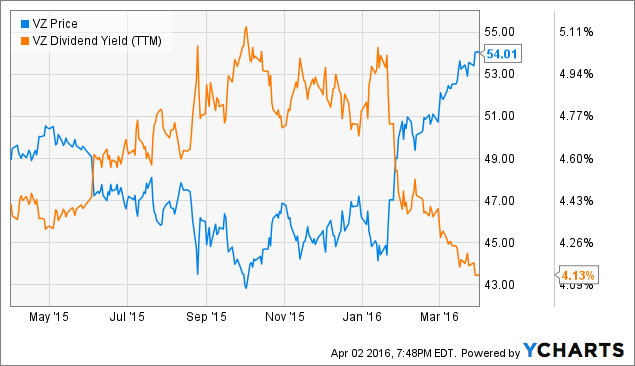 According to David Small,
What we attempt to do in our business is make sure that we attract and retain the high-quality customer segment that we go after. That particular segment attempts to differentiate a bit between price versus overall value.
This the core of VZ's business -- attracting and retaining the highest quality customers. Despite the high level of competition in the market, the company indicated churn levels and customer retention were high in Q1 this year.
David believes Equipment Installment Plans will cross the 50% of customer base threshold sometime in the next year or so. While this is somewhat of a revenue shift from services to equipment, it has superior economics over the long term, particularly as more and more customers are on installment plans.
In regards to device upgrades David commented that,
We also see upgrade volumes cycle quite a bit based upon other devices that launch in the marketplace. At Mobile World Congress, you saw Samsung make some announcements about their device, and we have a very large Samsung base. We'll see some demand there as well.
This additional demand creates a tailwind for incremental revenue from device upgrades.
As we see below in Verizon's 3-tier strategy, the above points are congruent with the 3 main bullets below of identifying high growth markets, investing and executing, and achieving market leadership.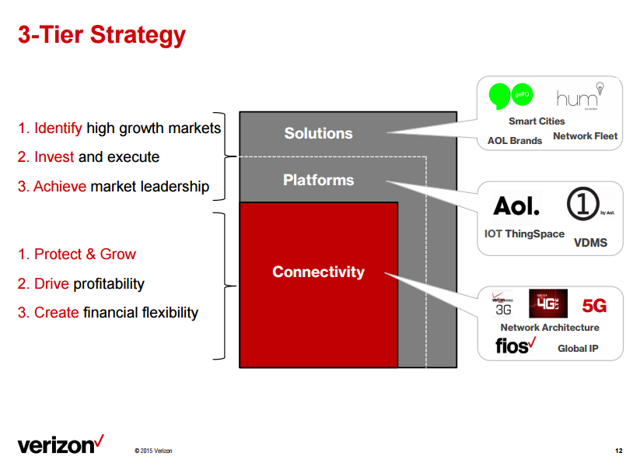 Click to enlarge
This in turn allows the business to drive profitability and create financial flexibility, which brings me to my final point on the dividend.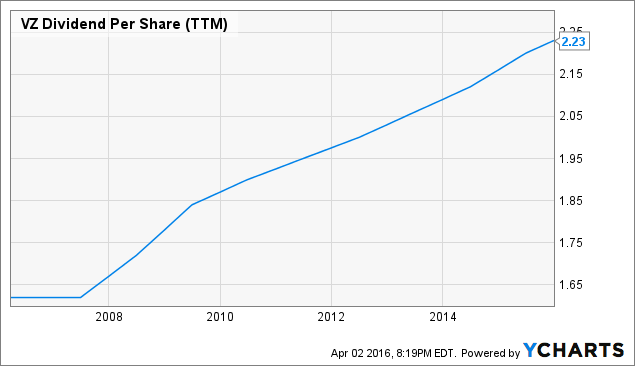 VZ Dividend Per Share (NYSE:TTM) data by YCharts
As you see in the chart above VZ has done an exceptional job of growing the dividend per share very consistently since 2008. I have updated my DCF model for various growth scenarios which indicate the rate of dividend increases can continue at least through 2017 at about 5% per year. With the current cash payout ratio of about 75% and expected EPS growth in 2016 and beyond, VZ presents a compelling opportunity for yield oriented investors with limited downside risk.
Closing thoughts from Verizon's most recent IR deck: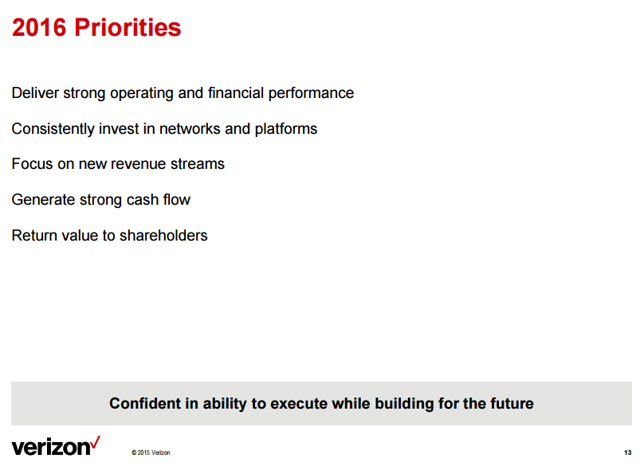 Click to enlarge
If you're looking for some stable, high quality yield pickup in your dividend portfolio, VZ could be the answer.
Disclosure: I/we have no positions in any stocks mentioned, but may initiate a long position in VZ over the next 72 hours.
I wrote this article myself, and it expresses my own opinions. I am not receiving compensation for it (other than from Seeking Alpha). I have no business relationship with any company whose stock is mentioned in this article.