Stocks are set up for a big drop, according to a chart, which shows that gold and US Treasuries have outperformed US equities in Q1, 2016.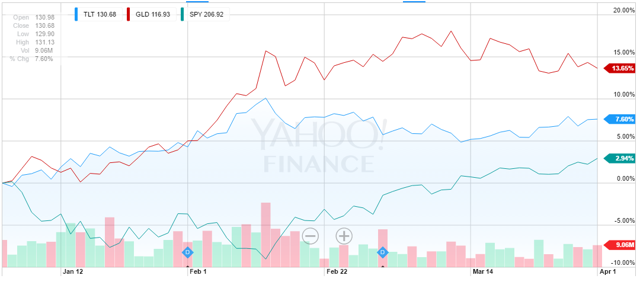 Click to enlarge
Last time we saw a chart like that it was at the end of 2007. We'll know what happened shortly after: stocks crashed while US Treasuries and gold continued to rally.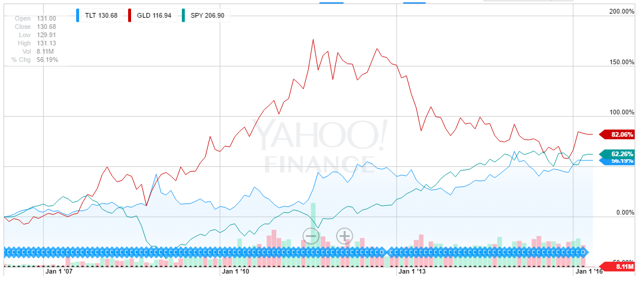 Click to enlarge
To be fair, charts aren't terribly accurate in predicting the future. And any parallel performance of different assets in different time frames could be just a coincidence.
Still, there's good reasons to be concerned about both gold and US Treasuries rising at the same time, and outperforming equities.
The first reason is that a rally in US Treasuries is a sign of a weak economy ahead, and that's bad news for corporate profits, and therefore, for stocks.
In fact, corporate profits have already been heading south, as stocks are heading higher. But for how long?
In Q4, for instance, corporate profits dropped by 15%, while S&P 500 gained 4.55%, Dow Jones Industrials gained 5.72%, and Nasdaq gained 7.55%.
Q4, 2015 Statistics
| | |
| --- | --- |
| Statistic | Change |
| Corporate Earnings growth* | -15% |
| S&P Pro forma EPS+ | -3.6% |
| SPDR S&P 500 ETF (NYSEARCA:SPY) | 4.55% |
| SPDR Dow Jones Industrial Average ETF | 5.72% |
| PowerShares QQQ ETF (NYSE:QQ) | +7.55% |
*GDP report, Department of Commerce
+Fact Sheet
Second, US Treasuries and gold are hedges against global uncertainties associated with subzero interest rates and soaring debt in some parts of the world. We're talking about debt accumulated in the after-math of 2008-9 financial crisis (Great Recession), according to a recent McKinsey report. That's on top of debt that had been accumulated before the crisis with the help of the Federal Reserve and other central bankers.
Third, ultra low interest rates have turned cash in the bank a toxic asset, pushing investors to hold any other asset but cash.
That has created a positive correlation across asset categories that magnifies rather than spreads portfolio risks.
We'll know what that means when one of these assets heads way south: it pulls the other assets along creating a contagion that turns a market correction into a crash.
What we don't know is who will be the next Lehman Brothers this time around.
Disclosure: I am/we are long QQQ.
I wrote this article myself, and it expresses my own opinions. I am not receiving compensation for it (other than from Seeking Alpha). I have no business relationship with any company whose stock is mentioned in this article.