This week, I will publish the first in a series of weekly reports that I believe could help investors, particularly those focused on value plays, think through fresh ideas for the coming week. "Buy on Weakness?" will highlight the top tech companies - worth $10 billion or more in total equity value - that have performed the poorest in the previous trading week. I will then pick one or more of the "losers" and turn the discussion to whether the price drop was justified or overdone, and whether investors should consider adding one or more of these short-term losers to their portfolio to take advantage of the pullback, in the long run.
Top 20 large-cap tech "losers" of Week 13, 2016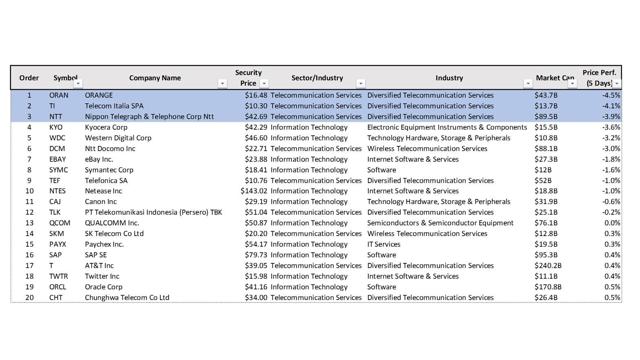 Click to enlarge
Source: DM Martins Research, using market data compiled through Fidelity
The week of March 28th (trading week #13 of 2016) was a rough one for non-U.S. telecom service providers. Within the "top 10 losers" list, international carriers claimed five spots, with Orange (NYSE:ORAN), Telecom Italia (NYSE:TI), and Nippon Telegraph and Telephone (NYSE:NTT) dominating the top three.
ORAN's consolidation plans shot down; M&A environment in European telecom proves challenging
ORAN was up nearly 1% for the week as merger talks between the company's and Bouygues' (OTCPK:BOUYY) boards unfolded. That was until the tail end of Friday's trading session. Around this time, ORAN's management announced its intentions to end M&A discussions with BOUYY that would have led to further consolidation of the French telecom sector, down from four to three major players - ORAN; Numericable-SFR (OTCPK:NUMCF), owned by Altice SA (OTCPK:ATCEY); and Iliad/Free (OTCPK:ILIAY).
Consolidation has been a hot topic in the sector for at least the past couple of years. Particularly, after the 2012 entry of low-cost carrier Iliad in the French market, under the brand name "Free," competition among the top telecom service providers has become increasingly fierce. For instance, despite ORAN's decent performance in FY15 compared to the previous year, op margin of 11.8% has dropped nearly 6 percentage points from 2011's 17.7%, while revenues have sunk more than 11% over the same period. Meanwhile, Iliad has recently announced its 25% market share target for the longer term, proving that the incumbent is ready to (and confident that it can) absorb a good portion of the mature wireless communications market in France.
Industry consolidation could relieve some of the competitive pressures and give large carriers a much-needed room to breathe. At least, this seems to be the Street's understanding. Notice, from the chart below, how M&A-related developments have dictated the pace of ORAN's stock performance in the past 12 months - the exception being the company's strong 3Q15 results released in October 2015.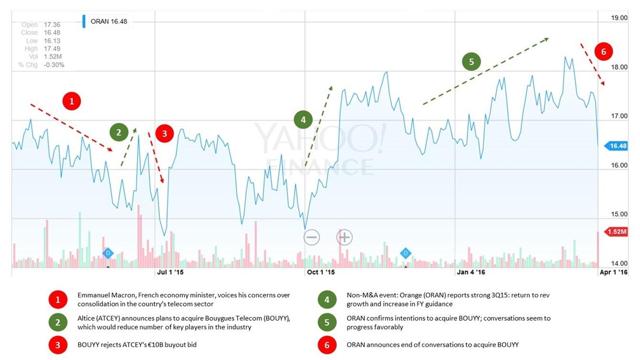 Click to enlarge
Source: DM Martins Research, using data from Yahoo Finance and multiple news sources
The problem, however, is two-fold. First, the complex nature of M&A deals in the communications industry can get in the way of consolidation efforts in the short and medium-terms. The success of the ORAN-BOUYY deal, for example, relied not only on the two negotiating companies agreeing on the terms of the acquisition, but also on negotiations with French officials and with rival companies Numericable-SRF and Iliad/Free, both of which had an interest in acquiring assets spun off from BOUYY - a crucial piece of the puzzle needed to address regulatory concerns.
Second, ORAN's largest equity owner, the French government (27% stake), has competing interests that seem to be setting a high bar for any acquisition to clear approval thresholds. French ministry Emmanuel Macron stated, early in 2015, that "in France the sector has reached a point of equilibrium. Time is not right for a consolidation between operators but for investment. Consolidation means less equipment, less networks and less jobs." The same official said, about supporting the ORAN-BOUYY deal, that "there [was] a straightforward list of criteria - investment, jobs and consumer protection. [The government would] assess the telecoms on that basis." So not only does the acquisition have to make sense to ORAN, but it has to benefit France as a whole, through creation of jobs, competitive pricing to the end consumer, and investment opportunities.
This dynamic of complex moving pieces that do not easily fit together and different stakeholders protecting varied interests may help to explain the many "false starts" in consolidation attempts in the European telecom industry in the recent past. Before ORAN's €10 billion offer to acquire BOUYY, ATCEY attempted a similar move in 2015 - a deal that was rejected by BOUYY's board. ORAN itself considered working up a deal with Telecom Italia in June 2015, an idea that was recently called "a fantasy" by the Italian carrier's chairman. In 2014, the three-way talks between ORAN, BOUYY and ILD-PA to push for consolidation resulted in ORAN finally throwing in the towel.
Fundamentals look slightly better than peer average
A quick look at fundamentals (see table below) suggests that ORAN edges the peer group average by a small margin. The French carrier's 2017 EPS growth expectations of 12% are slightly higher than the peer group's median of 10%. Yet, ORAN's valuation, on a forward 2016 P/E basis, is slightly below the peer group's - 13.6x vs. 14.0x. This is despite the fact that ORAN has debt levels comparable to its peers, at a net debt to EBITDA ratio of 2.3x.
It is also worth mentioning that ORAN managed to keep revenues and EBITDA flat YoY in FY15 after a few years of declining sales and compressed margins. Management also raised 2016 EBITDA guidance in October 2015 to €12.3 billion, signaling another year of stability ahead.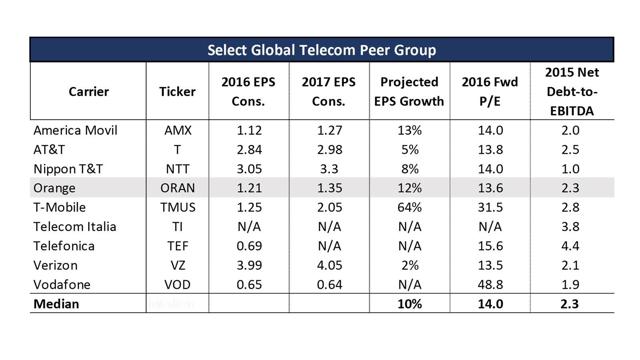 Click to enlarge
Source: DM Martins Research, using data from Company Reports and estimates from Yahoo Finance
Exactly one week before the close of last Friday's trading session, ORAN's shares were valued at $17.26, representing 14.3x forward earnings. Last week's pullback might not have been enough to make ORAN "a steal," but at least it removed some, if not all, the market premium associated with the failed BOUYY acquisition. After surging 10% over the 2 months that followed the announcement of the deal negotiations, ORAN is now nearly flat YTD.
All things considered, I believe that ORAN is too exposed to the ups and downs associated with the complex consolidation of the European telecom sector. But from a fundamentals perspective, the company seems to be one of the most robust in the sector, albeit not by a large margin. Those investors that believe in the ORAN story and see in it a good investment opportunity might want to take advantage of the pullback in share price to give themselves a better margin of error. On my end, I will remain on the sidelines, watching as the European telecom sector continues to look for its north.
Disclosure: I/we have no positions in any stocks mentioned, and no plans to initiate any positions within the next 72 hours.
I wrote this article myself, and it expresses my own opinions. I am not receiving compensation for it (other than from Seeking Alpha). I have no business relationship with any company whose stock is mentioned in this article.
Editor's Note: This article discusses one or more securities that do not trade on a major U.S. exchange. Please be aware of the risks associated with these stocks.