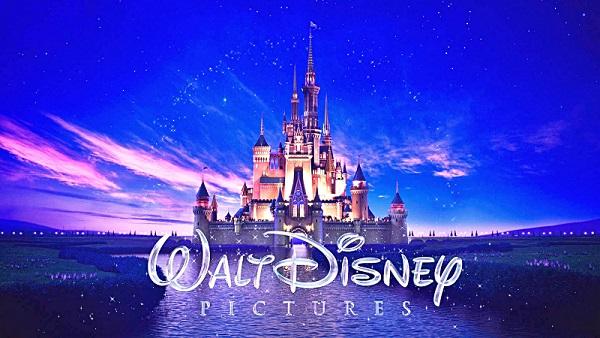 The Walt Disney Company (NYSE: DIS) is a company that has touched the lives of nearly everyone on Earth, whether it was through the very first Laugh-O-Grams or the lovable cartoon characters that we have all grown up knowing.
As a consumer of Disney in all areas, whether it be through movies, amusement parks, merchandise or ESPN, I'm excited for the future. Not only will I get to enjoy the magic that the company offers, but also watch my investment grow over time. Let's take a look from a consumer's perspective and how it could add value to the company.
The movies of the future
Below is a table I compiled of all the movies currently in the production or planning phase for Walt Disney. There may be a few that I have missed, so if you spot any, please let me know! All information has been provided by BoxOfficeMojo and InternetMovieDatabase.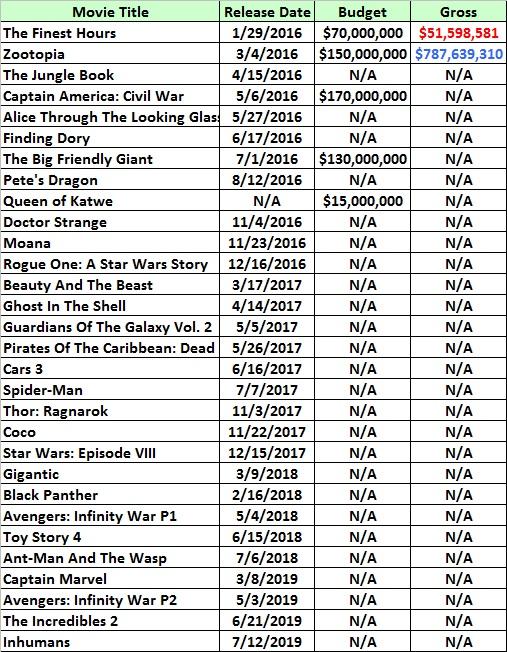 The parks of the future
Many interesting changes are taking place when it comes to the theme park division in 2016, let's take a look at what is on offer below domestically in the USA and internationally.
Orlando
Animal Kingdom
Rivers of Light is a show located on the waterway in the center of the park. It will feature entertainers, floating lanterns, water screens and animal imagery that will be sure to rival the firework display at Magic Kingdom.
The other change at Animal Kingdom includes the ability to go on the Kilimanjaro Safari at night, offering a completely new experience for visitors at the park to see the animals in a different setting.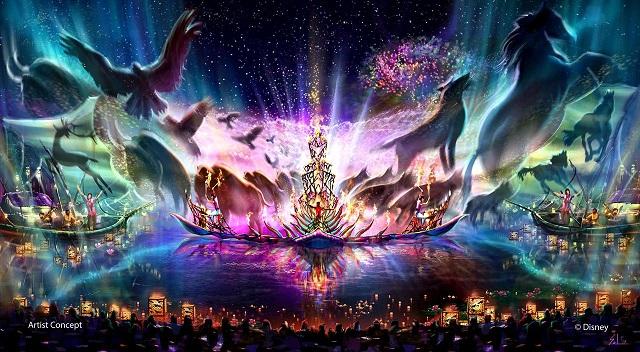 Though not available this year, in 2017, visitors will be able to experience the all new Pandora: The World of Avatar. Based on the highly successful movie, visitors will be able to experience the world of Pandora for themselves. They will be treated to amazing scenery that will feature a floating mountain and glowing plants that are alive with light and sound.
Two ride attractions have been announced so far. This will be "Flight of Passage" where you will board a bird-like beast called a Banshee and fly through the skies in a 3D simulation. The other attraction named the "Na'vi River Journey" will simply be a boat ride exploring the area that visitors may not necessarily be able to see on foot.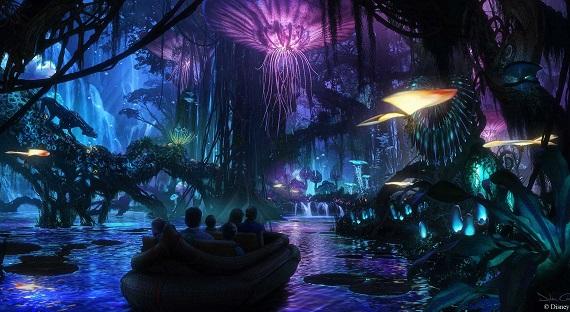 Epcot
The only attraction opening this year at Epcot will be "Frozen Ever After" located in Norway Pavilion. This will be a boat ride that takes guests on a 4-minute trip through the events of the first Frozen movie. It is expected to use animatronics, projection effects, and a room where Elsa sings "Let It Go" while simulated snow falls from the sky.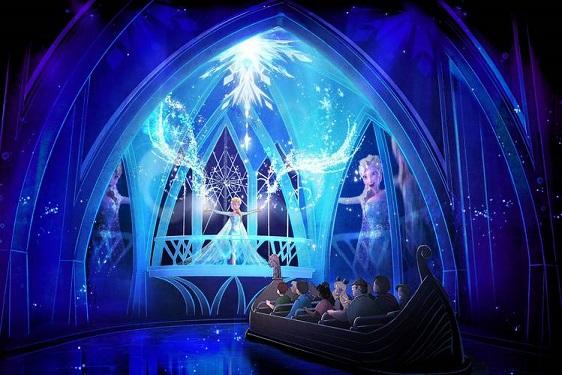 California
Disney California Adventure
Luigi's Rollicking Roadsters is a trackless ride that sees Luigi and his cousins demonstrate the dances of their village. Each car has its own distinct personality and movements.
The other change is the replacement of Disney's Aladdin - A Musical Spectacular to a musical dedicated to the Frozen movie.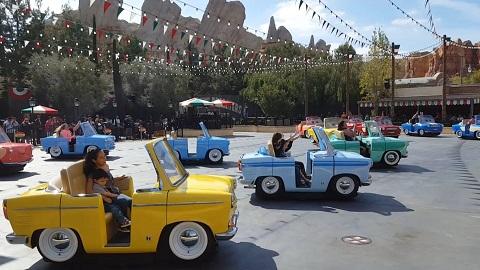 International
France
The Animagique show is going to be replaced by a show titled Mickey and the Magician. Mickey Mouse is asked to clean up the magician's studio, and will be joined by other characters such as Genie from Aladdin, Cinderella and her Fairy Godmother, the stars of Beauty and the Beast and Rafiki from The Lion King.
Hong Kong
Hong Kong Disneyland is going to be given its first Marvel-themed attraction in late 2016. The ride will be titled the Iron Man Experience, and is a 3-D motion simulator which takes you on a journey with Tony Stark around Stark Expo. The riders will then be given a tour of Hong Kong until Hydra launches an attack on the city. The riders will join Tony Stark and fight the menace.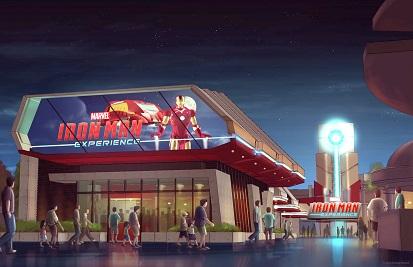 China
The opening of Shanghai Disney Resort is one of the biggest excitements for investors and consumers alike. The site is roughly 3 times the size of Hong Kong Disneyland and is estimated to cost close to $5.5 billion. The Walt Disney Company will own 43% of the result and 57% will be owned by Shanghai Shendi Group.
Phase 1 of the resort will feature a Disneyland-style park that resembles Magic Kingdom, an entertainment district, two themed hotels and recreational facilities. Transportation hubs will be mirrored to what is provided in the other parks around the world.
Summary
These welcome additions to the parks will help the experience feel fresh and new to returning customers and those experiencing the Disney Resorts for the first time. Increasing foot traffic is clearly a priority and the ability to convert themed rides into merchandise sales such as photos, keyrings, t-shirts, toys etc.
If we look 4 years into the future, we have "Star Wars Land" which will be themed areas located within the parks at Disneyland Park in California, and Disney's Hollywood Studio's in Florida. Two dark rides are expected for both parks, one featuring a ride in the Millennium Falcon, and the other placing riders in a battle between The First Order and The Resistance.
Historical Data
Below, I've compiled some data from the financial statements found on popular sites such as morningstar.com. From the information provided, I was able to create the template I use when screening for stocks. This includes metrics such as capital expenditure divided by cash flow, cash return on invested capital which takes into consideration the long-term debt and total equity, and finally the free cash flow per share.
What is interesting to note is that Disney has improved on all 3 areas of concern, it has gradually reduced the percentage of capital expenditure it uses from its cash flow, while at the same time increasing its return on invested capital. The free cash flow per share has more than doubled in the 4 years since 2011, at a CAGR of 21.25%.

Once again, if we take a look at the income statement where we can see things like revenue and net income, they have all grown at a satisfactory pace. The best improvement has come from the company improving its efficiency as witnessed by the growth in its net income. The profit margin has grown from 11.76% to a respectable 15.98%. This ultimately drives shareholder returns going forward as the earnings per share figure increases, so does the share price. We can also see this in the table above when looking at the share price range. Imagine if you were lucky and purchased at $29 a share in 2011, you would now have a yield on cost of 4.72% after 4 short years.

Analysts at yahoo are forecasting EPS to grow at 11.87% over the next 5 years, and most of the quarterly estimates have been revised upwards. Let's see how my calculation compares below.
Intrinsic Value Calculation
If you were to invest at today's price of $99 a share, you would be getting an earnings yield of 5.4%, which is slightly lower than the S&P 500 at 5.6% currently. Looking at the past 10 years, earnings per share has increased from $1.19 in 2005 to $4.90 in 2015 for a CAGR of 15.20%.
Projecting this figure 10 years into the future, Disney should have an earnings per share figure close to $20.17. Now for a conservative estimation, we multiply it based on the lowest PE ratio over that period, which is 10.8 in 2008 showing the extreme pessimism in the stock market during the crash. This would be calculated as follows: EPS $20.17 x PER 10.8 = projected future share price of $217.83.
So if we bought today at $99 and sold at the future share price of $217.83, our total gain from the sale of $118.83 a share would give a total return of 120% or annual rate of return of 8.21%.
Now, let's include the dividend that is currently at $1.37 and assume that it is just maintained over the next 10 years for a conservative estimate too. We can add $13.70 to our $118.83 proceeds from the sale. This boosts our total return to 133.86% and gives us an annual rate of return of 8.87%.
Conclusion
Please consider the fact that the calculation above is conservative, as it takes into account the lowest PE ratio over the past 10 years, and also a dividend that remains flat over the same period.
If we were to do it based on today's forward PE ratio, you would most likely get an annual rate of return between 12-13% which is also a very impressive figure. Looking at the movies planned over the next several years, along with improvements to the theme parks, I'm very excited for the future. This encouraged me to make a purchase of 23 shares in Disney on March 10th at a price of $96.75 and I'm more than happy to add on any weakness.
Disclosure: I am/we are long DIS.
I wrote this article myself, and it expresses my own opinions. I am not receiving compensation for it (other than from Seeking Alpha). I have no business relationship with any company whose stock is mentioned in this article.
Additional disclosure: All information provided by morningstar.com, boxofficemojo.com, imdb.com, and Disney's websites and D23 Expo event.