A few stocks that my clients and I have in our portfolios had a massive rally recently. The stocks I'm talking about are:
These stocks have one thing in common. They are all operating in the food industry. Tyson is one of the biggest players of the meat industry. Pork, beef and chicken are the biggest part of Tyson's business. McCormick is specialized in spices, mixes and condiments. General Mills does it all. They have cereals, soups, fruits, baking products, ice cream, meals and much more.
The main reason I have these stocks in my portfolio is the economy. Growth has been slowing and is still slowing significantly. I wrote a few articles about that very topic.
Most of my trades are spread trades to protect me from market crashes and give a more secular touch to my portfolio. In other words, I trade economic changes without having a high correlation with the market.
General Mills for example has been the long side of the trade General Mills versus SPDR High Yield Bonds JNK. Junk bonds got into trouble when oil started to fall while General Mills kept performing quite well. At the same time when junk bonds started to rally, General Mills' stock also went up. Therefore I was able to make money with this trade even when oil rallied. The spread is in an uptrend since many years and I don't expect that to change.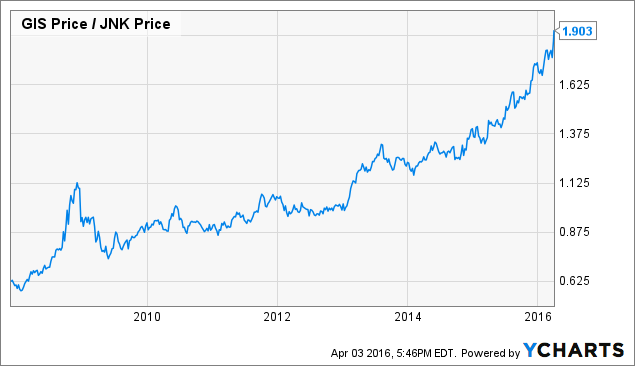 Fundamental Chart data by YCharts
One reason why I'm writing this article is to show you why I'm still bullish on food stocks - even after this rally.
The ISM food, beverages & tobacco industry sentiment has recovered from a dip and is extremely positive at the moment. The outlook for food companies remains very strong. Although these are just a few sentences I want you to be in the clear about the importance of these leading indicators. Even if a company has strong margins and lots of cash for example, it will suffer if the sentiment and outlook is bad. The ISM industry analysis is popular with hedge fund and should be with retail traders in my opinion. However, let's take a look at the chart below.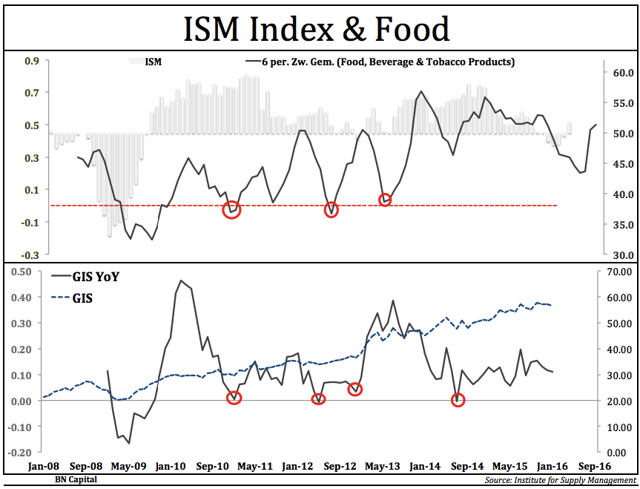 Click to enlarge
The upper part of the chart shows the ISM index and the six months average of the food, beverages & tobacco industry. The lower part shows the General Mills stock price and the year-on-year price change of the stock price. From 2010 till 2012 there was not much momentum while the sentiment was close to contracting. After 2012 sentiment jumped and has been at high levels since then. The stock however started a strong rally in 2014. I think that the delay is due to unsystematic stock risk and not the food industry in general.
When it comes to stock valuation I don't dig too much into the figures. Most of these companies are trading at 3-4 times future growth (NYSE:PEG). If I were looking for amazing secular growth stocks I would ignore them. However, these stocks are in my portfolio to hedge a few bearish trades. At the same time they benefit from a strong sentiment and the fact that they are defensive trades.
What I want to advise readers is to buy these stocks as well if you are building a portfolio with long and short exposure. For me it worked quite well to trade these stocks against cyclical stocks like junk bonds or industrials. If you are a long term investor and don't care for the coming few months I think you should own these stocks as well. Most of them pay a 2-3% dividend and are stocks you won't regret owning for the long run.
And just to be clear. Although I own MKC, GIS and TSN it doesn't mean that the peers won't do as great. Overall the food industry looks promising to me.
Disclosure: I am/we are long MKC,GIS, TSN.
I wrote this article myself, and it expresses my own opinions. I am not receiving compensation for it (other than from Seeking Alpha). I have no business relationship with any company whose stock is mentioned in this article.