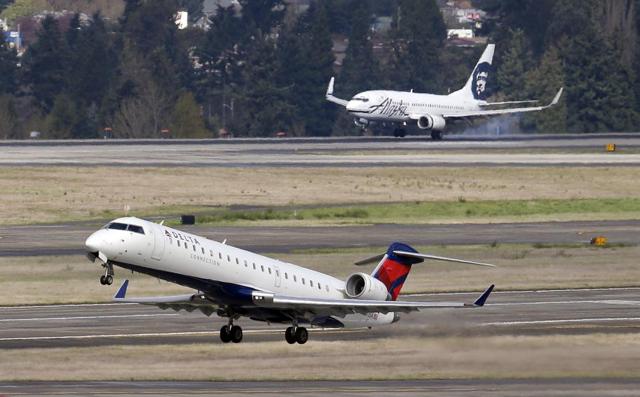 Click to enlarge
Img 1: Alaska Airlines and Delta In Seattle
The Wall Street Journal has been reporting updates throughout the weekend on the state of bidding for Virgin America (NASDAQ:VA). It appears after several rounds of bidding Alaska Airlines (NYSE:ALK) walked away the winner with the final bid having rose close to $2.50 billion. Many are seeing the bid as a way for Alaska Airlines to keep one of its top rivals, JetBlue out of the West Coast market, Alaska Airlines home territory. So the next question is, how will a Alaska Airlines - Virgin America deal affect Delta Airlines (NYSE:DAL)?
Short Term Gain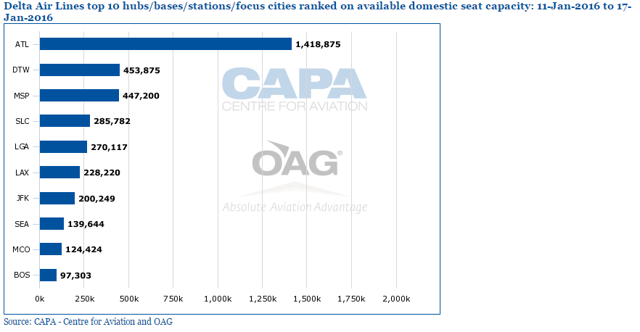 Click to enlarge
Img 2: Delta largest hubs
Delta Airlines has spent a lot of effort working to build a trans pacific hub out of Alaska Airlines largest base in Seattle. With such an expensive acquisition, many will be expecting that Alaska Airlines shows that it was a wise financial move. Alaska Airlines will have full focus on turning Virgin America's business around to maximize profitability. Alaska Airlines has no recent experience since the 1980's in airline mergers and likely had no anticipation of a merger up until just over a week ago when Virgin America began to solicit bids. Alaska could have its hands tied trying to get the right people on its team for this task and integrate an airline that operates a completely different fleet and is different in many ways from Alaska Airlines.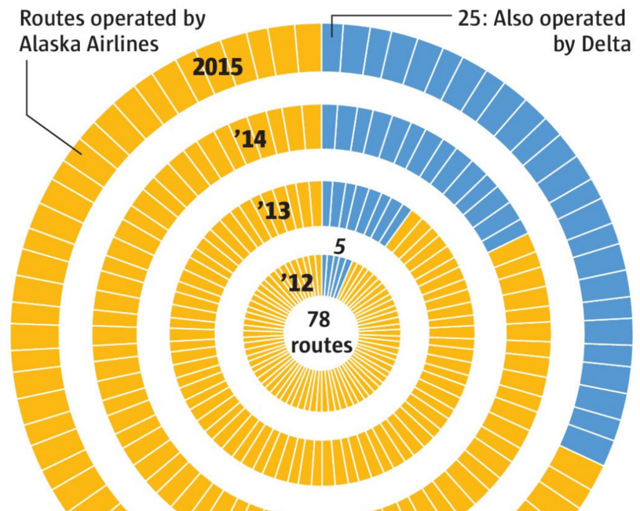 Click to enlarge
Img 3: Overlapping Alaska Airlines and Delta routes in Seattle by year
This long and complex integration process is likely to be a very positive short term gain for Delta Air Lines. It will allow Delta to continue to build up its hub in Seattle with Alaska distracted and busy focusing on its merger. Seattle is key for Delta Air Lines to succeed in Asia long term and so far it appears to be having mixed results. If Delta can increase the number of domestic flights in Seattle to feed its international network and in turn grow its international network it will be a positive for the airline. Up until now however Alaska has responded aggressively against Delta's build up and many have been surprised how well the much smaller airline has fared against Delta.
Long Term Pain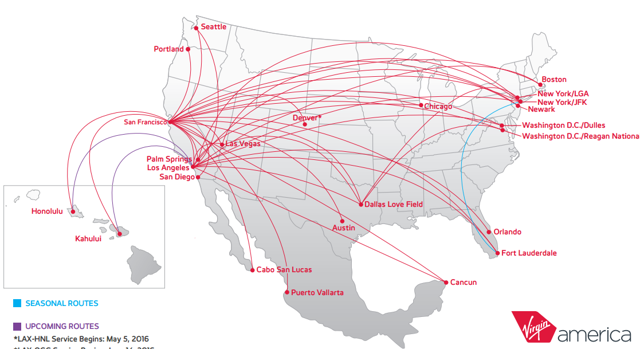 Click to enlarge
Img 4: Virgin America route network
Long term the story is not as good for Delta Air Lines. Once the integration with Virgin America is complete, a much stronger Alaska Airlines will result. The airline will absorb and be flying many of the routes shown above. The combined airline will have a larger presence in San Francisco, and Los Angeles than before resulting in a very strong West Coast powerhouse.
| | | | |
| --- | --- | --- | --- |
| | Alaska Airlines | Alaska + Virgin | Delta |
| Los Angeles | 5% | 11% | 17% |
| San Francisco | 4% | 15% | 8% |
Table 1: Airline market share by airport before and after merger
In addition, as I pointed out in my article, here, American Airlines will likely be the largest third party beneficiary of such a deal, as it will gain access to the new enlarged Alaska network at no cost/risk to them. The improved positions of both Alaska Airlines and American Airlines as a result are a negative for Delta in the long run.
Conclusion
One has to hope however that in the short term Delta Air Lines use this opportunity to build a much more solid footing at Seattle, which will allow them to thrive against a much stronger Alaska Airlines. Long term the acquisition will be a negative for Delta, but largely only in the West Coast.
For now I believe the best airline stock to play the merger will be American Airlines, as they will see noticeable gains with zero risk in this deal. For longer term investors willing to ride the ups and downs of integration, I believe Alaska Airlines will be a good long term pick. Airline stocks have shown volatility through mergers but consolidation has been good for the industry and long term all recent airline mergers have resulted in a substantial stock price increase after the merger versus before.
Disclosure: I am/we are long AAL, JBLU, VA.
I wrote this article myself, and it expresses my own opinions. I am not receiving compensation for it (other than from Seeking Alpha). I have no business relationship with any company whose stock is mentioned in this article.