Barclays (NYSE:BCS) is trading at a distressed valuation, which partly reflects the overall banking valuations. The other key drag on valuation is perceived risks on its strategy execution.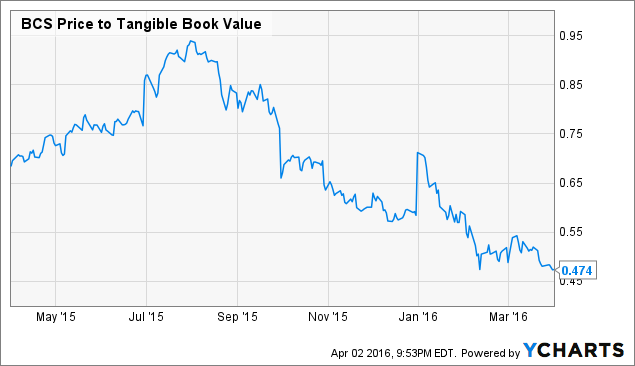 BCS Price to Tangible Book Value data by YCharts
In a nutshell, I believe Mr. Market (not uncharacteristically) is taking an extremely short-sighted view based on current expectations of messy 2016 financials. An investor with a slightly longer time frame can take advantage of this opportunity - I believe that by 2017, BCS will deliver much cleaner earnings and expect it to be much closer to earning its cost of capital (estimated at 10%). This translates to a valuation which is approximately double the current share price.
So why is FY2016 a messy year?
BCS has a new CEO - a decisive and an impatient one.
Mr. Jes Staley is a well-respected investment banker and a JPMorgan (NYSE:JPM) veteran. It is clearly an accelerated restructure year and early days clearly indicate that Mr. Staley is not wasting any time.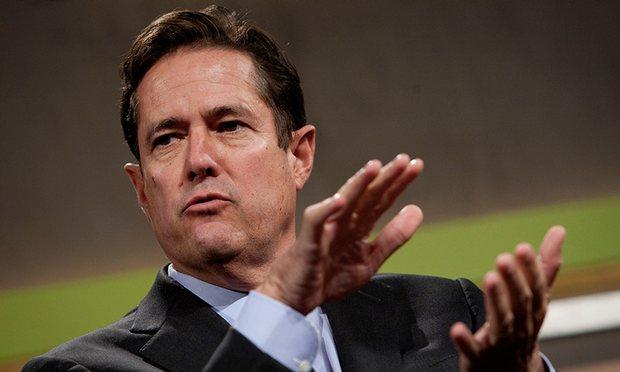 Make no mistake about it - 2016 reported financials will be terrible and for the following reasons:
Accelerated wind-down of non-core unit will likely result in larger losses flowing through the P+L in 2016
Significant (primarily one-off) additional costs in "ring-fencing" the UK retail bank and setting up the U.S. intermediate U.S. holding structure (including CCAR investments)
Industry-wide headwinds from a dismal IB environment impacting revenue
Legacy legal issues will likely reach settlement resulting in material costs booked
Under the current business model, BCS is still expected to continue building capital - in other words, increasing the denominator in the RoTCE equation.
So when a short-sighted Mr. Market focuses on the above multiple and material short-term headwinds, a valuation south of 0.5x tangible book value, does not seem unreasonable, right?
Not in my view. I recognize these are short-term in nature and can see beyond the next couple of quarters. I am sure Mr. Market will slowly (or quickly) change its view.
What about 2017 and beyond?
2016 will undoubtedly be a terrible year for Barclays but investors should clearly see the light at the end of the tunnel. 2017 will be very different as most of the above headwinds are likely to materially abate.
What are the catalysts for doubling of share price?
Non-core wind-down acceleration is a key execution focus. BCS is guiding for RWA of $20 billion by end of 2017 - by that time, the drag on RoTCE will be much less insignificant and RoTCE should converge to profitable core returns. My sense is that BCS will reach this target earlier and it will opportunistically sell down exposures as soon as it can. Predominantly, this is in the control of BCS management (of course, subject to markets' bids). Once investors realize that non-core wind-down is executed well on - the Street will have to rerate the stock.
The firm is guiding for a disposal of Barclays Africa in 2 to 3 years. The benefits of this sell-down are extremely accretive and should over time reduce BCS going-forward complexity and regulatory capital requirements. I believe the timeframe is overly conservative - Barclays Africa is generating a local RoTCE in the high teens and is an extremely attractive asset for the right buyers. It should also generate a sale price above tangible book value. I would not be surprised if an announcement of a sale may be forthcoming in the next 12 months.
The core IB will get ever more efficient - it is currently delivering a mid-single digit RoTCE well below average industry returns (which are 8-9%). On-going cost management and capital efficiencies will mean that it will get closer to earning its cost of equity (even if assuming that current lackluster trading environment will persist for the foreseeable future).
So how do I think things will play out?
Jes Staley will execute well. This is no lawyer or insurance guy CEO - he has been trained for many years in the (well-regarded) JPMorgan's school of banking.
But more specifically, I think Barclays Africa will be de-consolidated earlier than communicated - it's fair to assume that the M&A advisors are already salivating over this deal, putting together the power points and working the phones. It is one of those deals that is unequivocally "win-win" for all involved.
Non-core unwind will exceed expectations but expect modest TBV erosion - many assets are already under contracts and for the right price, there will also be a bid for chunks of the derivatives portfolio.
The core IB has the biggest uncertainty in my view - it is somewhat dependent on the markets. It is interesting to note that BCS is guiding to a very reasonable Q1'2016 - flat year on year for January and February whereas most of its peers are reporting over 20% decline. I am not sure exactly what is going-on but BCS IB traditionally performed better in weak trading environments and some of it is probably favourable FX. We will not know for sure until numbers are published and commentary provided.
A recent FT article (sign-in required) highlights the better trading revenue expectations for the firm: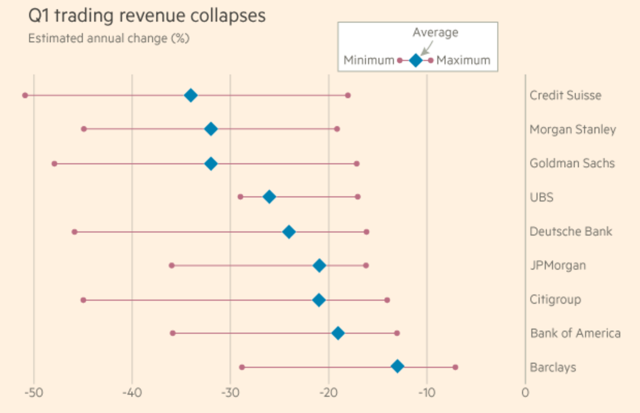 Click to enlarge
Final thoughts
BCS has a credible path to trading at tangible book value - most of the way there is within the control of management. The strategy also makes sense - as I discussed in a previous article, the sale of Africa is really a regulatory capital-driven decision and it is effectively a Hobson's choice when it comes to the IB.
This is a very different proposition compared with Credit Suisse (NYSE:CS) whose strategy heavily relies on markets recovery and more heroic assumptions on revenue growth in Asia. I have an article in the pipeline on CS, so if of interest I encourage you to sign up as a "real-time follower."
Finally, BCS has a CEO that completely understands IB dynamics - this is a key advantage, given the challenges BCS is facing in this space. I think Barclays' board has acknowledged that you can have an IB CEO running the retail bank but cannot have a retail CEO running the IB.
BCS is certainly a conviction buy for me at current prices.
I cover U.S., European, Asian, Canadian and Australian large-cap banks, identifying long and short opportunities. If interested in the topic, I encourage you to sign up as a "real-time follower" or message me if interested in a specific banking name.
Disclosure: I am/we are long BCS.
I wrote this article myself, and it expresses my own opinions. I am not receiving compensation for it (other than from Seeking Alpha). I have no business relationship with any company whose stock is mentioned in this article.