Almost one year ago, I wrote an article about the Technology segment of Chicago Bridge & Iron (NYSE:CBI), a provider of construction products and services for the energy infrastructure industry and my firm's largest holding as of the time of this writing. In it, I highlighted the opportunities that the segment offers not only for CBI but for the investors in it as well and I suggested that this could (and should) become a major part of the business in the years to come. Seeing as how a great deal of time has passed since then, I figured it would be a wise idea to look back at the segment and see if this thesis holds true.
A look at what the segment does
In my last article on the issue, I provided a pretty detailed discussion of what CBI's Technology segment does and I highly recommend you read it. Because of this, I'm only going to give something of a high-level overview of the segment and its operations. According to management, CBI's Technology segment provides, "licensed technologies and catalysts for use in petrochemical facilities and oil refineries". It also offers planning and project development services associated with projects and provides customers with aftermarket support. This is, then, pretty much CBI's arm for sharing its experience and technologies that it has accumulated over the past few decades.
In addition to having normal operations, the segment also has ownership in different projects as well. One of these is its 50% ownership over Chevron-Lummus Global, a joint endeavor between it and Chevron (NYSE:CVX), one of the largest fossil fuel companies on the planet. This operation provides licenses and engineering services to refineries. The other interesting venture under the umbrella of CBI's Technology segment is its 33.3% ownership over NET Power, a new firm engaged in a process to eliminate carbon emissions in electric power plants that operate primarily with natural gas. The latter of these I've already dug into quite a bit in an article here.
Fundamentals are extremely impressive
Personally, I love companies that have a technology and service component to them. The reason behind this train of thinking is that, if business is conducted right, there is a great deal of potential for nice growth and impressive margins. Although CBI fails, in my opinion, on the sales growth standpoint for the timebeing, it does not disappoint on the bottom line, as we can see in the table below.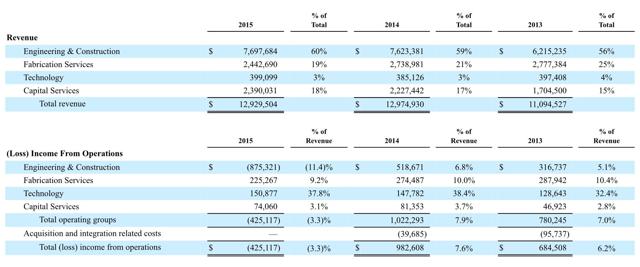 Click to enlarge
Based on the data provided, sales haven't really done much between 2013 and 2015, dipping slightly in 2014 before rebounding to $399.10 million. In the short-term, absent a major homerun in something like its NET Power project, I can't see CBI's revenue increasing at a face pace in this segment but, as energy becomes a more complicated industry with greater efficiency needs and the ever-real threat that we will, some day, run out of fossil fuels, it's highly probable that this won't always be the case.
This doesn't bother me all that much for now but I do hope that management at CBI does find ways to eventually grow sales at a nice clip because the value added for shareholders would be material. On the bottom line, though, I couldn't be more impressed. According to management, the Technology segment's profit margin last year was a hefty 37.8%, bringing in segment operating profit of $150.88 million. Fortunately, 2015 wasn't the only good year for this set of operations; in 2014, CBI's Technology segment had a profit margin of 38.4%, while in 2013 it posted a profit margin of 32.4%.
Overall, this trend of rising profits (on an absolute basis) at a time when sales aren't doing much is nice to see. What's more is that the segment's margins are much better than CBI's other segments. Last year, Engineering and Construction generated a segment profit margin of 8.2% (after adding back a loss from its divestiture of its nuclear construction operations) and its Fabrication Services segment's margin was 9.2%. Its Capital Services segment earned a paltry 3.1%.
Aside from having strong profit margins, CBI's other financial metrics regarding its Technology segment are very positive. During 2015, the firm's return on assets came out to 18.4%, which means that the company generated $0.184 for every dollar in assets it has currently dedicated to the segment. Furthermore, capital expenditure requirements to keep operations maintained and (hopefully) growing came out to only $8.09 million, which represents only 2% of sales.
Takeaway
At this moment, Mr. Market seems to be severely underestimating CBI and its potential, with shares still hovering far lower than they were a couple of years ago. While there are many more components to consider than just the Technology segment, this part of the company appears to be alive and well and the opportunities available for investors in the long run could be material, especially given the strong margins the segment earns. Moving forward, I intend to continue owning shares in the business (unless something really bad like fraud transpires) and I'm very much looking forward to watching how the firm's Technology segment grows in the years to come.
Disclosure: I am/we are long CBI.
I wrote this article myself, and it expresses my own opinions. I am not receiving compensation for it (other than from Seeking Alpha). I have no business relationship with any company whose stock is mentioned in this article.