Nomad Holdings (NYSE:NOMD) announced earnings for FY2015 and filed FORM20-F.

Click to enlarge
Source:Nomad Holdings press release
NOMD is a relatively new company started by Martin Franklin (Jarden:JAH) and Noam Gottesmann which completed two acquisitions in 2015 (June 2015 and November 2015). It is in transition integrating Iglo and Findus. As such there is a lot of noise in the numbers. Here are some things that caught my interest. If you are not familiar with company, please read my last article on NOMD.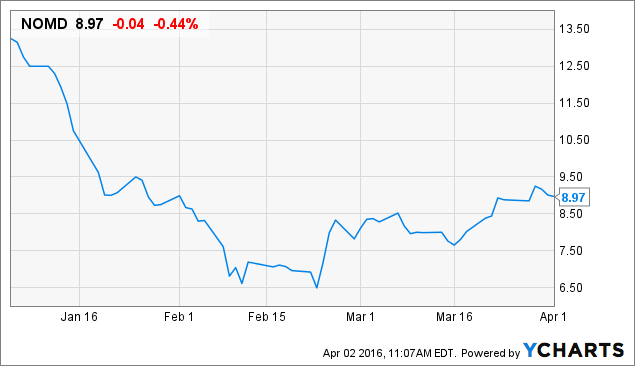 Revenue decline at Iglo Foods
Iglo group had revenue decline of 7.3%. Previous year's annual report and all the recent investor presentations highlighted this fact. Iglo has been facing competition from the private label. Management had laid out clear strategic initiatives to address the decline. In my view we should start seeing changes by Q4'16. If we don't see material progress by Q4'16, its a cause for concern. The expectation for Q1'16 is that revenue trends would be similar to Q4'15 as majority of strategic changes were not in place.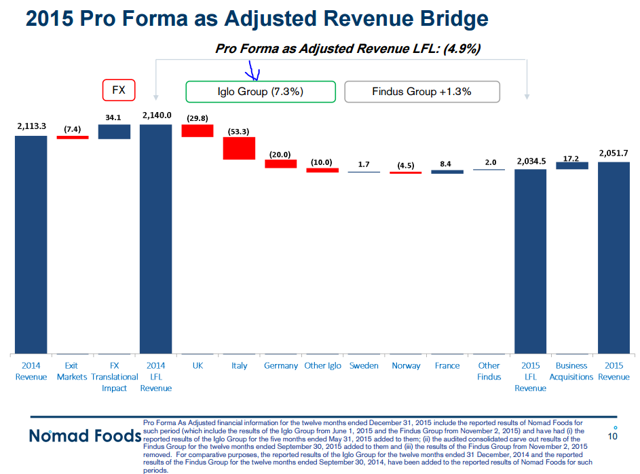 Click to enlarge
Source: Investor presentation
Advertising & Promotion
In Q4'15, A&P costs improved by €6.1M as a result of a global buying deal while maintaining Gross Rating Points.
Findus Synergy and Integration
NOMD raised its target for synergies one more time as a result of rationalization of manufacturing foot print.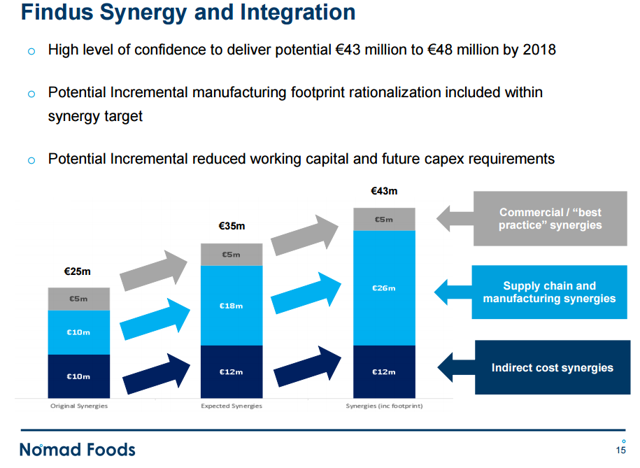 Click to enlarge
Source: Investor presentation
NOMD announced plans to close Bijuv plant in Sweden which manufactures Veg.meals and reached out to trade unions for negotiations. This transition is not going to happen overnight. It will take couple of years for it to be complete and is expected to produce additional synergies.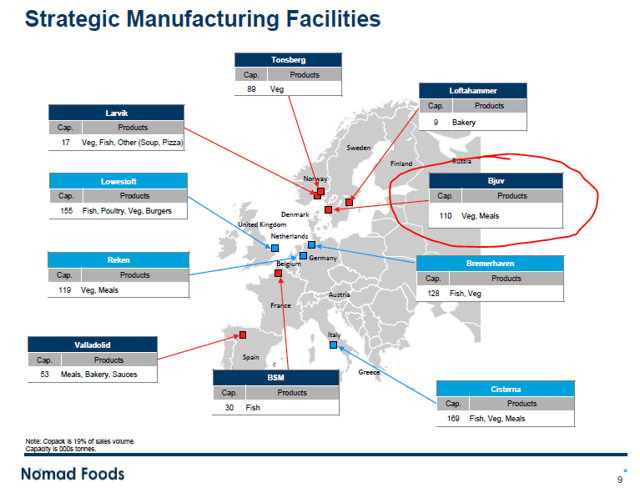 Click to enlarge
Source: Investor presentation
Non-Cash charges
'Charges related to Founder Preferred Shares Annual Dividend Amount' is a non-cash charge that had a significant impact on reported earnings. As I highlighted in my previous article on NOMD, founders are uniquely incentivized through the 'Founder Preferred Shares' , which receive annual dividends based on the rise in the market price of NOMD stock. Founder preferred shares convert to common shares after seven years after first acquisition and dividend will no longer be issued. Since NOMD decided to settle all future dividend in the form of shares, it incurred a charge of €349M this quarter. Last dividend was issued in January 2016 at a dividend price of $11.50 and they will not receive another dividend until the stock trades above $11.50 for ten consecutive trading days. Compare that to the current stock price (as of 4/1/2016) of $8.97. If you are buying at $9/share, you are looking at 25% profit before this non-cash charge becomes real.
NOMD has €531.5M in 'Founder Preferred Shares Dividend reserve' on their balance sheet. That translates to approximately $600M. Based on my crude calculations, founders would have to create $3B in market value above $10 issuance price before FY2022 (as they get 20% of the increase in market value) for them to fully realize that reserve. Needless to say we are long way from there.

Click to enlarge
Source:NOMD FORM20-F
Free Cash Flow
NOMD maintained its Free Cash Flow target for FY 2016 at €200M. But they expect 60% of it towards non-recurring and restructuring costs. So NOMD has €80M to use towards either to pay down debt or to finance acquisition.
Conclusion
NOMD is in transition fighting revenue challenges at Iglo and integration of Findus. There will be additional value creating opportunities with additional acquisitions. Management incentives are also aligned with investors and as a result I remain positive about NOMD. In the near term, we may add to/reduce our position based on market prices.
Disclaimer: This article is for educational and informational purposes only. Nothing contained here should be construed by anyone as an invitation or solicitation to buy or sell any security. This article does not contain personalized legal, tax, investment, or financial advice. Readers of this article should consult with a qualified adviser to obtain advice suited to their personal circumstances.
Disclosure: I am/we are long NOMD.
I wrote this article myself, and it expresses my own opinions. I am not receiving compensation for it (other than from Seeking Alpha). I have no business relationship with any company whose stock is mentioned in this article.