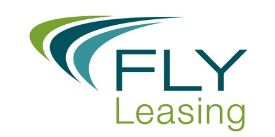 In my article published on 7/29/15 I stated that FLY's dividend may be in danger because the company was not making enough money leasing airplanes to pay the current dividend. Furthermore, I questioned the position of management stating that it was making money selling its older aircraft since it was taking "non-cash impairment charges" on aircraft held for sale. At the time, I suggested that it would be a good idea to avoid the stock until there was some visibility on earnings with the leasing of new aircraft.
FLY announced on 11/12/2015 that it would discontinue the dividend and replace it with a share repurchase program. Management argued that stopping the dividend was good for shareholders because:
FLY had a Dutch Auction Tender Offer for those investors who bought the shares for income which bought back $75 million at $13.95 per share
FLY will purchase another $10 million shares on the open market
Share repurchase increases the book value of each remaining share creating a discount to book
BBAM shareholders intend to buy $10 million shares via open market purchases which further aligns management with shareholders
You can see the company projections below: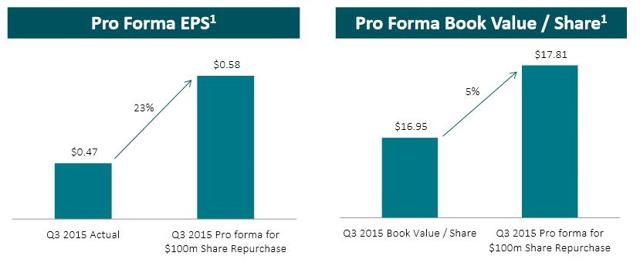 Click to enlarge
Source: FLY web site
Looking at November's report for the end of the 3rd quarter, several things stood out to me:
The company claimed to have made $0.47 per share.
The company shows only 83 aircraft as opposed to 127 as of the end of 2014: a net loss of 44 aircraft.
The balance sheet showed that shareholders' equity declined $58 million from 12/31/2004 to 9/30/15 all the while claiming to be making money.
On March 8, 2016 FLY released its 4 th quarter and full year results and FLY's management claimed in this release for the quarter:
Net Income of $27.7 million, $0.68 per share
Adjusted Net Income of $62.7 million, $1.54 per share
Acquired three aircraft for $239 million
Completed sales of 26 older aircraft, for a gain of $17.0 million
Repurchased 5.7 million shares, reducing shares outstanding by 14%
For the full year management claimed:
Net Income of $6.6 million, $0.13 per share
Adjusted Net Income of $131.0 million, $3.17 per share
Reduced SG&A by $7.3 million, year over year
Invested $629 million in ten aircraft
Contracted to sell 53 older aircraft, of which 40 were delivered
Re-priced our $500 million Term Loan, saving $4 million in annual interest cost
$100 million share repurchase program, which now has been completed
The company also reported that the SEC was investigating its 2014 annual report. Because of the many issues that the SEC is raising, the company will not be able to file its 2015 annual report on a timely basis. It appears that the company may have to adjust its filings for several years because of the way it has handled issues revolving around intangible assets.
Here are a few of the things that I noticed from the report:
The company shows only 80 airplanes available for lease as opposed to 127 at the end of last year. A net loss of 47 aircraft.
The company shows an investment into an unconsolidated subsidiary for $7 million without indicating what this subsidiary is or does.
The company also stated that it made a profit on selling older aircraft after taking a "non-cash charge" for older aircraft earlier in the year.
While the company maintains that it is making a profit, shareholders' equity has taken another hit of $57 million from the third quarter.
While the company maintains that it made a profit of $0.13 per share for the year, shareholders equity dropped $115 million for the year, a 15% drop.
Things just don't add up with this company and I have lost total confidence in the current management of the company.
Fly Leasing Limited has been named by several law firms in a class action suit. Just take a look at FLY's summary page on Yahoo and you will see a whole list of law firms looking to make a claim against FLY. It is not hard to understand the reasons for this pursuit against the company; there are the problems with the SEC about the company's accounting and the difficulty in assessing the actual earnings and value of the company.
Conclusion: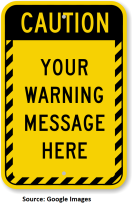 The company and management are in the midst of digging out of an accounting mess which will take a great deal of time and energy from more profitable pursuits. The company will likely end up paying for the legal fees that come out of the suits that legal firms are now putting forward. Furthermore the accounting issues with the SEC are likely to show that the company's actual net worth is less than that currently stated by the books. The company stated that it will no longer pay a dividend, so that eliminates another reason to buy the company. Unfortunately FLY still shows up on Yahoo as yielding 7.7% which is no longer true and could lead one astray. It is best to stay away from this company until these issues are resolved and from my point of view, management and the board replaced.
Disclosure: I/we have no positions in any stocks mentioned, and no plans to initiate any positions within the next 72 hours.
I wrote this article myself, and it expresses my own opinions. I am not receiving compensation for it (other than from Seeking Alpha). I have no business relationship with any company whose stock is mentioned in this article.