Originally published on March 8, 2016
By Rupert Hargreaves
Spinoffs Investment Strategies… Warren Buffett, Benjamin Graham, Seth Klarman and Walter Schloss are probably some of the greatest value investors of all time, and at one point or another, these investment titans have all mentioned spinoffs as a critical area for value investors to seek out bargains. And there's plenty of cold hard data to back up this conclusion.
Indeed, only last week, Goldman Sachs issued a Portfolio Strategy Research note to clients on this very topic using data from the past six months.
Spinoffs Investment Strategies - Spinoffs are highly likely to outperform parents
Goldman's research note, titled Investment Strategies For Spinoffs And Carve-Outs looked at the performance of spincos relative to their parent companies and the S&P 500 in the first two years after spinoff.
The bank's research showed that since 1999, spincos have outperformed their parents and the index by a median of 9% and 6% respectively in the first two years after the spinoff.
During 2015, the value of spinoffs at completion jumped 81% to $176 billion, the highest level in 15 years. Goldman expects this trend to continue throughout 2016. The prospect of modest top line growth coupled with flat margins this year is likely to push managements to pursue spinoffs as a means of generating shareholder returns.
If the above forecast does play out, and a new wave of spinoffs hits the market this year, value investors will be spoilt for choice when it comes to picking undervalued, and unloved spinoffs that have been unfairly sold by the market.
Unpopular spinoffs were plentiful last year. 18 of the 28 spinoffs that have taken place since June 15 had, at least, one of three alpha-generating attributes:
Spinoffs Investment Strategies - Lower P/E multiple
Spincos that traded at a lower forward P/E multiple than their parents outperformed their parents by 18 pp and 26 pp respectively during the one-year and two-year period after the spinoff. Goldman found the hit rate of this outperformance was 63% and 75% respectively.
Lower expected EPS growth
Spincos with lower twelve-month EPS growth expectations compared to the parents generated median excess returns of 21pp and 6pp respectively during the one-year and two-year period after the spinoff. The hit rate here was 81% and 56% respectively.
Operated within a distinct industry versus their parents
If the spinco and parent operate in different industries, the relative median return of spinco versus the parent was +3 pp for both one and two-year periods. If the two companies operated within the same industry, the performance was -7pp and +20pp.
Spincos with a lower P/E multiple, lower expected EPS growth and operating in a different industry to the parent generated a median relative return of +29 pp and +47 pp versus their parents during the one-year and two-year post-spinoff periods, with hit rates of 80% and 90%, respectively.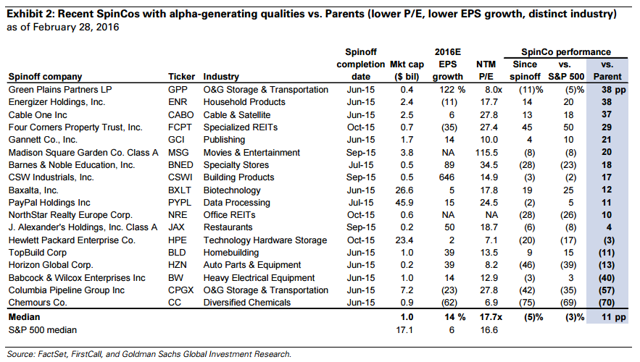 Click to enlarge
And if you're looking for ideas, 26 announced spinoffs are currently pending completion: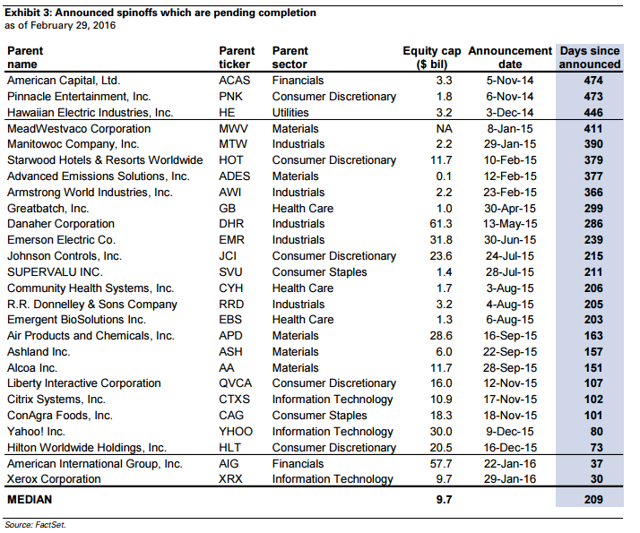 Click to enlarge
Disclosure: Rupert may hold positions in one or more of the companies mentioned in this article. You can find a full list of Rupert's positions on his blog. This should not be interpreted as investment advice, or a recommendation to buy or sell securities. You should make your own decisions and seek independent professional advice before doing so. Past performance is not a guide to future performance.