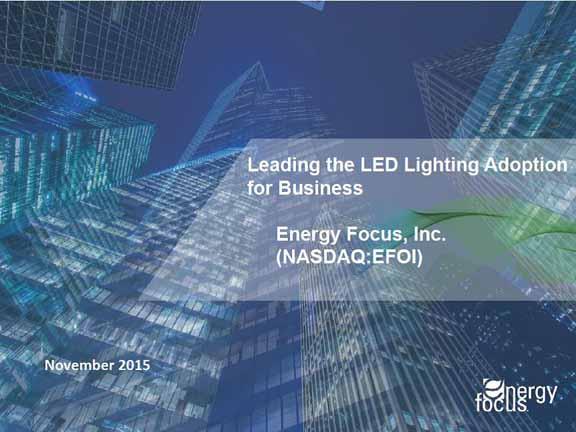 Energy Focus business model:
Energy Focus (NASDAQ:EFOI) has been in business since 1985 beginning as Fiberstars, Inc., which supplied lighting for residential pools and spas. With a new business focus on LED lighting, the company changed its name to Energy Focus in 2007. The company was an early entrant into the LED business, supplying LED lighting to the U. S. Department of Defense, installing its first LED prototype in a U. S. Navy ship in 2006. Serving a niche market with the DOD, the company was successful in securing a position as the only approved source for LED lighting on U.S. Navy ships. Accordingly, the company has attained an impressive 5-year growth rate of 18.7% in revenue, 34.7% EPS, and a current gross margin of 44% (source: Finviz.com).
Since the author has written several articles on another LED lighting supplier, Orion Energy Systems (NASDAQ:OESX), a fellow Seeking Alpha reader posted questions concerning a comparison between Orion Energy Systems and Energy Focus, which is the subject of the current article. While there are other ways to invest in the secular growth LED lighting sector with much larger and financially stronger companies, both EFOI and OESX are pure plays in the space. Also, both are tiny micro-caps that offer a relevant comparison. The projected secular growth in the LED lighting industry represents a huge opportunity for at least a decade and success depends on evaluating and picking the best potential winners.
Product line comparison:
While Energy Focus supplies other products, it primarily sells LED lighting tubes and ancillary items to the U.S. Navy, government, commercial, and industrial markets as retrofits mainly to replace florescent lighting as shown below.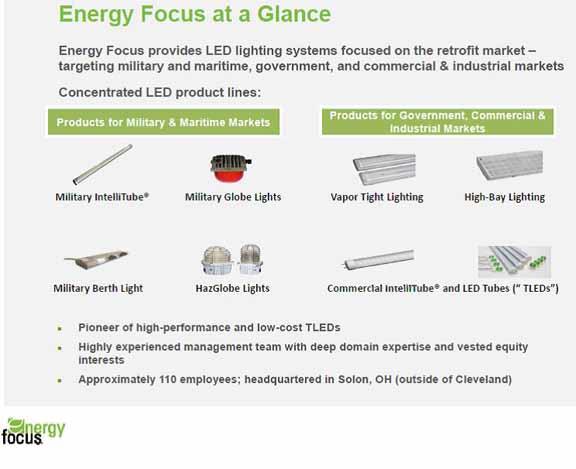 (Source: Company presentation)
The Military IntelliTube® is a heavy-duty item suitable for severe duty use on Navy ships. To adapt the product for commercial use, the company supplies a less expensive version called the Commercial IntelliTube® to address the commercial/industrial retrofit market. In summary, a major portion of the company's current product offering consists of LED lighting tubes, which are designed to replace existing fluorescent lighting tubes.
At first glance, the LED lighting tube designed to replace existing florescent lighting tubes appears to offer an attractive retrofit solution. The lighting tubes are easy to replace simply by replacing just the lighting tubes or replacing the tubes inclusive of driver components, after removing the fluorescent ballast (which is not needed for LED). The company supplies lighting tube versions for each alternative. Retrofitting fluorescent lamps with LED lighting tubes avoids the more expensive alternative of replacing an entire lighting fixture with an LED fixture, which lowers the cost of retrofitting both in the cost of the fixture and labor. However, there are some major disadvantages to replacing lighting tubes only, which are listed below:
Lighting tubes, as in all self-contained light bulbs, operate at higher temperatures than an integral LED lighting fixture, which due in part to the mass of size, dissipates heat more effectively. Due to a higher operating temperature, lighting tubes do not last as long has integral fixtures, typically lasting about half as long or less as complete LED fixtures.
Lighting tubes offer less lighting efficiency and output performance as complete LED fixtures. This is due to the fact that the LED tubes are simply installed into a fixture that was designed for fluorescent lighting, which does not distribute lighting output as effectively as LED fixtures. An example of improved product design is shown below, which illustrates a larger lighting element than fluorescent and contour design to improve performance and appearance.
Lighting tube replacement could potentially cause safety issues in the actual bulb replacement and/or operation. If florescent ballasts are left in place, the potential exists for failure or malfunction.
Replacement of lighting tubes only foregoes upgrading to more attractive lighting offered by new LED fixtures, which often is an important reason for considering a lighting upgrade.
As an example in very rough numbers, a 2 x 4' (4-bulb) recessed lighting troffer can be retrofitted with a lower end LED fixture for about $120 to $150 at retail, while LED lighting tubes may cost about $50 to $80 at retail for a 4-light fixture. And with lower expected life and higher service requirements, return on investment in lighting tubes could be questionable.
Irrespective of the foregoing differences between LED retrofitting with lighting tubes or fixtures, lighting tubes will likely experience further margin contraction as competition intensifies in the space. Already, there are many LED lighting tubes suppliers in the market, and at some point, lighting tubes will likely be commoditized similarly to fluorescent and incandescent light bulbs. In addition to major suppliers, there are many, many online suppliers that market private label LED lighting tubes like LE, EarthLED, and Bulbs.com, and others globally.
In comparison to manufacturers like Cree (NASDAQ:CREE), GE (NYSE:GE), Phillips (NYSE:PHG) and others, Energy Focus, with only 122 total employees and not a basic manufacturer of lighting tube component, will find it difficult to compete with global suppliers in the commercial and industrial LED lighting tube space. And in the LED commercial and industrial space (which is dominated by fixture replacements), Flextronics (NASDAQ:FLEX) and GE appear to be the most active large players, while Orion continues to make progress in the space with improved performance options.
Since a major portion of Energy Focus's business is in lighting tubes, the comparison between EFOI and OESX may not represent the most pertinent product comparison. A more appropriate comparison could likely between other LED lighting tube basic manufacturers like GE, Phillips, Cree, Edison, Nichia, Seoul Semiconductor and many others.
Corporate comparison - EFOI versus OESX:
While Orion Energy Systems also offers lighting tubes, they are a relatively small portion of its business. Orion's business consists mainly of using outsourced LED materials to configure proprietary LED lighting fixtures to maximize lighting output and appearance.
Firm
Empl

Mkt

Cap

Rev TTM

Price/ Sales

Price/ Book

PE Fwd
Cur. Ratio
5Yr Rev Grwth

5Yr EPS Grwth

Gross Mgn
Pat- ents
EFOI
122
84
64
1.3
1.9
8.1
5.2
12.9
35%
44%
10
OESX
191
41
68
0.6
0.7
-
3.0
1.2
-55%
21%
104
(Source: Finviz.com, market cap and revenue in millions $)
While EFOI employed 122 people as of the Q4 report, the company stated on the earnings conference call that, of the total, 40 are employed in sales and marketing. The employee count suggests that a low number of employees are engaged in manufacturing, and that outsourcing is used to supply a major portion of finished goods. The company operates in a leased 75,000 square feet facility in Solon, Ohio which includes office, manufacturing, and distribution. While OESX also employs a relatively small number at 191, it operates in a fully owned 260,000 square feet facility that includes office, manufacturing, and distribution.
With a market cap of $83.8 million, EFOI is more than double the market cap of OESX. Revenue of both companies is comparable in the $64/$68 million range. On both price-to-sales and price-to-book, OESX appears more favorable. The current ratio and further analysis of the balance sheet indicates that both companies appear relatively solid by comparison. EFOI had $34.6 million in cash as of Q4 end as compared to $20.0 for OESX. With OESX having current market cap near $40 million, EFOI has nearly enough cash to nearly buy OESX (the entire company) at current stock prices. It should be pointed out that EFOI recently had a secondary stock offering which flowed $23.6 million to the balance sheet.
Even so, in Q4, the company generated $4.4 million cash flow from operations, while OESX had negative cash flow from operations in the last three quarters of -$3.3 million. Both in revenue and EPS, Energy Focus has been greatly exceeding OESX performance as noted above. Lastly, EFOI has maintained gross margins of 44% (although margins are expected to decline due to growing commercial and industrial sales) while OESX has attained a gross margin of only 20.9% in the last reported quarter (with margins expected to increase as sales ramp).
In the company report ended December 31, Energy Focus reported impressive results with revenue and earnings recording significant gains, with a 184% year-over-year revenue gain as noted below:
| | | | | |
| --- | --- | --- | --- | --- |
| | Qtr Ended | Qtr Ended | Yr Ended | Yr Ended |
| Segment | 2015 | 2014 | 2015 | 2014 |
| Military Marine | $10.3 | $7.4 | $50.1 | $16.9 |
| Commercial | 6.9 | 1.4 | 14.2 | 5.7 |
| R&D Services | | .19 | .12 | .75 |
| Total net rev. | $17.2 | $8.8 | $64.4 | $22.7 |
(Source: Company report, revenue in millions $$)
Just as the company reported the above impressive results, the stock dropped 41% following the announcement. It was not the results, but management guidance for full year 2016 that caused the drop in the stock as the following earnings conference call discussion indicates: (Analyst) "So you're not saying that the government side doesn't have the potential to decline in 2016?" (CEO James Tu) "We believe that it will decline, it is likely to decline from 2015 but it will be compensated by the growth on the commercial side."
The foregoing guidance leaves a lot in question concerning the EFOI business model going forward. If the government business is slowing, and with the further prospect that Navy ships will be fully retrofitted to LED at some point in the next 2-3 years, the company must secure a sustained position in the commercial, industrial, and institutional space. So far, commercial revenue is showing significant strength, increasing more than 100% year-over-year in full year 2015 to $14.2 million, albeit from a very small base. Another quarter or two will be needed to determine if the company can continue to ramp sales, and at what gross margin.
On the other hand, Orion Energy Systems has been operating in the industrial space (HID and (florescent) since its inception in 2001 and currently has supplied 178 of Fortune 500 companies, enabling its experience in operating at large scale industrial/commercial spaces. In addition to supplying LED lighting tubes (which it does not appear to promote) it has built its business supplying fixtures, first fluorescent then LED. Orion has not been without its own difficulties, especially concerning its stock price. After reporting a 36% decline in Q3 revenue year over year, OESX stock plunged 40%, which action closely parallels the drop in EFOI after the same reported period (see previous article linked here.
A major factor in the comparison is the innovation in new product development. As noted in the table above, the company holds over 100 patents in the retrofit lighting space and recently released a potential "game changing" patent pending product linked below. In 2014, the company introduced what they refer to as the LED Door Retrofit, or LDR, with which a fluorescent lighting troffer frame is retrofitted with an LED replacement "door" by replacing existing florescent lamps and ballast cover with a set-in-place LED replacement unit, which can be completed in about two minutes.
To top this, the company just announced (3/31/16) what it calls a "game changing" product introduction, linked here. A sell sheet describing the product installation, offering a more complete understanding of the new product is linked here. The new product consists of a modular, one-piece LED unit replacement, which essentially replaces fluorescent components including the bulbs and ballast cover.
In other words, the unit retains the existing troffer fixture by adding a contour-design LED light assembly to attain the benefits of a complete LED upgrade without the expense of replacing the entire fixture. The replacement of the Orion unit can be completed in about two minutes, which the company maintains is a "game changer" in labor costs for large retrofit projects with thousands of units. If successful as advertised, it has the potential to not only gain revenue in the troffer lighting space, which includes commercial, retail, office, classroom, and other applications, but also pull revenue to the company's complete lineup of products in the LED retrofit space in total project completion.
What to watch:
In tracking both EFOI and OESX, careful attention should be given to new product announcements and customer wins, including business segment and size. If either company continues to log consistent business wins in diversified segments, continued success should result even though reported results do not yet reflect progress. In a relatively mundane revenue growth environment, discussed further in the paragraph below, it can be difficult to determine the winners. Investors can sign up for email alerts at EFOI here and for OESX here.
The current LED lighting market:
In considering the LED lighting tubes that EFOI supplies, there are approximately a billion fluorescent troffer fixtures just in the United States available for retrofit. While much has been written about the transition to LED and the opportunities it affords for energy conservation and business development, a current consideration is the state of the overall market for the transition. While considering the prospects for micro-caps, the macro economy may be the most important factor as durable goods orders continue to weaken, as noted by a Wall Street Journal article (3-24-16) linked here.
Until the business and the industry is ready to commit major discretionary dollars into the LED transition, it is not likely that any participants will be able to build consistent outsized returns in the space. A promising March update on the PMI (Purchasing Managers' Index), however, was issued by the Institute of Supply Management (ISM) reporting the index rose to 51.8 in March, linked here. A reading over 50 is considered growth positive. If the positive trend holds, good times may lie ahead in the manufacturing sector.
Risks:
Perhaps the most significant observation to be made in the current comparison is that, regardless how attractive the business and industry appears, micro-cap investing is risky. If an investor wishes to participate in the secular growth LED industry, larger companies like GE and Flextronics may be more suitable, although not pure plays in LED lighting. However, if an investor is seeking outsized upside returns that an innovative niche player can provide, but with more risk, a micro-cap has the potential to fit the bill.
Conclusion:
While Energy Focus has recorded impressive revenue, EPS, and gross margin metrics, future results are all that matter. Due to the lower guidance in a major portion of its business and an unclear path to success in the commercial/industrial space, Orion Energy Systems appears to offer a clearer vision to future market penetration. With cash and momentum on its side, however, Energy Focus has an opportunity to thrive in the huge secular growth LED market if it can innovate and secure new customers fast enough. But its long-term path appears more uncertain than its Orion counterpart. With OESX trading in a range near $1.40 per share along with favorable valuation metrics, continued innovation and a prominent customer list, it appears to offer the best choice between EFOI and OESX.
Disclosure: I am/we are long OESX.
I wrote this article myself, and it expresses my own opinions. I am not receiving compensation for it (other than from Seeking Alpha). I have no business relationship with any company whose stock is mentioned in this article.
Editor's Note: This article covers one or more stocks trading at less than $1 per share and/or with less than a $100 million market cap. Please be aware of the risks associated with these stocks.