Dave & Buster's (NASDAQ:PLAY) released earnings on 3/29 after the close. The results were strong but shares have traded largely sideways since due to what was already a valuation baked with strong growth expectations. I think the company can continue to post strong sales and earnings growth behind sustained positive comps and unit growth.
It seems PLAY's "Eat, Drink, Play, and Watch" branding is proving to be successful as comps rose 6% in the quarter. Dave & Buster's is driving more adult traffic through their business by advertising PLAY as a great place to watch sports and get good deals on drinks and finger foods. PLAY has begun to re-brand itself as a sports bar with arcade games and not just a play space. The company also entices customers with timely promotions, such as its own specialty Limeade beverage and unlimited wings for the first three Sundays of NFL play. These promotions and the ability to plan events at Dave and Buster's make it an attractive adult destination and should continue to drive increased traffic.
PLAY's restaurant arcade combo is extremely effective for family and adult settings. While the arcade has larger profit margins, this allows PLAY to make the food and drinks cheaper and install new TVs. The atmosphere allows for parents to eat dinner while their children play games, and for young people to play, drink and eat. It's a multi-faceted entertainment venue that appeals to several generations, and I believe this diversity of entertainment appeal will continue to drive traffic growth.
PLAY is also innovating and has replaced the old token system with a card that is paid for before playing. Although this is not anything especially novel, the credit system has customers spending more than they'd expect.
I become tempered when looking at the estimates for next year. I modeled for 9 new stores in Fy16 and comps of 3%, and this gets me to $977 million in revenues for the quarter (ironically, the midpoint of management guidance). The Street is looking for $981 million, and this seems slightly aggressive to me unless PLAY can outperform its 2-4% comp guide.
This wouldn't be surprising. Last Q4, the company guided for $808 to $822 million in Fy15 revenues. Management continually hiked guidance throughout the fiscal year, and reported Fy15 revenues of $867 million (5.5% higher than high-end of initial guide). PLAY also has a strong history of topping estimates. Nonetheless, I remain slightly concerned with decelerating comps that the company tops the current consensus estimates of $981 million in revenue and $1.81 in EPS next year.
In the long-term, though, the company has lots of growth. I forecast an 18% earnings CAGR over the next 5 years. PLAY thinks it has a 200 store North America potential and only operated 81 stores at the end of Fy15. I model for 10 new openings per year into Fy20, giving the company 130 locations by Fy20. More locations mean more revenue, and continued positive comps mean larger unit sales. As a result of both of these, G&A leverage should drive margin expansion over the next several years. I think the stock is trading around ~12x Fy20 EPS, and considering the company will only be 65% full in North America (130 stores / 200 store potential) at the time, I do not think the 12x Fy20 P/E is that unattractive.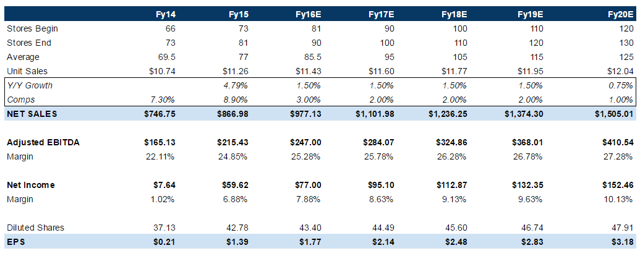 Click to enlarge
Over the next 10 years, I believe we will see this growth trend in theme dining persist as PLAY creates a unique value-added proposition to the consumer. The company has significant sales and earnings growth potential, and while the valuation feels extended here, I actually think multiples could expand given the company is 41% full in terms of total North America store count potential.
Disclosure: I/we have no positions in any stocks mentioned, and no plans to initiate any positions within the next 72 hours.
I wrote this article myself, and it expresses my own opinions. I am not receiving compensation for it (other than from Seeking Alpha). I have no business relationship with any company whose stock is mentioned in this article.