Introduction
Shire plc (NASDAQ:SHPG) is a bio-tech company that focuses on the orphan drug or the rare disease sector. The company seeks to be a big fish in small pond with treatments for rare conditions. The downside with the strategy is a lack of scale. Shire is not going to land the next Humira or Harvoni, but there are many upsides to developing and selling orphan drugs:
Fast-track approval

Patent protection for 5-7 years

Less competition

Higher pricing power
Shire currently has a market cap of $33B with a Free Cashflow of $2.2B. Whilst the yield is nice and respectable at 6.7%, it is less than what is available at better know names like Amgen (NASDAQ:AMGN) and Gilead (NASDAQ:GILD) that currently sport 7.5% and 17% FCF yields respectively.
Nonetheless the FCF Yield of Shire is an impressive feat if one considers:
That Shire has issued material amounts of debt (and paper) in the last 2 years to buy-out Dyax and NPS for $11B.

That, despite the buy-outs, Shire only has a Net Debt position of $1.3B

That Shire has a more diversified Product portfolio than both Amgen and Gilead (in fairness it's not much of a challenge to out-gun Gilead for product diversity)

That Shire has a good revenue growth rate

That Shire's patent cliff risk is not too imminent
Becoming the king of the orphan drug space is not just speak. Shire is acting on its strategy with good effect to date. If management can invest $11B into M&A and still deliver a company with good Revenue Growth, good FCF Yield, a strong Balance Sheet and decent Revenue diversity then I take notice.
The buy-out of Baxalta (NYSE:BXLT) is in progress for $32B. Sure - the size of the deal make me nervous but given the track record of Shire to date, I sense an investment opportunity. Full Disclosure - I currently hold a small position in Shire Plc.
In this 2 part series, I want to analyze each company on an independent and combined basis to determine if the $32B buy-out of Baxalta makes sense.
Revenue Diversity at Shire
Shire has a nicely balanced product portfolio. Here's a chart that shows Product Revenues for 2015: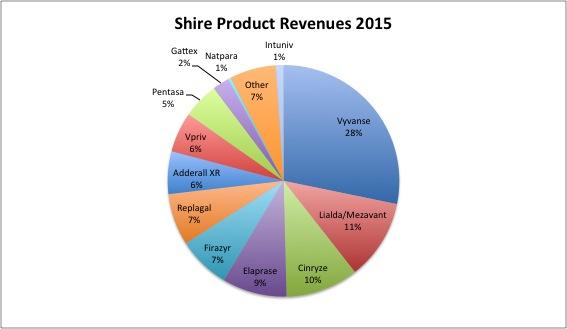 Shire's two biggest products by Sales are Vyvanse (28%) and Lialda/Mezavant (11%). The patent cliff for both treatments does not materialize until 2023 and 2020, respectively. The patent cliff arrived for Cinryze and Firazyr in 2014, but both products produced good sales growth in 2015 of 23% and 16% respectively.
The Importance of Diversity
At the very top of the pie chart you will notice Intuniv with its small 1% piece of the Sales Pie for 2015. Historically, Intuniv was a much bigger revenue producer for Shire.
What happened? A number of quality generics launched on to the market in 2015 and took $260M of Sales from Shire. When I hear things like this I get very worried about my investment in Gilead and understand why the market sells it for such seemingly good value. Mr. Market is rarely too crazy in my experience. The good news from this unfortunate turn of events for Shire was it didn't really matter in the grand scheme of things. The diverse product portfolio not only took the hit, overall revenues grew in 2015.
Revenue Growth
Here's a chart showing the Annual Product Sales for Shire since 2012. I compare the Total Product Sales vs. Total Product Sales excluding Intuniv. The chart shows the product portfolio has been generating good sales growth without Intuniv. I expect Shire Sales to continue growing despite the loss of Intuniv.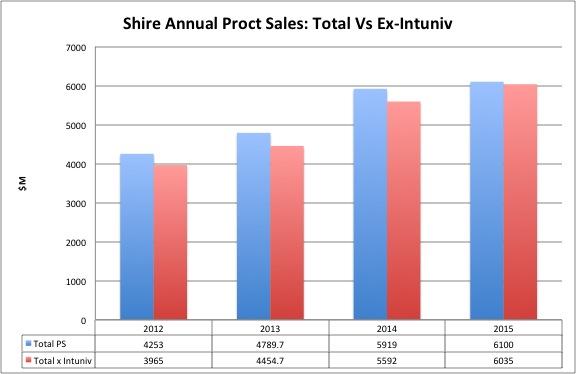 I also put together a chart that shows the Sales Growth of Shire's five biggest Selling drugs: Vyvanse, Lialda/Mezavant, Cinryze, Elaprase and Firazyr. These Top 5 products accounted for 65% of Sales in 2015.
Whilst Sales of the Top 5 are slowing, they are still hitting double digit rates.
For 2016, Management is guiding overall Revenue Growth of 11-14% and EPS Growth of 7-10%. The 2015 Sales Growth was 8% excluding Intuniv. Acceleration is expected to come from the NPS acquisition drugs: Gatex and Natpara which only accounted for 2% and 1% of Product Sales in 2015 but grew strongly in 2015 and are expected to do so again in 2016.
The Baxalta Deal
The Overall Consideration that Shire is paying for Baxalta is $32B between cash and paper. Shire is paying $18 cash plus 0.1482 Shire ADS shares for each Baxalta share. Baxalta has 681,240M shares in issue. So Shire is paying $12.62B Cash of the for the Overall Consideration of $32B with the Balance to be paid in newly issue Shire shares. The Cash element of the Consideration will be backed by an $18B credit facility.
The deal is expected to close in the summer of 2016.
In Revenue terms, both Shire and Baxalta turned in Revenues of $6.1B each in 2015. The Management Presentation on the deal shows Combined Sales growing to $20B by 2020.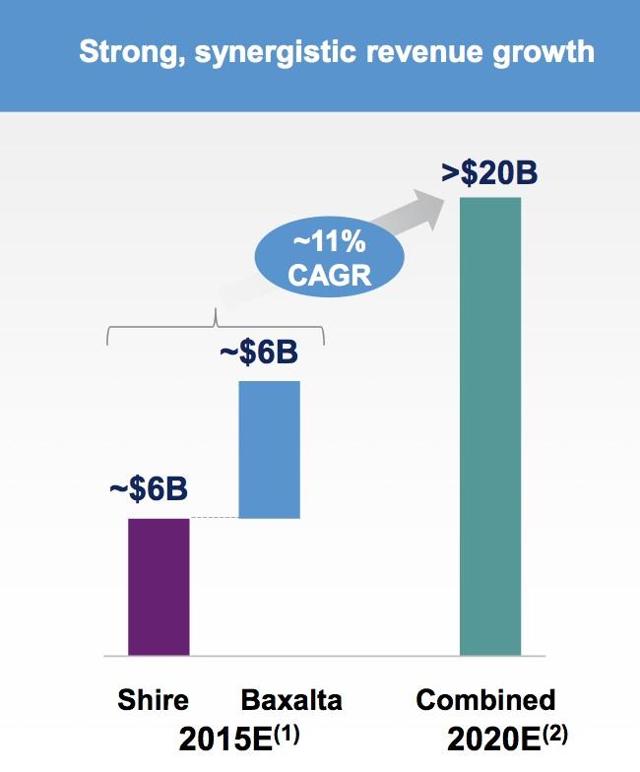 The combined Operating Income of the companies in 2015 was $2.56B before synergies can be extracted. Given the basic following facts we can make a forecast:
11% Sales Growth to 2020

$0.5B Synergies

21% Operating Margin
2015
2016
2017
2018
2019
2020
Combined Sales
12.20
13.54
15.03
16.69
18.52
20.56
Operating Margin
21%
21%
21%
21%
21%
21%
Operating Profit
2.56
2.84
3.16
3.50
3.89
4.32
Synergies
0.17
0.33
0.50
0.50
0.50
Profit post Synergies
3.01
3.49
4.00
4.39
4.82
The $32B price tag for a profit increase of $1.4B equates to a PE of 22X or an Earnings Yield of 4.4%.
The forward P/E to 2020 would be about 13X or an Earnings Yield of 8%.
The deal seems over-priced in the short term but could well makes sense since Shire will greatly increase the quality and diversity of its Product Revenues as well as its pipeline. Furthermore, both Shire and Baxalta come with good growth prospect from their current Product Portfolio that is backed by a strong combined Pipeline guided to deliver 30 new products launches by 2020.
Ultimately, I need to have an in-depth look at Baxalta to understand if the price being paid is really worth it. Tune-in for Part 2 if you are interested to find out more.
Disclosure: I am/we are long SHPG.
I wrote this article myself, and it expresses my own opinions. I am not receiving compensation for it (other than from Seeking Alpha). I have no business relationship with any company whose stock is mentioned in this article.