This is likely not "breaking news" for most, but Tesla (NASDAQ:TSLA) recently released its much anticipated Model 3. The current excitement and tone surrounding the brand led several analysts to weigh in on the company with their two cents. This is something that has not been seen since the release of the first generation iPhone in 2007 - an unconditional loyalty in its infancy. Apple has ranked as the number one most valuable brand on the brandirectory index since 2012, and it has milked that brand name to the last dollar. So how can one possibly compare the story of a car brand and a phone?
It's not a phone, it's an iPhone.
Generation Y, also known as millennials, might have already forgotten, but just 10 years ago phones were just that; phones. Competition between outdated brands such as Nokia, Motorola, and Sony was mostly broken down to design and memory capability. Apple has redefined what we perceive as a phone, and in doing so created a device most fans consider a part of their being. At every new iPhone release, we see loyal customers who are willing to stand in long lines and pay extremely high brand price-premiums to get their hands on the latest and greatest iPhone. Before the iPhone, the idea of reserving a phone before you have even seen the device (or specs), would seem ludicrous, yet today we consider it the norm.
Today, no car brand can assume that its next generation vehicles will sell themselves purely based on loyalty. This industry has not yet experienced the "iPhone" revolution, until now. Many have lined up to reserve their Model 3 at the cost of a $1,000 deposit, from Microsoft database engineers to utility district workers to millennials. Tesla is now unanimous with words such as innovate, revolutionary, and a new player to the environmental field. Tesla has done the impossible, and as the title of this section states, the people in line are there to buy a Tesla, not a car. Right now, according to the current trend 300,000 model 3s are reserved (300 million dollars in deposits and 10 billion dollars in future revenue).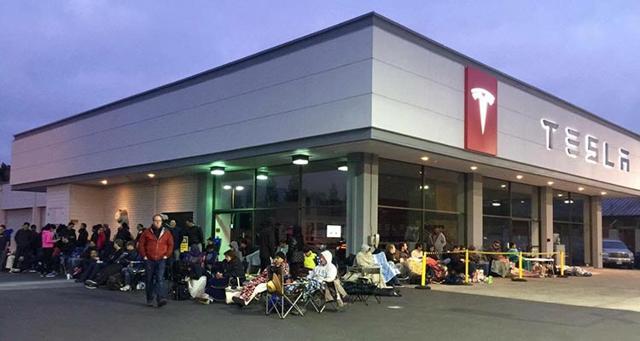 Apple demonstrates there is nothing more profitable than a strong following coupled with incremental innovation.
At 600 billion dollars, Apple's market cap positions it as the most valuable company in the world. Apple generates nearly 70% of its revenue through iPhone sales, even though its flagship phone can no longer boast hardware superiority over competing brands. The first generation iPhone aligned the brand for tremendous sales growth over the next 8 years, through 13 new and improved iPhones. The mere announcement of a new iPhone is enough for the brand's loyal followers, which is something difficult for a rational thinking analyst to grasp.
By doing what some would consider impossible, Tesla has turned the car into a device (albeit with four wheels). After calling a regular taxi number to take me to the airport at 5 AM in Amsterdam, a glorious Tesla Model S stood downstairs at the hotel waiting for me. Is it financially more attractive for that driver to buy a car, let alone a Tesla? Perhaps. But this man loved his car, and telling me about it allowed me to easily imagine him lining up for the next Tesla Model S. It will likely be a small incremental change from his previous model, but can you really place a price on the joy of owning a car you love? Did Tesla really turn its car into what can be perceived by the owner as a piece of themselves? It looks like it did.
The numbers get really big, really fast.
In its successful Q1 of 2009 (2008 Christmas season), Apple was already earning 3 billion dollars through the sales of 4.5 million iPhones. This number seems small when compared to the last quarter, a record breaking 50 billion in revenues through the sales of over 70 million iPhones.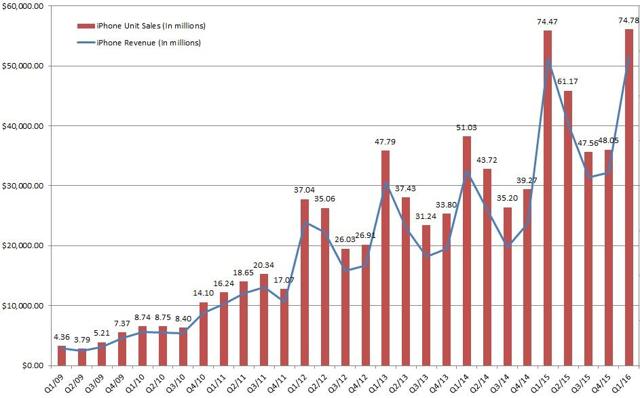 Data by Statista.com
Luckily, the iPhone competes purely in the high-end phone market, thus, we can assume that those willing to dish out an average $650 for the newest iPhone could possibly afford a $35,000 Tesla before incentives. Unlike the iPhone, a family of 5 is not going to own 5 Tesla cars. According to Statista, the average U.S. household has 2.54 people living in it, therefore, in this small sample we would divide by that factor.
Assuming this thesis is correct and Tesla could turn the car industry around the way the iPhone did for the phone industry, and if by 2019 we would see the equivalent sales (4.36 million units divided by our factor of 2.54), the car manufacturer would bring in $60 billion dollars a year through the sale of 1.7 million vehicles (according to many analysts this unit count is unattainable until 2025). If we assume a similar growth trajectory as the iPhone, while maintaining our 2.54 factor, by 2026 Tesla could potentially sell 28 million units, earning nearly 1 trillion dollars a year (970 billion to be exact).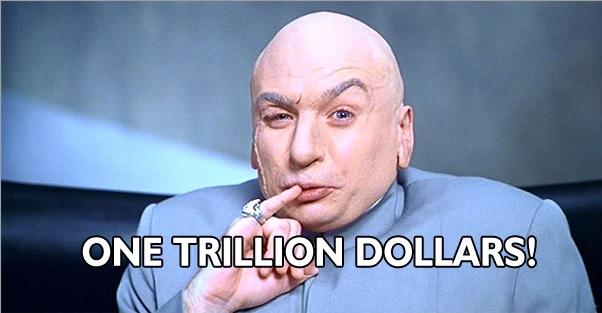 Source: Austin Powers (Movie)
In 10 years Tesla's profits could be 10x its current market cap.
Today, Tesla has what many consider an overvalued share price of $237, which supports a market cap of 31 billion dollars. Phone technologies are now mature and economies of scale are at their peak. This allows Apple to enjoy a spacious profit margin in a very competitive industry. With further expansion of the EV sector, advancement in autonomous technologies, increases in the production of radars, lasers and sonars, and significant reduction in battery cost, Tesla could potentially get to the same high margins. You cannot compare the scalability of producing a tiny phone to a full scale car, but Tesla has shown willingness to redefine the industry before. It is unlikely to reach the numbers in the analysis above, but rather this is to show that unlike any car manufacturer before it, its unique market position does open up the possibility.
In contrast, some analysts strongly contradict this story line. Colin Langan of UBS recently weighed in on TSLA, reiterating a Sell rating with a 12-month price target of $140.00. Langan notes his reasoning for the 60% rise following the Q4 earnings, mentioning, "we believe the recent run up is largely due to the announcement of TSLA's ABL draw down, which pushed down near-term cash concerns." The analyst further mentions, "our upside scenario is based on TSLA's earnings potential in 2025. The upside scenario assumes TSLA can reach 1.5m units and also achieve a 14% operating margin. We assume storage sales of 18GWh and 15% storage op margins. This would drive 2025 EPS of ~$45. Using a 25x P/E multiple, this implies an upside valuation of $280/share."
According to TipRanks, based on 18 analysts offering recommendations for TSLA in the last 3 months, the overall consensus is Hold, The average price target for the stock is currently at $253.00 with a 6.49% upside.
So what should investors do?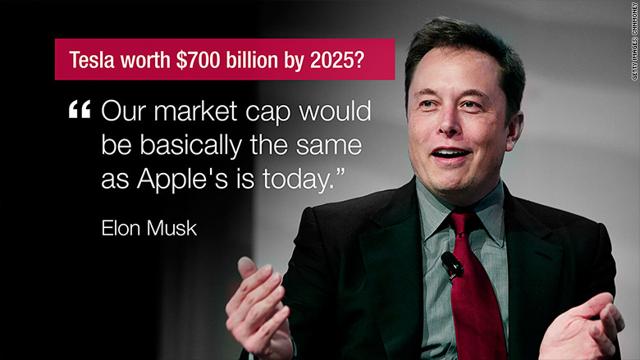 Our scenario above assumes a Tesla car really will be the new iPhone of transportation. Further, it assumes banks throw piles of cash at the company, which it immediately invests in many production lines and increases in the giga-factory. It is not a cash flow analysis, nor a technical analysis. Rather, it demonstrates that here stands a consumer product that can potentially reshape an industry in the same way only one product has done before. If the above outlook holds true, the stock's intrinsic value cannot be broken down to margin, costs, or scalability.
Disclosure: I/we have no positions in any stocks mentioned, and no plans to initiate any positions within the next 72 hours.
I wrote this article myself, and it expresses my own opinions. I am not receiving compensation for it (other than from Seeking Alpha). I have no business relationship with any company whose stock is mentioned in this article.
Additional disclosure: Written by Daniel Hai, quant analyst for TipRanks.