Alphabet (NASDAQ:GOOG) (NASDAQ:GOOGL) CFO Ruth Porat created the Alphabet corporate structure so investors would be able to see the strength of organic Google, and so the board would deal with the problems at the extraneous pieces.
But Sundar Pichai has now been CEO of the main Google search company since August, and it is time for the $100 million man to earn his money.
While the first full quarter under Pichai's leadership showed 14% revenue growth and nearly 20% growth in net income, it may be very tough for the company to beat its current earnings whisper number of $6.37/share when it reports April 21. (Some reports put the number as high as $6.74.)
Such a result would beat last year's first quarter by 25%, and while the company has beaten the number for 17 straight quarters, it's looking more like a team on a winning streak than a dominant team.
While Google retains its near-monopoly on basic search, and YouTube is adding to that lead, its position is not nearly as dominant elsewhere. Android has never been as profitable for apps as Apple (NASDAQ:AAPL). Most other services, like Mail, News, Maps and Finance have barely been monetized.
Google bulls may see this as evidence that the company continues to have enormous potential, but a lack of income can, in time, be reflected in a lack of quality, and that is certainly the case with some Google services. The Google News algorithm, for instance, is years out of date. Google Plus barely exists, and hiring the founder of 4chan guarantees nothing.
Some of the problems can be seen in these two screen grabs I took Monday morning from Google Finance. The first shows FitBit's (NYSE:FIT) quarterly earnings, as reported on the site. I used these for a story last week, and you'll notice that the periods being reported are very inconsistent.

Click to enlarge
Or take Google's own earnings, which are a full six months out of date.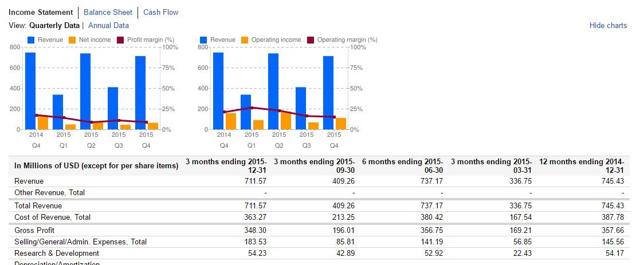 Click to enlarge
The charting is becoming a mess because numbers don't flow through correctly. Here is a recent chart of Under Armour (NYSE:UA), next to the data that populated it. Notice that two days' numbers are incomplete, delivering what looks like a wild one-day move.

Click to enlarge
Compare these results from any you might get at Yahoo (NASDAQ:YHOO) Finance, the nearest comparable free site. There is no comparison.
It is one thing for Google to be beaten by Apple on mobile monetization. Apple is huge, and it has focus. It is one thing for Google to be beaten by Facebook (NASDAQ:FB) on social, for the same reason.
It is quite another to get beaten by Yahoo, which by the way also crushes it in News.
If you're in Google for a trade, then you don't need to see the rest of this article. You can trade Google, up or down, for another few quarters, based on the strength of its advertising, and not get burned. If you have a longer time horizon, say three years, this looks like a lazy company that is ready to be taken out by more focused, hungrier competitors, on nearly all fronts, and in its own backyard.
Pichai needs to start earning his money and cleaning this up. Google is drifting and the rocks are getting closer.
Disclosure: I am/we are long AAPL, GOOGL.
I wrote this article myself, and it expresses my own opinions. I am not receiving compensation for it (other than from Seeking Alpha). I have no business relationship with any company whose stock is mentioned in this article.