The price of crude oil has pushed the share/unit prices of almost the entire oil and gas (O&G) sector companies down. Those companies with direct exposure to crude oil prices have had their share/unit prices impacted the most but even those companies with little or no exposure to crude prices have seen their share/unit prices drop along with most of the O&G sector. This article highlights a company that has experienced a price drop that, in my opinion, is not warranted based on the company having essentially no exposure to O&G pricing, Dynagas LNG Partners LP (NYSE: DLNG). DLNG, as the name implies is an LNG shipping company. While structured as a limited partnership, DLNG has chosen to be taxed as a C-corp and issues a standard 1099-DIV versus the much maligned and dreaded K-1.
The following chart shows the relative price of oil and the relative price of DLNG units from July 1, 2014, to March 28, 2016. The correlation between the two curves is not perfect but clearly indicates that DLNG unit pricing fell along with the price of crude oil through about the end of December 2014. During roughly the first half of 2015, the two curves diverged with DLNG prices going sideways while WTI continued to fall. For the second half of 2015 and the first quarter of 2016, WTI and DLNG have fallen essentially in unison.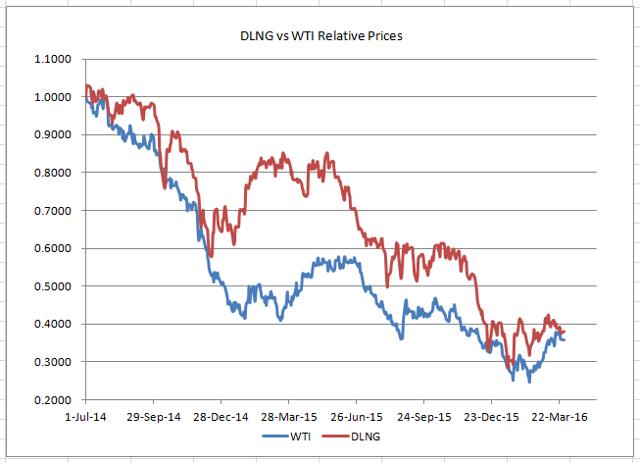 Click to enlarge
Source: Author
I'm sure that someone is going to remind me in the comment section that correlation does not guarantee causation. However, it sure looks like DLNG unit prices suffered from the fall in crude oil prices even though DLNG has no direct exposure to crude prices.
Dynagas LNG Partner's business is owning and operating liquid natural gas (LNG) carriers. DLNG's vessels are employed on multi-year time charters of two years or more duration, with international energy companies such as BG Group PLC (OTCQX: OTCQX:BRGYY), Statoil ASA (NYSE: STO) and Gazprom. DLNG receives the benefit of stable cash flows and high utilization rates. The company owns its vessels through separate wholly-owned subsidiaries that are incorporated in the Republic of the Marshall Islands, Republic of Liberia and the Island of Nevis. DLNG plans to make further vessel acquisitions from its sponsor Dynagas Limited, a private company, and potentially from third parties. DLNG was founded by George Prokopiou on May 30, 2013, and is headquartered in Monaco.
DLNG Assets and Operations
DLNG currently has six LNG carriers. The six carriers are listed below.
Clean Energy - Built in 2007 and currently under charter to the BG Group PLC.
Ob River - Built in 2007 and currently under time charter to Gazprom (OTC: OTCPK:OGZPY). The Ob River is fully winterized and is rated for ice class 1A FS.
Amur River - Built in 2008 and currently under time charter to BG Group PLC. The Clean Force is fully winterized and is rated for ice class 1A FS.
Arctic Aurora - Built in 2013 and currently under time charter to Statoil. The Arctic Aurora is fully winterized and rated for ice class 1A FS.
Yenisei River - Built in 2013 and currently under time charter to Gazprom. The Yenisei River is fully winterized and rated for ice class 1A FS.
Lena River - Built 2013 and currently under time charter to Gazprom. The Lena River is fully winterized and ice class 1A FS.

Click to enlarge

Click to enlarge
The fleet of carriers is relatively young with an average age of about 5 years. DLNG operates in both open ocean and ice bound areas. Dynagas Ltd made history in 2012, when the LNG carrier Ob River (now with DLNG) became the world's first LNG carrier to transit and carry a cargo through the Northern Sea Route (NSR). Subsequent to the above mentioned voyage, DLNG is the only company in the world performing NSR voyages with its LNG carriers on a regular basis.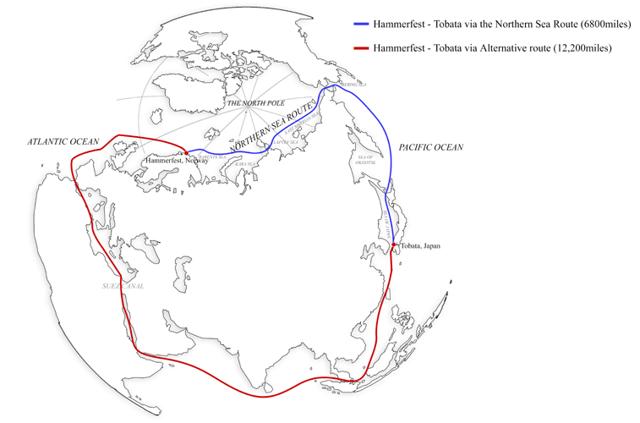 Click to enlarge
The ability to use the NSR provides a significant advantage to DLNG, as the NSR from northern Europe to Japan and other ports in the Far East is markedly shorter than the alternate route.
DLNG just announced time charter extensions and new contracts for two of its LNG carriers. Gazprom Global LNG Limited (Gazprom) has extended its current charter for the LNG carrier Ob River, on the same terms as the existing time charter contract, until May 1, 2018. In addition, the DLNG has entered into a new long-term time charter agreement with Gazprom Marketing and Trading Pte. Ltd., an affiliate of Gazprom, for the Ob River for a period of 10 years following the vessel's completion of its current charter with Gazprom.
DLNG has also entered into a new long-term time charter agreement for its LNG carrier Lena River to ship product from the Yamal LNG Project. The Yamal LNG Project is an LNG production terminal that is currently being constructed on the Yamal Peninsula in Northern Russia. The completed terminal is expected to consist of three LNG trains with a total capacity of approximately 16.5 million metric tons of LNG per annum. The Yamal LNG Project is a joint venture between NOVATEK (50.1%), TOTAL (20%), China National Oil & Gas Exploration and Development Corporation (20%) and Silk Road Fund (9.9%). The Lena River is currently on time charter to Gazprom through late 2018. The Lena River is contracted to join the Yamal LNG Project to support LNG deliveries from the Yamal terminal starting in 2019 for a minimum period of 15 years.
The extension of the Ob River time charter with Gazprom through early 2028 and the new time charter contract for the Lena River through approximately 2033 have a significant positive impact on DLNG's backlog increasing it from $586 million to $1.2 billion. DLNG's average minimum contract duration increases from 3.7 years to 7.9 years.
The market also thought the contract extensions and the new contract were significant positives for DLNG. On Thursday, March 31, the DLNG unit price jumped 18.5% closing at $11.40 per unit.
Global LNG Supply and Demand
Estimates for demand of LNG and for supply of LNG indicate robust growth in both demand and supply. The two charts below show the estimated demand growth as well as estimated supply growth.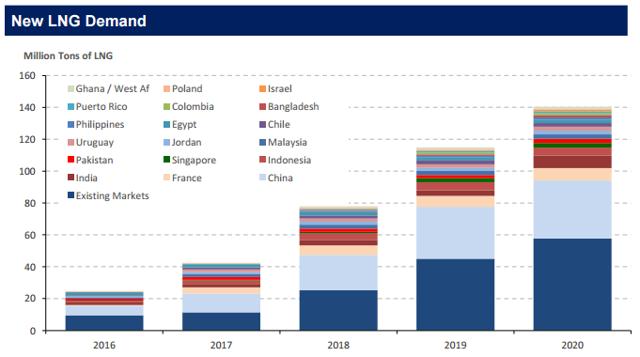 Click to enlarge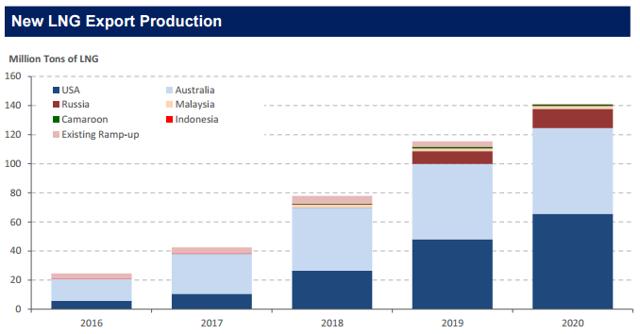 Click to enlarge
Currently, the market is oversupplied with LNG with new liquefaction facilities coming on line in Russia, Australia and the United States. The oversupplied LNG market has resulted in LNG prices dropping. Some folks will look at this market and conclude that the LNG market might collapse. I look at this market and conclude that LNG demand will likely increase due to the favorable pricing of LNG. This is good for LNG shippers like DLNG. Higher demand for LNG translates directly into increased demand for ship transport of LNG.
The LNG demand growth should also result in upward pressure on time charter rates for LNG carriers. DLNG's estimate of the number of LNG carriers shows a shortage of available ships beginning in 2018 as shown in the chart below.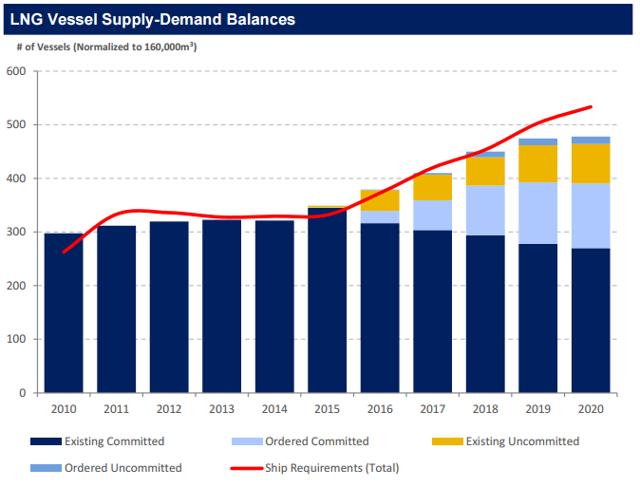 Click to enlarge
With natural gas replacing coal in many countries and the continued increase in standards of living in the developing countries, I have little doubt that LNG demand will continue its robust growth. The LNG has to get from where it is produced to where it is needed so demand for DLNG's carriers should also continue.
Past Performance and Financial Position
DLNG has only been in existence for about 2.8 years. Though only operating for roughly 2.8 years, DLNG has grown significantly during that time. DLNG reported the 2015 Q4 and full-year results on February 16, 2016. A short summary of that financial report is provided below.
Operating revenue increased from $107 million in 2014 to $145 million in 2015, an increase of 36%.
EBITDA increased from $85 million in 2014 to $113 million in 2015, an increase of 33%.
Net Income increased from $51 million in 2014 to $60 million in 2015, an increase of 18%.
Average number of vessels in operation increased from 3.8 in 2014 to 5.0 in 2015, an increase of 32%. The current estimated value of these assets increased from $0.84 billion to $1.04 billion or 23%.
Available cash increased from $36 million in 2014 to $49 million in 2015, an increase of 36%.
Total debt increased in 2015 to $680 million from $568 million in 2014. This 20% increase was due to financing the 6th ship drop down (Lena River) discussed further below.
Partners equity increased to $368 million in 2015 from $298 million in 2014, an increase of 23%.
Distributable Cash Flow (DCF) increased from $59.8 million to $72.4 million over the period, an increase of 21%.
Distributed cash to common unit holders increased from $52.8 million in 2014 to $60.1 million in 2015, an increase of 14%.
The all-important distribution coverage ratio has been well above 1.0 and currently stands at 1.15 averaged over 2015.
On December 21, 2015, DLNG completed the acquisition of the 2013 built ice class LNG carrier Lena River contracted to Gazprom for a purchase price of $240 million. This gives DLNG a total of six vessels all on long-term time charters going in to 2016 with an overall utilization rate of 98%. The latest vessel drop down required DLNG to obtain a $200 million term loan secured by the Lena River and the Yenisei River vessels and is the primary reason for the growth in total debt on DLNG's balance sheet. Even with the additional debt, DLNG's debt metrics are respectable.
Long-term debt to EBITDA multiplier of 5.78. I like to see this metric below 4 so this is higher than I would like to see but DLNG is carrying new debt due to the recent carrier acquisition.
EBITDA to long-term debt interest payments multiplier of 4.0. This is a very solid number showing that DLNG should have no problem making its interest payments going forward.
Overall, DLNG's performance over 2015 was very good and its financial position reflects a growing startup company with an appreciable but manageable debt load.
Conclusion
DLNG has an interesting business model in contracting out LNG carriers. LNG demand globally is expected to grow at 5% per year between now and 2020 and 4% per year between 2020 and 2025 which will result in more than 60% growth between now and 2025. DLNG has a current transport advantage using the NSR, has a relatively new fleet of vessels, and operates on long-term time charters. DLNG's past performance has been very good though they have been publicly traded for only about 2.8 years.
DLNG common unit prices have, for the most part, followed the price of crude oil down. However, the latest news release extending the time charter contracts for the Lena River and the Ob River gave DLNG unit prices a significant boost. On Thursday, March 31, DLNG gained 18.5% and on Friday, April 1, DLNG gained 0.18% while the price of crude dropped 4.46% on the day. It might be that DLNG will be less impacted by crude oil's price volatility going forward. The doubling of DLNG's backlog to $1.2 billion and the average time charter to 7.9 years should give DLNG's valuation some tailwind. DLNG's current yield is 14.8% even after the price bump. This gives investors a healthy annual cash distribution while waiting for the market to come to its senses on DLNG's valuation.
Disclosure: I am/we are long DLNG.
I wrote this article myself, and it expresses my own opinions. I am not receiving compensation for it (other than from Seeking Alpha). I have no business relationship with any company whose stock is mentioned in this article.
Editor's Note: This article discusses one or more securities that do not trade on a major U.S. exchange. Please be aware of the risks associated with these stocks.