Introduction
It's been almost two years since I first discussed Sierra Rutile (OTC:TNUMF) here in Seeking Alpha, and even though I'm sometimes a trend-setter, my timing has been a bit off on this one, as the share price is now approximately 60% lower. Am I worried? Not at all, and in this article I'll explain why I will buy more stock in the coming trading week rather than cutting my losses.
Sierra Rutile's main listing is on the London Stock Exchange where the company is listed with SRX as its ticker symbol. The current market capitalization of Sierra Rutile is $137M.
Don't judge a book by its cover, but read it. Entirely.
In 2015, Sierra Rutile produced just in excess of 126,000 tonnes of rutile with 37,600 tonnes of ilmenite and almost 1,400 tonnes of zircon as by-products. That's actually pretty good considering the company had a weak start of the year. But, as I explained in a previous article, Sierra Rutile has changed to a market-based sales approach and if the rutile price is too low, it prefers to stockpile the stuff rather than selling it at a bottom. That's a little bit risky as it ties up more working capital, but it could also be seen as a sign of strength and that Sierra Rutile isn't a 'price taker' at any rutile price.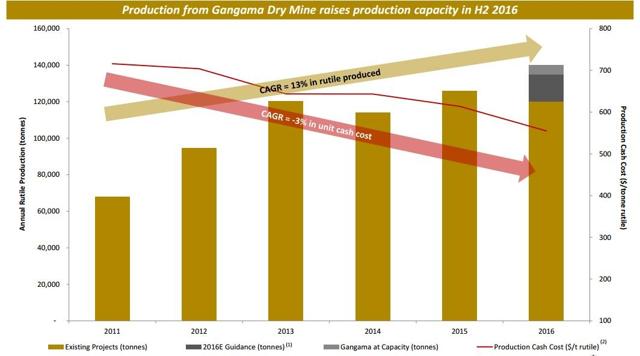 Click to enlarge
Source: company presentation
And indeed, of the 126,000 tonnes of rutile that have been produced, just 117,600 tonnes were effectively sold which means almost 9,000 tonnes were stockpiled (with a total value of approximately $6M). That's also the reason why the revenue was a bit on the lower end of my expectations, but more importantly, why the AISC at $720 was higher than I expected.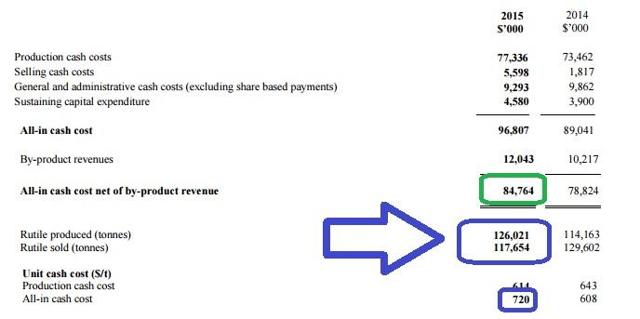 Click to enlarge
Source: press release
Apparently (this has not been explicitly stated but can be proven based on making your own calculations) Sierra Rutile has reported its AISC per tonne of product that has been SOLD rather than PRODUCED (so the 8,300 tonnes of rutile that have been stockpiled are basically 'free' tonnes now). And based on my calculations, the AISC per tonne of PRODUCED rutile wasn't $720/t but $673/t, providing a net margin of $100/t (based on an average selling price of $100/t). And that's why you shouldn't judge a book by its cover but independently double-check the claims company make. In 90% of the cases, companies are presenting the facts in a better/more optimistic way than they are, but Sierra Rutile has been extremely conservative here, and that's probably why the market still doesn't realize the underlying earnings power.
Let's skip the niceties of the income statement and immediately move over to the cash flow statements to back up my statement.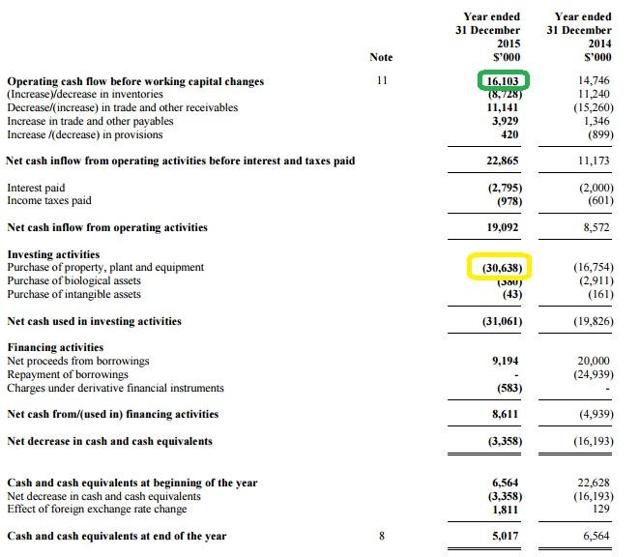 Click to enlarge
Source: financial statements
The company generated an operating cash flow of $16.1M before changes in its working capital position, and after deducting the interest expenses as well as the income taxes, the adjusted operating cash flow was $12.3M. You might be scratching your head when you see the total capex was $30.6M, but the huge majority of this capex bill was related to the construction of the company's newest mine, the Gangama mine (which will be commissioned in just 3 months time!).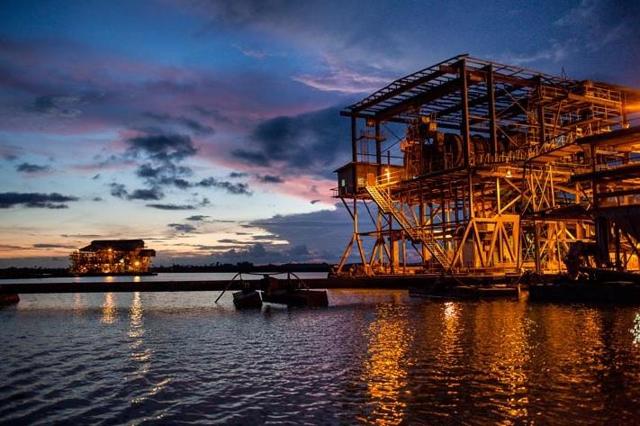 Click to enlarge
Source: company website
According to the accompanying (very detailed, well done, Sierra Rutile!) notes and details, the sustaining capex was just $4.6M, resulting in a free cash flow of $7.7M. Okay, nice, not bad for a $140M company, but there's one additional thing you once again need to take into consideration…
Remember the 8,300 tonnes of rutile that have been stockpiled? As no sale has occurred, these (mined, and delivery-ready) tonnes are not accounted for in the cash flow statements and if Sierra Rutile would want to, it could convert these tonnes into cash at any moment. Using a rutile price of $775/t, the choice to stockpile the rutile rather than selling it removed $6.4M 'certain' revenue from the cash flows. So, if you really want to have a better idea of how Sierra Rutile is performing, you'd need to add this value to the effectively realized cash flows, resulting in a pro forma adjusted free cash flow of $14M. And then you're suddenly talking about an adjusted free cash flow yield of 10%, during a period wherein the rutile price has reached the lowest level in six years, due to the ongoing de-stocking which should soon be reverted again. Again, don't judge a book by its cover.
I admit it has taken longer than I expected, but I'd dare to count on $850/t in 2017 and $900/t in 2018 as base case rutile prices (and independent consultants are using a long-term rutile price of in excess of $1000/t).
The 2016 guidance and my projections. And what about the debt owed to the government?
For 2016, the company expexts to produce 120,000-135,000 tonnes of rutile at a production cost of $540-590/t. As the total sustaining capex will be just $5-7M, I'm expecting the all-in sustaining cost per tonne of rutile to be approximately $615/t, providing very healthy margins despite the current low rutile price. The net operating margin should be $150-200/t, putting the company on track to generate a decent amount of free cash flow to reduce its net debt from next year on.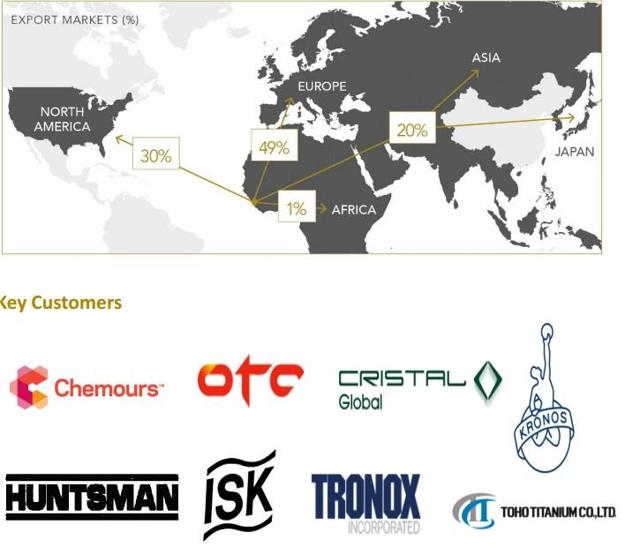 Click to enlarge
Source: company presentation
Sierra Rutile is definitely comfortable operating in Sierra Leone and unlike other countries where governments always seem to want a bigger piece of the pie, the SL government seems to be willing to work with Sierra Rutile to ensure the company's successful future. In a previous article I pointed out there was a government loan due to be repaid by June of this year, but the Sierra Leonese government has approved a six month extension, and no repayment will be due before the end of this year and this will give Sierra Rutile more room to breathe considering the new Gangama dry mine should be in full production by then.
And you know what? As the loan is denominated in Euro's, the stronger US Dollar actually makes it cheaper for Sierra Rutile to repay the bond. In the past 2 years, the positive impact of the stronger US Dollar reduced the value of the debt by $5.5M, which was more than the (accrued) interest expenses on this loan.
Investment thesis
I wish I could skip 2016 and go right to 2017, when Sierra Rutile should be producing 160,000 tonnes of rutile at a cash cost of $500/t and an AISC of $575/t. Even a moderate increase of the rutile price to $875/t (keep in mind the consensus estimate is to reach $1000/t sooner rather than later) would result in a net cash flow of $48M and approximately $40M after taking the appropriate taxes into account. And even at $775/t (the current price), the net cash flow should be approximately $28-30M, which is pretty good for a company with a market capitalization of less than $140M.
And Sierra Rutile has optionality. It recently completed a PFS on the Sembehun dry mine which could increase the rutile production by 71,000 tonnes per year at an AISC of just $400/t for 21 years. And that's why I will increase my position in Sierra Rutile here at 18.5 pence ($0.26). I will probably double my position and reduce my average purchase price to $0.34. No investment ever is a 'slam dunk', but I feel very comfortable holding (and doubling) my position in Sierra Rutile with a 3-4 year investment horizon in mind.
Disclosure: I am/we are long TNUMF.
I wrote this article myself, and it expresses my own opinions. I am not receiving compensation for it (other than from Seeking Alpha). I have no business relationship with any company whose stock is mentioned in this article.
Additional disclosure: I own Sierra Rutile and will add more shares this week, preferably below 19 pence on the London Stock Exchange.