Introduction
Yahoo! Inc.'s (NASDAQ:YHOO) CEO Marissa Mayer had to deal with another top executive departure on April 1. Yahoo's senior vice president who oversees acquisition and development, Sandy Gould is leaving the company.
But this is the least of Marissa Mayer's worries in the next three months.
There is a mounting pressure for Yahoo's management to create or show great promise in creating shareholder value before the company's annual shareholder meeting this summer. This is because the hedge fund Starboard Value wants to sweep out all of Yahoo's nine board directors and replace them with its own. This is why Yahoo advisers asked potential buyers of its core web business and Asian assets to submit proposals for their bids by April 11, 2016.
But we believe that all these factors have little to do with Yahoo's fundamentals. We believe that Yahoo has a lot of valuable assets which are not being reflected in its stock price and which have not been part of the conversation when discussing Yahoo's current valuation.
Yahoo's $30 Billion Priced Possession
Yahoo's 15% stake in Alibaba (NYSE:BABA) is one of the company's most valuable assets. Alibaba's current market capitalization is ~$202 billion. Making Yahoo's 15% stake in the Chinese behemoth worth ~$30.3 billion. Implying that the Alibaba stake is only ~16% below Yahoo's current market capitalization. This simply means that Yahoo is almost currently valued as much as its stake in Alibaba. This creates a lot of optimism for Yahoo's shareholders as the stake in Alibaba is likely to attract a better premium.
The pricing for Yahoo's assets like Alibaba is likely to attract richer valuations, generate substantial FCF and create lucrative shareholder value because of Alibaba's growth potential. China's most valuable asset is its rapid growing consumer population with a much higher spending power. As China's middle class expands and its shoppers continue to buy more, Alibaba and subsequently Yahoo, will see higher premiums and valuations as Alibaba is better positioned to benefit from the growth in China's middle class.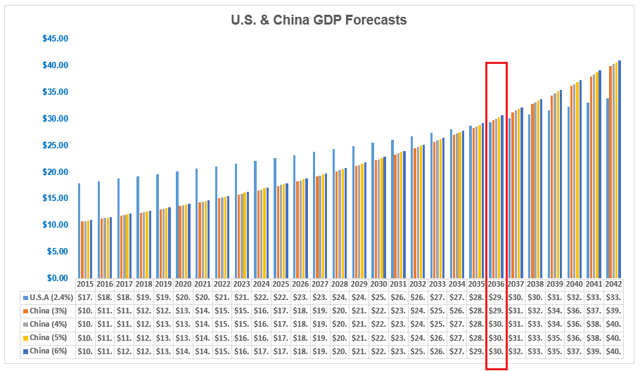 (Source: Authors analysis, data from World Bank)
By 2030, around one billion people in China could be middle class. That would be equivalent to ~70% of China's projected population by 2030.
Because of Alibaba's potential, we believe that Yahoo's 15% stake (~$30 billion) in Alibaba could be auctioned for a higher premium. Consequently, for the fact that only one of Yahoo's assets accounts for ~83% of Yahoo's current market capitalization, Yahoo is trading way below the company's actual potential. Such valuable hidden value presents a strong bull case for Yahoo because it is something that will remain part of Yahoo regardless of who is running the company.
Free Auctions To An Upside
But Yahoo's other assets for sale are not worthless. Yahoo owns 35.5% shares in Yahoo Japan Corporation (OTCPK:YAHOF). Yahoo Japan's market capitalization as of 3/30/2016 close is $23.28 billion with $0.0 in debt and $4.63 billion in cash. Meaning that the market, without tax, is valuing Yahoo's stake in Yahoo Japan at ~$8.26 billion.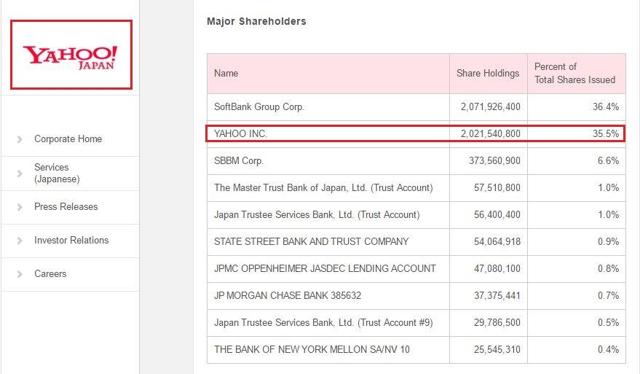 Click to enlarge
(Source: Yahoo! Japan - Shareholders' Information)
In addition, Yahoo's TTM EBITDA is $474.68 million and its core business could sell for $8.75 billion. To access what Yahoo's core business might be worth, we used a precedent transaction analysis. Verizon paid $4.4 billion for the mobile-ad-play AOL last year. At the time of the acquisition, AOL had $507 million in adjusted operating income. Meaning that Verizon paid ~8.7x EBITDA for the company. Therefore, using AOL multiple, Yahoo's core business enterprise value would be $4.12 billion. To get to the equity value we add the $5.86 billion cash and subtract the $1.23 billion in debt to get a rough equity value of $8.75 billion. Implying that Yahoo's core business could sell for at least $8.75 billion.
Conclusion - Yahoo's MRQ
Yahoo has enough cash to settle its debts thus reducing any credit risks. In addition, according to Yahoo's Most Recent Quarter (MRQ), the company has $5.86 billion in cash. It is less leveraged with only $1.23 billion in debt. Use the word "only" because the company has enough cash to pay down its debt and still remain with $4.62 billion in cash.
Secondly, Yahoo qualifies to be a value play. Yahoo has a book value per share of $30.79/share. Meaning that Yahoo is currently trading at ~16% above book value. The reason why a tech company suddenly moved into a value stock territory is because Yahoo has failed to create shareholder value in the last 12 months as seen through its -12.82% trailing twelve month Return on Equity (ROE).
Lastly, when you sum up Yahoo's three assets: Alibaba and Yahoo Japan stakes and Yahoo's core business, the company should be worth at least $47.31 billion. Implying a minimum upside of ~33% or ~$48/share to Yahoo's current market capitalization and this excludes north of $12 billion in acquisitions. Yahoo has made $17 billion in reported transactions, and divested ~$1 billion according to Mark Fahey analysis on CNBC.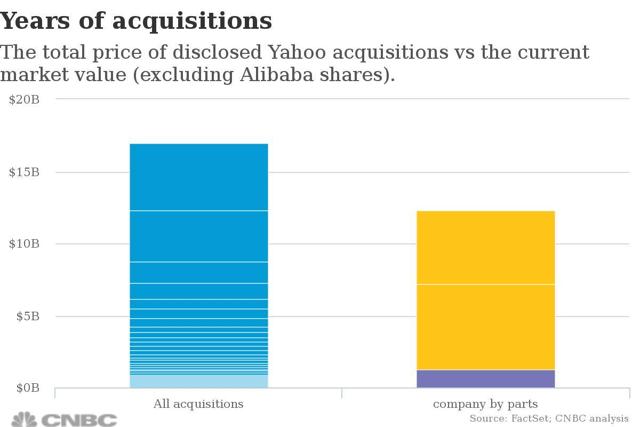 Click to enlarge
(Source: CNBC)
Because of Yahoo's solid acquisitions (and the sum of their parts), management's effort to unleash shareholder value by selling parts of its business and the overselling that has occurred in the stock, we think Yahoo is an attractive investment.
Disclosure: I/we have no positions in any stocks mentioned, and no plans to initiate any positions within the next 72 hours.
I wrote this article myself, and it expresses my own opinions. I am not receiving compensation for it (other than from Seeking Alpha). I have no business relationship with any company whose stock is mentioned in this article.
Editor's Note: This article discusses one or more securities that do not trade on a major U.S. exchange. Please be aware of the risks associated with these stocks.