The iShares Nasdaq Biotechnology ETF (NASDAQ:IBB), which tracks the Nasdaq Biotechnology Index (NASDAQ:NBI), has been range-bound since February while the broader market continues to rally off the February low, despite that the fundamentals of the biotech sector still look strong. According to FactSet, the Biotechnology sector is projected to report double-digit revenue growth for the first-quarter 2016, one of the highest sales growth forecasts among the ten sectors of the S&P 500.
High prescription drug costs have been a hot-button issue in both the Democratic and Republican presidential primary campaigns since September 21, when Democratic front-runner Hillary Clinton sent out a tweet about "outrageous" price gouging by a pharmaceutical CEO. Since leading Republican presidential candidate Donald Trump is also calling for Medicare to be able to negotiate with pharmaceutical companies to lower drug prices, the same playbook backed by Democrats but opposed by Republicans, it could be up to Congress to decide whether there is enough support for a bill to pass that lets Medicare negotiate prices. The political process for that could be two years away.
As long as investors continue overreacting to the remarks from presidential candidates during their stump speeches and debates, the dark cloud over the biotech sector may continue. IBB tried in early March, but failed, to break out and it is going to be a hit-and-miss activity, as one doesn't know until after the fact if the breakout was successful.
M&A Activities and Clinical Trial Results are Key Drivers for IBB
The biotech ETF IBB surged on Thursday, along with shares of Medivation (NASDAQ:MDVN), 1.54% weighted in IBB, after reports emerged that the company had hired JPMorgan Chase (NYSE:JPM) to help it deal with takeover bids from some potential suitors, including Gilead Sciences (NASDAQ:GILD), Amgen (NASDAQ:AMGN), Sanofi (NYSE:SNY), AstraZeneca (NYSE:AZN) and Roche Holding AG (OTCQX:RHHBY) according to Barron's. Ironically, the takeover talk about Medivation, manufacturer of prostate cancer drug Xtandi, came the day after the company had been targeted by certain influential members of Congress, including Democratic presidential candidate Bernie Sanders.
It would be big tax savings for Medivation if Roche, Sanofi or AstraZeneca is identified as the acquirer. According to KPMG, the corporate tax rates in Switzerland, the U.K. and France are only 17.92%, 20% and 33.3%, respectively, compared to 40% in the U.S. The U.S. has the highest corporate tax rate among the developed countries.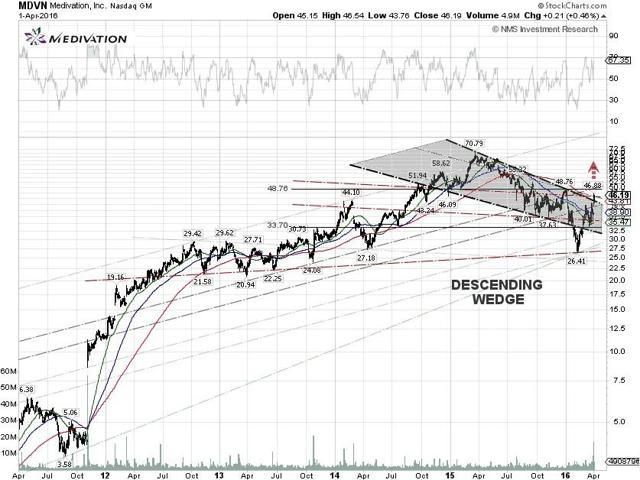 Click to enlarge
Technically, panic buying pushed shares of Medivation over the 200-day moving average for the first time since July 2015. The stock, which bottomed in early February at $26.41 per share, made a major technical breakout this week as it broke out the upper trendline resistance of the bullish descending wedge chart pattern. There is a near-term head resistance at $48.76 per share, where the stock could pull back. We believe that the stock will continue moving higher as the sentiment for MDVN has now shifted.
IBB received a big boost from Regeneron Pharmaceuticals (NASDAQ:REGN), after the company announced that its experimental drug, dupilumab, for the treatment of a debilitating skin condition called atopic dermatitis, met all of its major treatment targets in two late-stage Phase III studies. According to some Wall Street analysts, dupilumab, co-developed with Sanofi, could have peak annual sales of more than $3 billion for that disease alone. The drug, which is designated as a "breakthrough" therapy by the FDA, is also being studied for asthma and other allergy-related inflammatory diseases.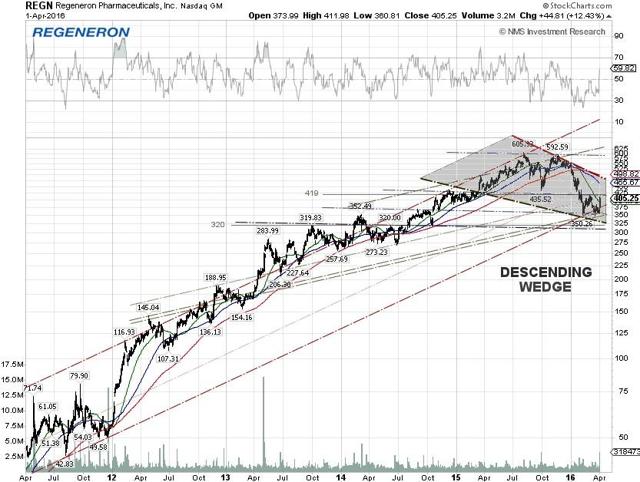 Click to enlarge
Concerns about the growth prospects of eye drug Eylea (aflibercept), and the legal battle with Amgen over patent infringements of cholesterol-lowering drug Repatha (evolocumab), have put selling pressure on shares of Regeneron. The stock managed to close above the 50-day moving average for the first time this year, but still faces a near-term resistance at $419 per share.
Technical View
About 39.14% of the holdings in the IBB index are the five big cap biotech companies, Amgen, Gilead Sciences, Biogen (NASDAQ:BIIB), Celgene (NASDAQ:CELG), and Regeneron Pharmaceuticals, with a combined market cap of over $400 billion, as of April 1. Despite that the fourth-quarter 2015earnings of the top five big cap companies in IBB were mixed, as Celgene and Regeneron recently reported disappointing results, all of them are expecting strong growth in 2016.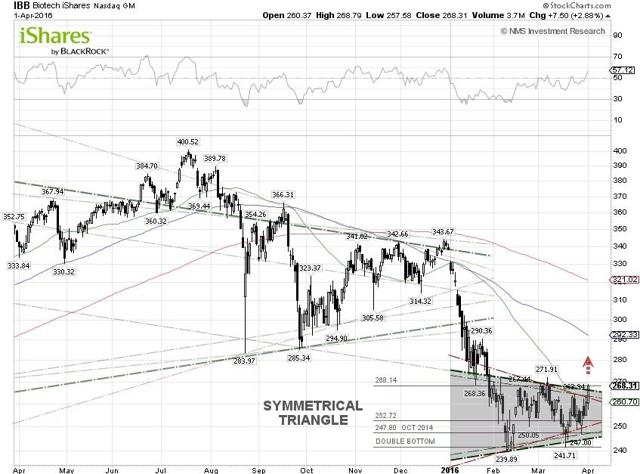 Click to enlarge
Technically, IBB has been trading in a symmetrical triangle chart pattern since the beginning of February, meaning investors can't decide in what direction the ETF will move next. IBB bounced off the trendline support at around the $241 level and appears to form a double bottom chart pattern, which isn't confirmed until the ETF can close firmly above the neckline resistance at around $268.14 per share. IBB managed to close above the 50-day moving average for the first time this year and is bumping into the neckline resistance. In our view, a breakout could result in substantial upside for IBB. There are several arguments that a breakout might happen.
IBB's Top Holdings, Amgen and Gilead, Are Heading for a Major Breakout
As of April 1, Amgen is IBB's top holding with a weight of 8.24%. Shares of Amgen could rise from here in anticipation of a good first-quarter 2016 earnings report, expected to be released on April 19. Last quarter, Amgen posted a better-than-expected results, driven by strong sales of its flagship rheumatoid arthritis drug Enbrel. Sales of Neulasta (pegfilgrastim), its second blockbuster drug, decreased due to lower unit demand and unfavorable changes in foreign exchange rates.
Both Enbrel and Neulasta will be facing the threat of biosimilar competition from Sandoz, a Novartis (NYSE:NVS) subsidiary, Samsung Bioepis and Apotex, a Canadian pharmaceutical company, as well as from Baxalta and Coherus Biosciences.
Sandoz's cancer treatment drug Zarxio, a biosimilar of Amgen's Neupogen, with a price tag about 15% less than Neupogen, hasn't made a significant impact in worldwide sales of Neupogen yet, according to their latest fourth-quarter 2015 earnings report. Amgen, however, could lose some market share of its Enbrel drug to Benepali, the etanercept biosimilar, co-developed and marketed by Samsung Bioepis and Biogen, when Benepali is launched this year.
Amgen is trying to find a way to make up for the revenue loss due to biosimilars with some copycat biologics of its own. In early February, the FDA accepted Amgen's Biologics License Application, or BLA, for ABP 501, a biosimilar to Humira, based upon clinical trial data from Phase 3 comparative efficacy and safety studies in both moderate-to-severe plaque psoriasis and rheumatoid arthritis, with a final FDA decision expected by September 25.
There is potential near-term upside for Amgen's shares, as the final outcome of the patent fight over the cholesterol-lowering drug class, PCSK-9 inhibitors with Regeneron Pharmaceuticals and Sanofi, is forthcoming. In March, Regeneron and Sanofi were found to have infringed on two Amgen Repatha patents related to monoclonal antibodies, or mAbs, that bind PCSK9. Most analysts expect Sanofi/Regeneron to settle and pay royalties to Amgen for U.S. sales of the Regeneron/Sanofi drug Praluent (alirocumab).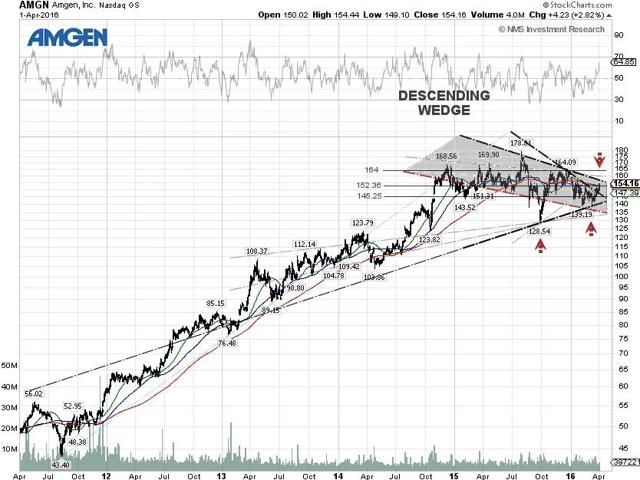 Click to enlarge
Technically, shares of Amgen closed above the 200-day moving average for the first time since early January 2016. AMGN seems to have bottomed in September 2015 at $128.54 per share, as it successfully retested the long-term trendline support at $139.02 a share. The stock just broke out the short-term trendline resistance and continues to be trading in a bullish descending wedge chart pattern with a major breakout at around $157 per share.
Gilead Sciences is IBB's second largest holding with a weight of 8.23%, as of April 1. The company is expected to announce its first-quarter 2016 earnings results on May 5. Gilead's fourth-quarter 2015 earnings report came in well above expectations, as the company continues to gain global market share with their hepatitis C drugs, Harvoni and Sovaldi. The decline in U.S. sales of Gilead's flagship hepatitis C drugs was offset by sales in Europe and abroad. The company also announced a $12 billion share buyback and a 10% increase in its quarterly dividend.
Some investors may be reluctant to step in and buy shares of Gilead until the impact of Zepatier, a once-daily hepatitis C pill just launched by Merck & Co. (NYSE:MRK) in late January with a price tag of $54,600 for a 12-week course of treatment, on Gilead's Harvoni sales is understood. At the end of March, a California District Court jury found Gilead guilty of infringing upon patents co-owned by Merck and Ionis Pharmaceuticals (NASDAQ:IONS) and ordered Gilead to pay $200 million to both companies for the damages. Court arguments are still ongoing, as Merck is also asking for a 10% royalty on Gilead's sales of hep C treatments.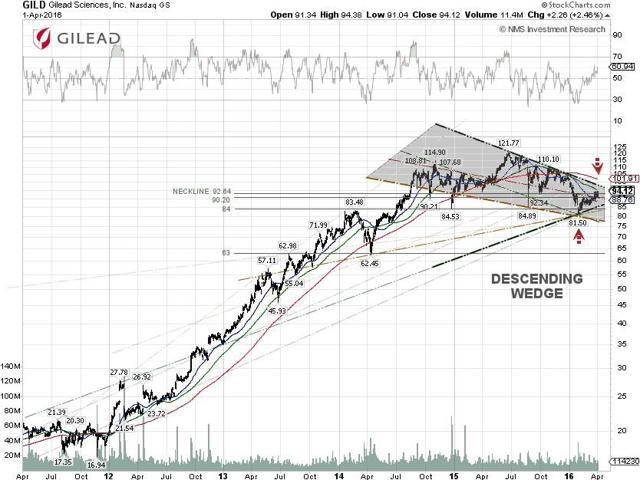 Click to enlarge
GILD has made a 22.71% price correction since the stock pulled back from its 52-week high, at $121.77 per share, at the end of June 2015. Shares of Gilead just closed above the necklines of a head and shoulders chart pattern, between $90.20 and $92.64 per share. GILD bounced off a 5-year trendline support, on February 2 at $81.50 per share, and has been moving in a bullish descending wedge chart pattern above the 50-day moving average at $88.76 per share. The February 2 bottom is confirmed, as the stock just broke the neckline resistance. There is significant upside potential if GILD is able to break out the upper trendline resistance of the descending wedge.
Rotations Out of Weak Sectors
The Materials Select Sector SPDR ETF (NYSEARCA:XLB) and Energy Select Sector SPDR ETF (NYSEARCA:XLE) have been rebounding since oil plunged to the February 11th low of $26.05 per barrel, or the "Janet Yellen low", when Federal Reserve Chair Janet Yellen told the U.S. Congress on the second day of her two-day semiannual monetary policy report that overseas weakness and market distress could threaten the Fed's plans to raise the rate, but didn't explicitly mention any delays to interest rate hikes.
Since then, both ETFs have run up on hopes for more central bank stimulus and on a jump in crude oil prices. Jeffrey Currie, Goldman Sachs' head of commodities research, issued a report in early March saying that the rally in commodities was just a "mirage" and recommended shorting copper and aluminum. Beyond suggesting that the commodities rebound was a head fake, Currie said the rally was "premature" and "not sustainable", according to MarketWatch.
According to a recent FactSet report, five sectors of the S&P 500 are projected to report year-over-year growth in revenues in the first-quarter 2016, led by the Telecom Services and Health Care sectors. Five sectors are predicted to report a year-over-year decline in revenues, led by the Energy and Materials sectors. One possibility for a sector rotation strategy is to sell the XLB and XLE ETFs and buy the under-owned Health Care Select Sector SPDR (NYSEARCA:XLV) and IBB. Of course, money could go to the sidelines, or to the bond market, if the broader market heads south.
ASCO Effect
Potential IBB upside could come from the Annual Meeting of the American Society of Clinical Oncology (OTC:ASCO), to be held this year in Chicago on June 3-7, where the latest breakthroughs and clinical trial results in cancer therapeutics and diagnostics will be presented. Investors may see significant price movement of biotech stocks in either direction, up or down, from the date of the release of the ASCO abstracts, several weeks before the event, through the ASCO meeting.
Conclusions
The iShares Nasdaq Biotechnology ETF, IBB, has been range-bound since February while the broader market continues to rally, despite that the fundamentals of the biotech sector still look strong. M&A activities and clinical trial results continue to be key drivers for IBB, as talks of takeover bids for Medivation and positive results of an experimental drug from Regeneron were just recently reported.
IBB has been trading in a symmetrical triangle chart pattern, but there are several arguments that a breakout might happen since IBB's top holdings, Amgen and Gilead, are ready to make breakouts themselves. Investors may rotate out of weak sectors, such as energy and materials, that are expected to report year-over-year declines in revenues, and move to under-owned sectors, such as biotech and health care, which are projected to report year-over-year growth.
Disclosure: I am/we are long BIIB, CELG, REGN.
I wrote this article myself, and it expresses my own opinions. I am not receiving compensation for it (other than from Seeking Alpha). I have no business relationship with any company whose stock is mentioned in this article.
Editor's Note: This article discusses one or more securities that do not trade on a major U.S. exchange. Please be aware of the risks associated with these stocks.