Bed Bath & Beyond (NASDAQ:BBBY) reports their fiscal Q4 '16 financial results on Wednesday afternoon, April 6, 2016 after the opening bell.
The company reported their fiscal Q3 '16 January 7th, after pre-announcing weaker holiday results December 23, 2015, and at the time of the January 7th release, guided their fiscal Q4 '16 to $1.72 - $1.76 in earnings per share (EPS).
However, currently, the Street consensus is looking for $1.81 in EPS on $3.38 billion in revenue for expected year-over-year growth of 1% and 1% respectively.
The point being that - despite the management "guide" to a midpoint of $1.74 in EPS for Q4 '16, the Street consensus remains higher at $1.81.
Retail was one of the worst performing groups in 2015, and yet since the start of the year, a number of retail stocks have jumped sharply, with BBBY bouncing a little bit but still depressed.
An unambiguous negative:
The one table I can put up for readers that shows the kind of pressure Bed, Bath has been under is margin trends:
Gross

Margin

y/y

change

Op

Mgn

y/y

change

Net

Mgn

y/y

change

2/16 Q4
?
?
?
11/15 q3
37.8%
-58 bp's
9.9%
-207 bp's
6.0%
-164 bp's
8/15 Q2
38.1%
-42 bp's
11.7%
-83 bp's
6.7%
-87 bp's
5/15 Q1
38.1%
-68 bp's
10.0%
-134 bp's
5.8%
-125 bp's
2/15 Q4
39.7%
-77 bp's
15.9%
-50 bp's
9.6%
-78 bp's
2/14 Q4
40.5%
-51 bp's
16.5%
-113 bp's
10.4%
-59 bp's
2/13 Q4
41.0%
-158 bp's
17.6%
-258 bp's
11.0%
-186 bp's
1/12 Q4
42.6%
-38 bp's
20.2%
+175 bps
12.8%
+153 bp's
Source: quarterly earnings reports, 10-Q's, adjusted for operating basis
Looking at the chart below, BBBY took gas in early '14 and the stock has never recovered, with couponing and promotion being the major culprits in the margin compression.
Readers can see that while gross margin has been under a little pressure, it is the operating margin, which is usually store-expense related, that has been cut in half over the last three - four years.
BBBY will face easier comp's over the next year. If management can stem some of this margin bleeding, it would definitely help the stock.
An unambiguous positive:
In two words, "cash-flow".
Looking at BBBY's cash-flow and free-cash-flow valuations, "ex-cash", BBBY is now trading at 6(x) 4-quarter trailing cash-flow and 9(x) free-cash-flow. The 9(x) free-cash isn't hard-core value investor territory, but there is no question the stock is cheaper on a cash-flow valuation than any point in the last 5 years.
BBBY doesn't pay a dividend (yet) and all the capital returned has been through share repurchases.
From a quality of earnings perspective, free-cash-flow covers net income and cash-from-operations as a percentage of net income has been improving too.
Inventory-to-sales growth:
Inv gro

y/y

Rev gro

y/y

11/15 Q3
5%
0%
8/15 Q2
4%
2%
5/15 Q1
5%
3%
2/15 Q4
6%
4%
2/14 Q4
5%
-6%
2/13 Q4
19%
24%
1/12 Q4
5%
9%
Source: balance sheet data, income statement analysis
From an analytical perspective, when inventory growth exceeds sales growth, it becomes a problem for a retailer and as readers can see, after early 2013, inventory growth exceeded sales growth for a couple of years, which is part-and-parcel to the margin compression.
Technical analysis: BBBY has seen their worst correction as a public company since going public, outside of 2008's Financial Crisis correction. The stock has held its 200-month moving average - a very good sign.
A heavy volume trade below $43 and the stock (and probably the company) is headed for deeper trouble.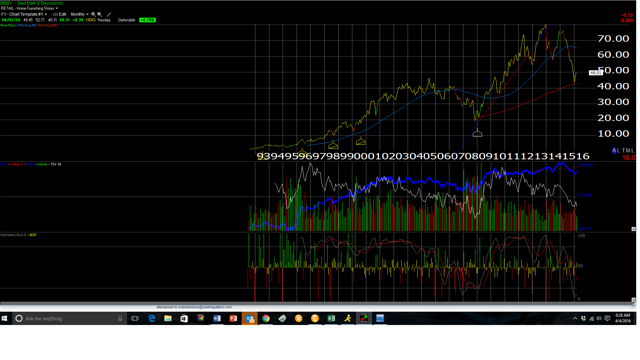 Click to enlarge
Analysis/conclusion: The one thing that amazed me was that all during the housing / mortgage depression of 2007 through 2011, 2012, Bed Bath was a rock and far outperformed any housing-related stock. However eventually the "death by Amazon" meme caught up with the retailer putting significant pressure on margins and straining operations. That being said, cash-flow is still healthy and the management team is very highly-regarded.
What is the next step for BBBY ? Use cash-flow to acquire bolt-on businesses ? Take BBBY private ? I just don't know.
Currently I have no positions for clients, but the hold at the 200-month average is significant. I may buy some for a trade before Wednesday's earnings. With 3% revenue growth and 5% EPS growth expected over the next three years, 6(x) cash-flow valuation, and an 11% free-cash-flow yield, the stock is as cheap or cheaper as it has ever traded.
There is no question that BBBY today is a better relative and absolute value than at any point in the last 20 years, absent the 2008 Financial Crisis.
What I'd like to see starting Wednesday is
1.) Better revenue growth
2.) Margins stabilizing, or even improving
3.) Management articulating a "return-to-growth" strategy
It is difficult to turnaround retailer that is under this kind of pressure.
Disclosure: I am/we are long AMZN.
I wrote this article myself, and it expresses my own opinions. I am not receiving compensation for it (other than from Seeking Alpha). I have no business relationship with any company whose stock is mentioned in this article.