Stocks and oil have never had much of a history together of which to speak. Dating back over the last thirty years, the relationship in monthly returns between stocks and oil has been virtually uncorrelated at +0.03. But despite their long coexistence together in capital markets, the pair suddenly found themselves intertwined and moving in virtual lockstep with one another since the start of 2015. It has been a stormy relationship between the two so far. And if they manage to continue to stay together in the weeks ahead, stocks may end up getting dragged down once again.
Suddenly Two Of A Kind
Stocks (NYSEARCA:SPY) and oil (NYSEARCA:USO) suddenly found themselves wrapped up in a close relationship with the start of 2015. Several fundamental economic and market factors seemed to bring the pair together.
First, the sharp decline in oil prices (NYSEARCA:OIL) can potentially be interpreted as a reflection of global economic weakness, which would bode ill for stock prices.
Second, the drop in oil prices has specifically rocked the U.S. energy sector (NYSEARCA:XLE), which had been a notable source of earnings growth and job creation in the U.S. It has also had a bruising impact on the high yield bond (NYSEARCA:HYG) market, where the energy sector makes up roughly one-eighth of the asset class.
Third, the threat of widespread defaults across the oil patch brings into question the potential spillover effects in the financial sector (NYSEARCA:XLF) including most specifically the banking institutions (NYSEARCA:KBE) that are either directly or indirectly exposed to the energy sector.
Lastly, oil's decline has placed significant pressure on the fiscal and corporate health of major commodities producing countries across the globe including Russia (NYSEARCA:RSX) and Brazil (NYSEARCA:EWZ) among others.
How long forces such as these keep this historically unlikely pair together remains to be seen.
Breaking Up Is Hard To Do
In recent days, stocks appear to be trying to make a break for it on their own. Since March 21, oil prices have plunged by -12%. But over this same time period, stocks have inched higher by +1%.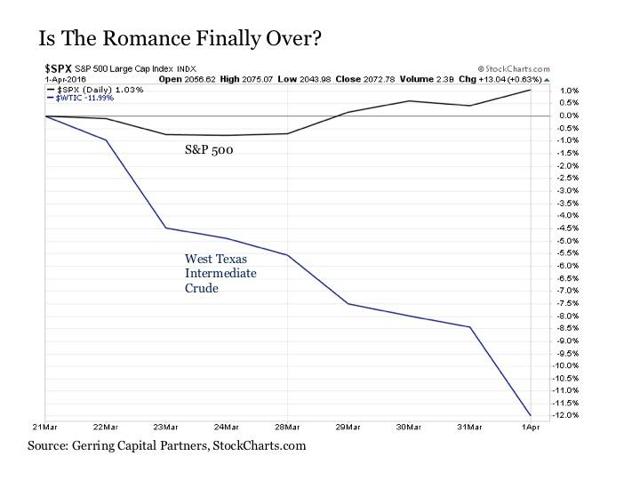 Click to enlarge
This raises an important question. Have stocks and oil finally parted ways? Or will stocks end up getting pulled back down by oil?
Unfortunately for U.S. stocks, they have made two similar attempts to make it on their own without oil over the past year. And in each of these last two instances, stocks eventually found themselves crawling back to oil on the downside.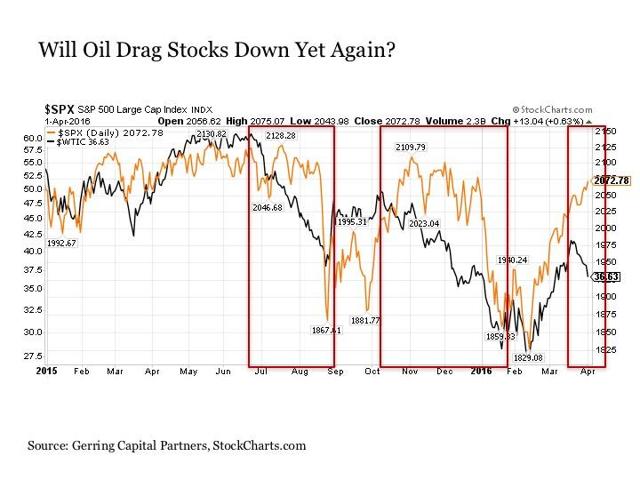 Click to enlarge
The first such divergence took place starting last June. Over a two month period through mid August, oil was plunging while stock prices remained largely steady. That is until mid August, when stocks suddenly cratered to the downside to quickly catch up to oil's downside pace.
Another similar episode began to unfold in early October. For while stocks rallied through the end of the month and held generally steady through the end of the year, not so for oil prices, which continued to move steadily lower. But once the calendar flipped to the New Year, stocks moved swiftly to catch up to oil on the downside once again.
So here we find ourselves once again today with stocks rallying and oil prices plunging. Will stocks finally be able to break off this relationship and resist getting pulled to the downside by oil? Only time will tell, but the fact that so many of the forces that brought stocks and oil together in the first place remain intact suggests that stocks may find themselves crawling back down to oil once again before it's all said and done.
Bottom Line
Stocks and oil have recently diverged in price. Unfortunately for stocks, the decline in oil prices may be foreshadowing an eventual reversal lower in stocks at some point in the near-term future if it persists. As a result, investors should if nothing else consider the downside risks associated with another potentially volatile move to the downside in stocks.
Disclosure: This article is for information purposes only. There are risks involved with investing including loss of principal. Gerring Capital Partners makes no explicit or implicit guarantee with respect to performance or the outcome of any investment or projections made. There is no guarantee that the goals of the strategies discussed by Gerring Capital Partners will be met.
Disclosure: I/we have no positions in any stocks mentioned, and no plans to initiate any positions within the next 72 hours.
I wrote this article myself, and it expresses my own opinions. I am not receiving compensation for it (other than from Seeking Alpha). I have no business relationship with any company whose stock is mentioned in this article.