Pipeline giant Kinder Morgan Inc (NYSE:KMI) was effectively forced by credit rating agencies to slash its dividend by 75% late last year. Many, myself included, thought several other big midstream energy names would follow in cutting distributions. Well, it's April and none of the midstreams I believed would cut have actually done so. The pipeline MLPs have been pretty stubborn in holding onto their distributions.
One of those "stubborn" midstreams is Plains All American (NYSE:PAA). Plains has maintained its distribution through some very low commodity prices in 2015, and intends to do so again in 2016. Plains has opted to continue its distribution and pay most of its growth projects through a $1.6 billion offering of perpetual preferred equities. This article looks at Plains' 2016 guidance and how it relates to its cash flow.
Cash flow
Assuming the same distribution over the last 12 months at an expected coverage ratio of .87 times, Plains should generate about $1.5 billion in distributable cash flow.
Before looking at Plains' obligations, let's look at where the cash flow metrics have been headed. Full-year adjusted EBITDA declined 5% versus 2014. Breaking things down by segment, net income from transportation declined 5%, logistics dropped 9% and facilities dropped 1% year-on-year in the fourth quarter. These declines were brought on by lower realized prices per barrel and lower margins, particularly on volume that was not fee based.
This downward trend is set to reverse in 2016 because Plains will finally complete its long-awaited Cactus Pipeline project spanning from West Texas to the Gulf Coast. Cactus should help to bring about 12% transportation volume increase expected in 2016.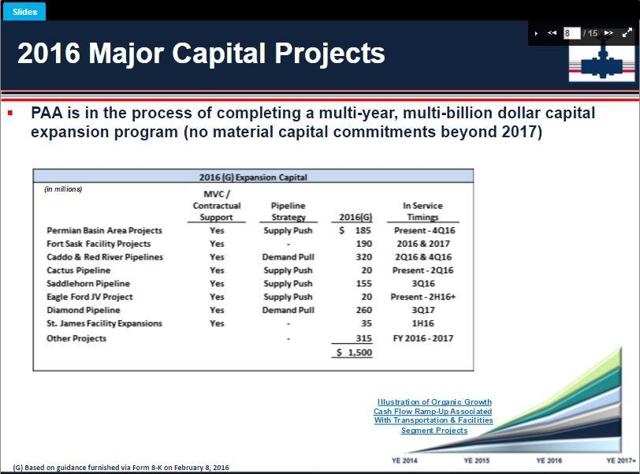 Click to enlarge
A list of major capital projects in 2016.
Unfortunately, all that considered, Plains still expects DCF to be only 0.87 times the distribution. In addition, Plains has significant obligations from growth capex -- about another $1.5 billion. In other words, Plains already expects about a $200 million deficit from the dividend alone in 2016, and will then need another $1.5 billion for growth projects.
Can Plains afford to do this? Well, yes, because recently it did a $1.6 billion offering of perpetual, preferred equity and also plans to sell about $400 million in "non-strategic assets." In other words, Plains is issuing equity and selling assets into a low-price market to fund its projects and its dividend.
If crude rebounds and the bear market reverses by 2017, this equity issuance will be an afterthought. Debt markets will ease up for Plains and the distribution should continue unabated. If, however, 2017 rolls around and Plains has to issue equity all over again, investors are going to wonder how the heck things stayed this way for this long. Share issuance at these low prices is bad no matter how you spin it, in my opinion. Frankly, I think Plains should have just slashed its dividend and used that to pay for capex.
I mentioned in a previous article that it would be difficult for Plains to achieve 1.1 times distribution coverage by 2017. In 2016, management appears not to be able or willing to achieve full distribution coverage. As I also mentioned in a previous article, Plains was on "negative watch" by Moody's. The preferred equity issuance hasn't changed the outlook just yet, but I suspect that once Moody's and others start considering credit downgrades, Plains will be forced to slash its distribution. I don't know exactly when that may happen, but it will happen sooner or later if these low oil prices persist, which they appear to be doing.
Conclusion
By now I thought we would see more distribution cuts in the midstream space. Those cuts haven't come yet, and Plains All American is a good example of a partnership that is holding on to its distribution. Right now, Plains units yield over 13%; a clear red flag and sign that the market believes a distribution cut is indeed coming. I happen to agree.
Disclosure: I/we have no positions in any stocks mentioned, and no plans to initiate any positions within the next 72 hours.
I wrote this article myself, and it expresses my own opinions. I am not receiving compensation for it (other than from Seeking Alpha). I have no business relationship with any company whose stock is mentioned in this article.