The SPDR Gold Trust ETF (NYSEARCA:GLD) has been in consolidation mode for the last few weeks, but hasn't been able to make any real upward progress since the February 11 spike higher. However, over that time frame, GLD has managed to work off some of the short-term overbought conditions that were in place. This past Friday, it successfully tested its 50-day support, which could mark the low. In my last article, I talked about the 114 area as a possible bottom, and I believe that could be a likely short-term target for GLD should current levels not hold. If 114 is hit, I'm expecting a swift rebound as the next move higher would then commence. Either way, this consolidation in gold should be just about over. I still view the 110 region as imperative to maintain, so I remain very constructive on the sector unless that is taken out.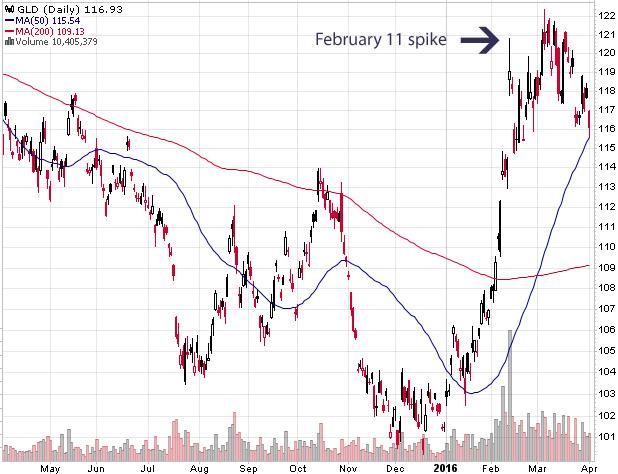 (Source: StockCharts.com)
The major U.S. indices got off to a very rough start in 2016, the S&P 500 itself fell 10% before it bottomed on February 11. So it's no coincidence that GLD's performance since that time has been muted, as the attention has turned back to general equities.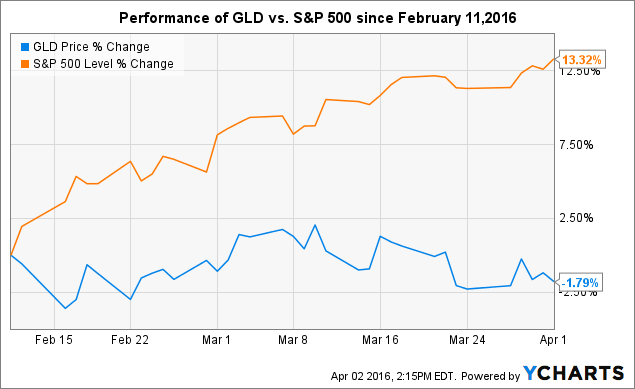 GLD data by YCharts
That's always been the case when it comes to the relationship between stocks and gold. There have been instances when the two will trade in tandem with each other to the upside or downside, but the vast majority of the time they have a very strong inverse correlation. Most investors believe that it's the U.S. Dollar that drives gold, but as I have shown time and time again, there is no long-term correlation between the Greenback and the yellow metal. There simply can't be. This basically boils down to a competition for investors' dollars, and it fluctuates between risky assets vs. safe haven assets. Although it's ironic because depending on who you ask, gold could be considered a risky investment or a safe investment, and the same goes for the S&P. The point is, when general equities are in a bull market, gold is going to have a tough time "selling itself."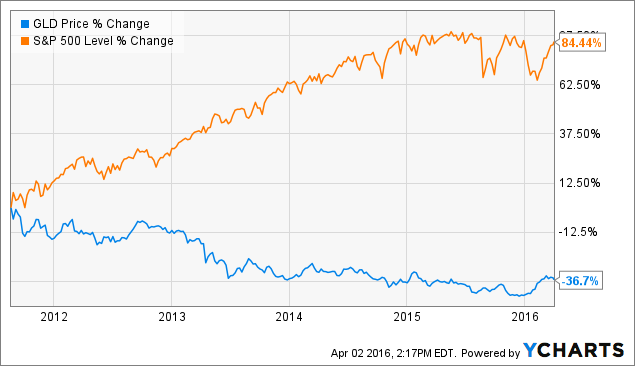 GLD data by YCharts
What gold really needed to start this upward cycle was a realization by investors in stocks that the huge bull run that has taken place the last 4-5 years was over, at least for the time being. Only then would money start coming back into the precious metals sector. In late 2014 and into 2015, I stated several times that the stock market was going to have trouble making any headway over the next few years, I have stuck to that prognosis since. While I wasn't expecting a massive 50% collapse, I did believe that 15%-20% correction could occur, and at best, the market would trade sideways for the foreseeable future. My belief last year was that the stock market was in a topping phase while the gold market has been bottoming.
General equities have had a very explosive rebound over the last 1-1/2 months, which has somewhat taken the shine off of gold (not tarnished it completely though by any stretch of the imagination). But the S&P is now extremely overbought and has hit major technical resistance. I don't think this bull market in stocks has any gas left in the tank, in fact, it's most likely complete. And while the S&P did experience a 15% decline from the high that it hit last year, I'm expecting that the worst is yet to come. Gold, on the other hand, is right at major support and isn't nearly as "hot" as it was a month ago. Which means we are at a perfect setup for a reversal in both. If that occurs, then this will give further confirmation of this change in trend. And while this momentous event might not be clear to most investors - as their attention and "belief" still resides in equities - any further decline in the S&P and rise in gold will solidify that this sector rotation is occurring (and at a rapid rate at that point).
I can't deny though that the Dow, S&P, and Nasdaq are close to surpassing critical levels to the upside, basically they are right there and a little more of a push could give investors a renewed sense of hope and optimism. But while these indices have staged impressive comebacks since mid-February, they keep hitting lower highs and lower lows. Until that changes then this looks very bearish for general equities. The next few weeks will be the last key test for both the precious metal sector and stocks. My money is clearly on gold being the victor.
The HUI - Charging Higher And Not Stopping
In my previous article on the gold sector (February 29, 2016), I made the following statement:
I'm seeing a lot of articles saying to liquidate positions now in GLD and gold stocks as they are overbought. These calls could easily be short-term correct, but if there is a swift reversal to the upside a few days or a few weeks later, then investors will end up chasing these gold shares and end up buying at higher prices than where they sold.
My basic warning was in bull markets - especially during early stage ones where a sector is massively oversold - the corrections just aren't that deep. If you look what the HUI has done since the lows were struck in January, you can see there has been no major correction. In late February, the index was very overbought, but anybody that sold at that time missed out on another significant move to the upside. Which means they either re-bought at much higher prices or are now on the sidelines waiting and hoping for that "big correction." One which simply might not materialize.
(Source: StockCharts.com)
I must point out that the gold stock sector has held up amazingly well over the last few weeks even though gold has declined. As a result, there is currently a wide divergence between GLD and the HUI. That just shows how oversold the precious metals stocks became (a generational type of event) along with the fact that major money is pouring into this sector (in particular the stocks themselves). But given this divergence, there is still a chance that we could see the HUI correct back down to the 150-160 level over the next few weeks, especially if gold declines a little further to that 114 target that I discussed earlier. That would still just put the Gold Bugs Index slightly below where it was in late February (when I originally stated that 114 target for a possible low). Which strengthens my point of view that the correct strategy is to be buying the dips, not selling the rallies and trying to time all of this.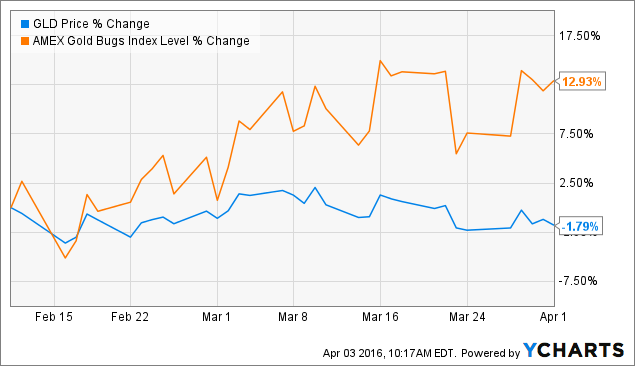 GLD data by YCharts
100%-200% Gains So Far In Select Precious Metal Stocks
We have seen a major increase in almost all precious metal stocks since January, many have in fact doubled from those bear market lows (with a handful increasing 200% or more). But I still consider this just the beginning of the move, we certainly aren't near the end or even at the halfway mark.
Take for instance a company like Kinross Gold (NYSE:KGC). Kinross' stock price closed at a low of $1.38 a share in January, with the intraday low being $1.31. On Friday, it finished the trading session at $3.48, or a 152% gain since the bear market bottom. A simply stellar return in such a short amount of time. These types of gains don't surprise me, as I have stated often over the last year or so that if you buy in at the bottom, you will double or triple your money within a matter of months.
While the gains so far have been extraordinary, there are a plethora of them still waiting to be unleashed on these still beaten down gold stocks.
Below is a look at a long-term chart of Kinross. The stock would have to quintuple from here to reach the previous bull market high. I have been posting charts like this since the move began in order to show investors that substantial upside remains. I'm not implying that KGC is definitely getting back to that $17 per share price, the company still needs to execute and not have any major mishaps along the way. Rather, this is just an example. The charts of Yamana (NYSE:AUY), Pan American Silver (NASDAQ:PAAS), Coeur (NYSE:CDE), Market Vectors Junior Gold Miners (NYSEARCA:GDXJ), etc. all look similar to the one below.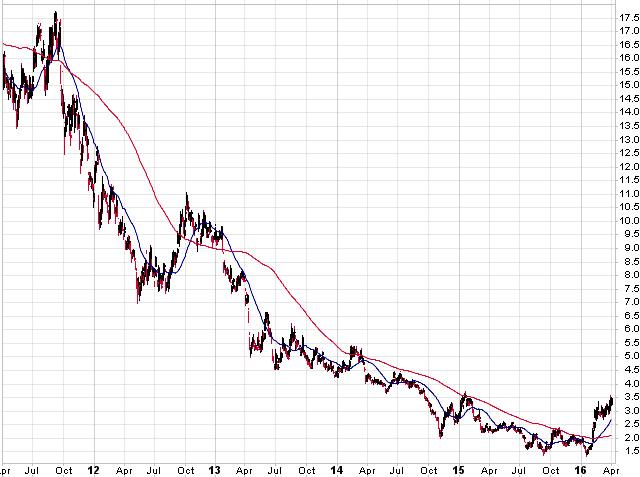 (Source: StockCharts.com)
In the end, I'm expecting most of these gold and silver stocks to surpass their old highs, as one overlooked factor in all of this carnage is precious metal companies have become very lean and mean. The focus over the last few years has been on balance sheet repair and lowering cash costs, which translates into significant margin expansion on any increase in the price of gold. That is going to be the real story here going forward, and Wall Street heavily rewards companies with swiftly rising profits.
Back in 2010-2011, margins were contracting even as gold was increasing in value. There will be at least a good solid year or two of heavily expanding profit margins before we would start to see any cost pressures build. And even when they do, I believe the lessons learned 5-6 years ago will be fresh in the minds of the executives running these mining outfits, and the massive overbuilding of projects and blowout budgets won't be repeated (at least not in this cycle).
In other words, I still expect enormous gains (even from current levels) in this sector over the next several years. Those who have missed this initial surge shouldn't fret.
When Will Silver Get Off The Mat?
In my previous article on the sector, I talked about how silver hasn't really participated in this rally, yet it was only a matter of time before it caught up with (and eventually far surpassed) the performance of GLD. That started to occur in March, and silver was in fact breaking out a few weeks ago. But it has succumbed to selling pressure and got dinged pretty hard on Friday. It's still trailing GLD's performance by a decent size margin, but it has managed to close the gap somewhat since late February. A small consolation.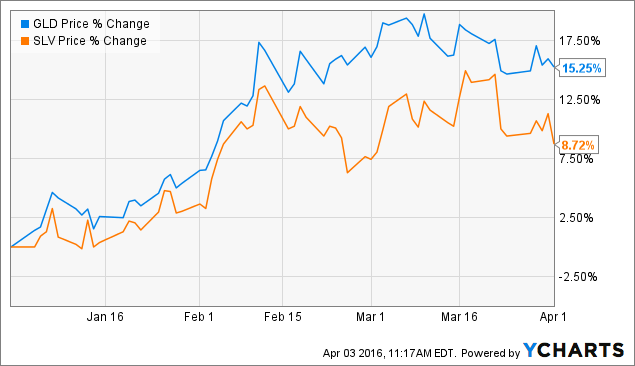 GLD data by YCharts
I still believe this is simply a waiting game, and silver will eventually break out to the upside very shortly. It's at $15.05 at the moment, with $16.00-$16.25 being the key level to surpass in the near term to get this party started.
But physical silver would only need to decline $1.50 for it to hit fresh multi-year lows, so I would never bet heavily on this until I see a breakout to the upside. I believe the next move will be higher, but I'm still a little cautious on the metal until I see slightly increased pricing and a more conducive technical position.
I have stated before that I'm not interested in buying the physical metals themselves as the returns in the gold and silver stocks would be far far greater (especially given how out of whack the XAU/Gold ratio had become). That's still the case, at least, to some extent. The shares of primary silver companies have performed extremely well since January, in fact, they have staged some of the more impressive gains in the sector. I have many large positions in silver stocks that I have established over the last several months. In my January 7, 2016, article titled "Gold: It's Time To Prepare For A Bottom," I stated that I had my eye on Coeur and any bout of weakness would be a buying opportunity. It was $2.38 at the time and eventually fell to $1.75, where I bought. It's provided a 200%+ return for me since then, compare that to silver's very modest 10% gain.
However, there is a major opportunity at the moment to play the divergence occurring in silver and the producers. While I still believe the stocks will far outperform the metal over the long-term, one short-term position I'm looking to establish or build upon is in VelocityShares 3x Long Silver ETN (NASDAQ:USLV), which is a highly leveraged physical silver fund. If we take a look at its counterpart below - the VelocityShares 3x Inverse Silver ETN (NASDAQ:DSLV) - you can see that on major downside price action in silver, DSLV has put in phenomenal short-term gains. The 350% rise in 2013 occurred when the price of silver plunged from $34 to $18 over the course of 9 months. Most of the move happened in just a 4-5 month time frame as DSLV bounced along the bottom for a while. That's similar to what is occurring now in USLV as the lows established four months ago have held, but not much progress to the upside has been made.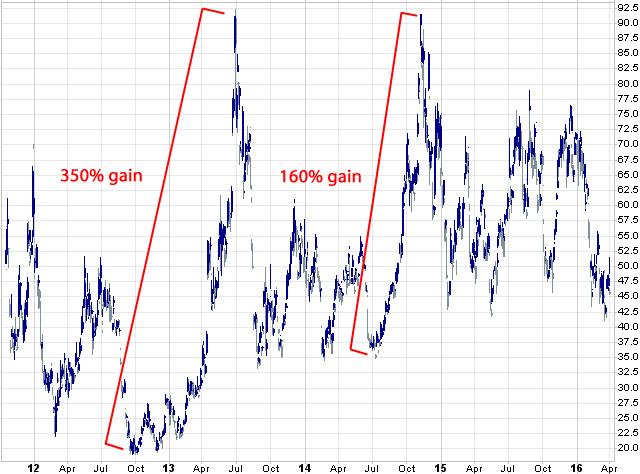 (Source: StockCharts.com)
Everything at this moment is pointing to physical silver reversing the 4+ year downtrend, we just need confirmation by slightly higher prices first. If that occurs, USLV should have a major spike over the next 3-6 months, one which should produce a return in excess of 200%. It's difficult to say how much exactly because this is a leveraged fund that naturally decays because of this constant 3x daily leverage. It just depends on the speed of the increase as well as the percent gain in silver. But let me just say that if silver can move to the $20-$22 region over the next few quarters, then those gains in USLV will materialize.
Any increase in physical to those levels will also result in large short-term gains for the silver companies, just not nearly to the same extent as what USLV will experience. I don't plan to liquidate any silver stock holdings or "rotate" into USLV. Rather I have some cash still on the sidelines and plan to use that to continually build my position in the ETN.
Leverage ETFs/ETNs are designed to go to zero over time, so this would be very short-term in nature only, but I do see a major opportunity. And that is what these leveraged funds are built for, as their purpose is to capture those spectacular ascents and declines in a sector or asset that can occur over a very short amount of time.
The Bull/Bear Debate Still Rages
There is obviously still a large debate going on about whether the precious metals sector has truly formed a long-term bottom. But to me, I have become more and more disinterested in this argument. There is substantial money being made in this sector and that is all that should be the focus right now. We can debate all day, but there is no denying the fact that the returns in gold and silver stocks over the last 2-3 months has been nothing less than extraordinary. So focusing on whether this is a new bull market or not, and trying to make an argument for one side or the other, seems like a distraction. Investors should be too busy making money to be worried about something which seems so trivial now. I will worry about that when/if this sector starts to considerably weaken.
I stated my position in February and that hasn't changed. To me it looked very good then, in terms of a bull market in the precious metals sector, as the HUI broke major overhead resistance that had been in place for over 4 years. And it obviously still looks good today.
Could the S&P make a break to the upside and have one final hurrah? Yes. Could gold come under more pressure if that occurs? Yes. Could gold stocks get hit? I think you know the answer. But where is the money being made right now? It's not in general equities, unless you sold everything at the short-term top in late 2015 and bought at the low in February 2016. And even then, the gains pale in comparison to the doubles and triples we are seeing occur left and right in the gold and silver stocks. The focus should be on how to take advantage of the opportunities that are still presenting themselves in the precious metals arena. That's what I'm truly trying to point out.
Disclosure: I am/we are long KGC, CDE, PAAS, AUY, USLV.
I wrote this article myself, and it expresses my own opinions. I am not receiving compensation for it (other than from Seeking Alpha). I have no business relationship with any company whose stock is mentioned in this article.