Brocade's (NASDAQ:BRCD) $1.2B deal (announced this morning) to acquire Ruckus Wireless (NYSE:RKUS) is the most recent of several large mergers/acquisitions to hit the networking/telecom hardware space over the last 12 months. The others:
Telecom infrastructure giants Nokia (NYSE:NOK) and Alcatel-Lucent have merged in a $17B all-stock deal.

HP Enterprise (NYSE:HPE) - just HP at the time of the deal - has bought enterprise Wi-Fi hardware/software provider Aruba Networks for $3B.

Infinera has bought optical transport hardware peer Transmode for over $300M.
Similarities with HP/Aruba
The Brocade/Ruckus deal has the most in common with the HPE/Aruba deal: It involves the purchase of a Wi-Fi equipment provider by a larger, more diversified, networking hardware firm. Two differences: 1) Compared with Aruba, Ruckus' Wi-Fi sales skew more towards carriers and other service providers. 2) While HPE's networking business (prior to the Aruba deal) depended heavily on Ethernet switch and Wi-Fi hardware sales, Brocade currently gets the majority of its hardware revenue from storage networking gear (predominantly Fibre Channel). IP networking - Ethernet switches, IP routers, and other products - accounted for 28% of the company's January quarter product revenue.
Regardless, both deals feel like attempts to gain more scale and reap M&A cost synergies in a networking hardware market where Cisco (NASDAQ:CSCO) remains the 800-lb. gorilla, where growth is already pressured by a mix shift in global IT spend towards Internet/cloud giants who often use white-box hardware produced by contract manufacturers, and where growth could be pressured in the future by software-defined networking ("SDN") and network functions virtualization ("NFV"), which between them will make it easier for enterprises and carriers to replace proprietary networking hardware with commodity boxes running on off-the-shelf processors.
Both deals also show the Wi-Fi market's strategic value - it's expected to see healthy (though not spectacular) growth as carriers and enterprises keep building out their Wi-Fi infrastructures - mobile carriers are often turning to Wi-Fi to offload traffic from 3G/4G networks - and is seen as relatively immune to the SDN/NFV threat, given the value of proprietary radio systems and management software.
Deal synergies
Brocade and Ruckus naturally talk up the potential for the combined company to cross-sell to the pre-merger companies' respective customer bases: Brocade is stronger with large enterprises and federal agencies; Ruckus is stronger with service providers and hospitality firms.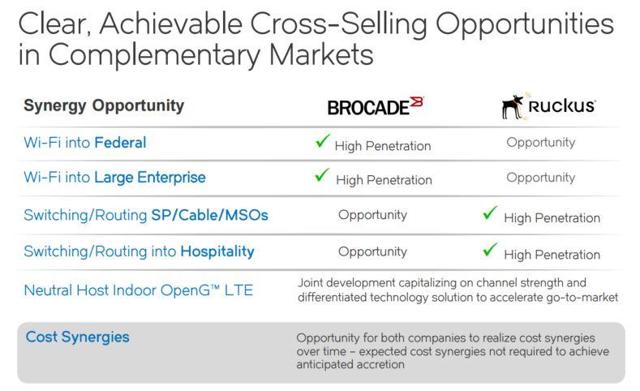 Click to enlarge
Source: Brocade-Ruckus presentation slides
The companies also highlight their combined clout within enterprise networking and the data center. Notably, Brocade argues Ruckus' offerings will help it pursue (in addition to traditional Wi-Fi markets) opportunities related to 5G, IoT services, smart cities, in-building wireless (OpenG), and converged 4G/Wi-Fi networks.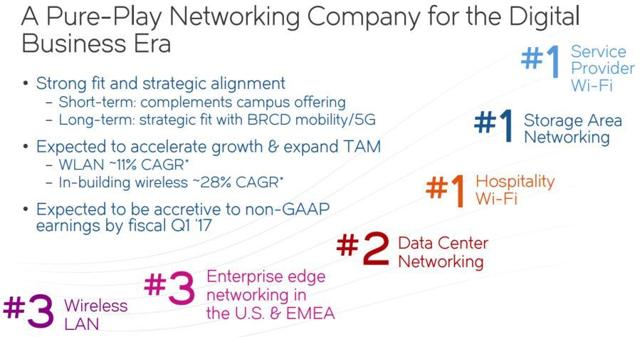 Click to enlarge
In addition, Brocade argues Ruckus will strengthen its efforts to grow its SDN/NFV software business - Brocade's Vyatta unit is a leading player in the young market for virtual (software-based) routers, and has also released SDN controller software based on the open-source OpenDaylight platform.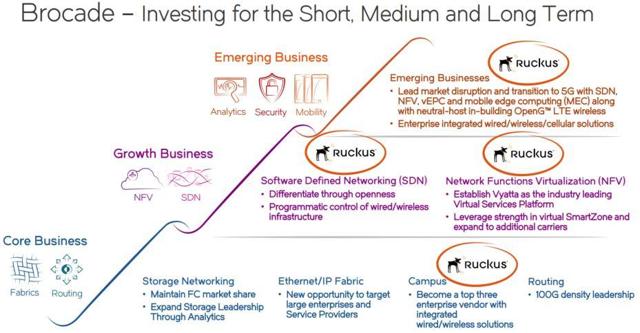 Click to enlarge
Cisco in the crosshairs
Though never mentioned by name in the merger announcement or related presentation (.pdf), Cisco is the elephant in the drawing room for Brocade and Ruckus … just as it was for HPE and Aruba. Cisco is Brocade's biggest rival in Fibre Channel switching, Ethernet switching, and routing, Ruckus' biggest rival in enterprise Wi-Fi, and also a major player in service provider Wi-Fi. IDC estimates Cisco had 47% of the 2015 enterprise Wi-Fi market, HPE/Aruba 15.9%, and Ruckus 6.7%.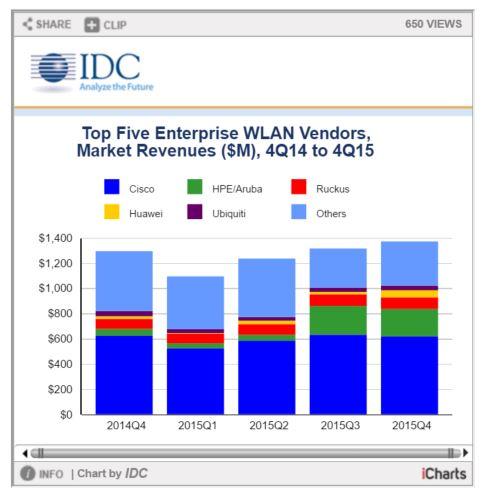 Brocade is easily the top player in Fibre Channel, but Cisco is firmly in second place.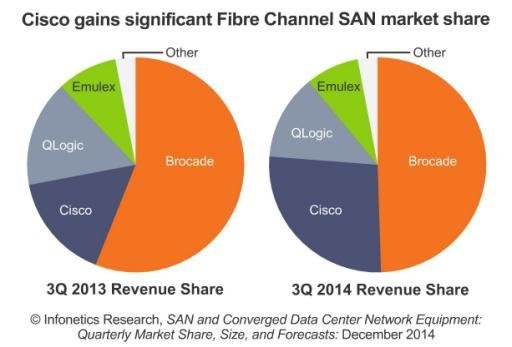 Brocade/Ruckus are betting their combined sales/marketing and R&D clout will help them better compete against Cisco, that cost synergies will help them compete more effectively on price, and that offering a more expansive product line will help them land more large deals. HPE and Aruba had similar motivations. So did Nokia and Alcatel-Lucent … though that tie-up was aimed as much as Ericsson, Huawei, and ZTE as it was at Cisco.
Notably, while its hardware rivals consolidate, Cisco has been trying hard to lower its hardware dependence by making numerous software and services acquisitions - a look at its recent M&A activity shows purchases in areas such as IoT services, collaboration software, and security analytics - as well as by launching new offerings in fields such as IoT, SDN software, and managed security. And the company responded to the Nokia/Alcatel not by making a hardware acquisition, but by partnering with mobile infrastructure giant Ericsson.
The moves come with the SDN/NFV threat to Cisco's switch/router sales gradually increasing, and the likes of Google, Facebook, and Amazon continuing to heavily rely on white-box switches. With more and more of Cisco's attention focused on software/services, hardware rivals adding scale and resources via M&A might have an opportunity to gain share.
Who gets acquired next?
Looking at the smaller publicly-traded networking hardware firms still out there, Extreme Networks (NASDAQ:EXTR) might be the most plausible buyout candidate … provided someone is interested. Extreme, whose product line includes switches, routers, and Wi-Fi hardware, is two months removed from plummeting due to weak guidance, and carried out big layoffs last year. But it has a low valuation (less than 1x trailing and forward sales), and would be easy for a larger player to digest - the company's current market cap is only $321M).
Ubiquiti Networks (NASDAQ:UBNT), which is trading higher today, is another possibility. The company is currently worth $2.8B, and its product line includes SMB-focused Wi-Fi hardware and wireless broadband infrastructure gear. With Ubiquiti having gone with a reseller-focused sales strategy to date, a buyer might see an opportunity to significantly grow Ubiquiti's sales by offering its products through the buyer's salesforce. However, founder/CEO Robert Pera maintains a large stake in Ubiquiti, and hasn't shown any interest in selling.
Data center switch vendor Arista Networks (NYSE:ANET) is also higher today. Arista's rapid growth - sales rose 41.5% Y/Y in Q4 - differentiated switches, and strong exposure to Internet giants could appeal to suitors. However, the company sports a relatively high valuation (~4x forward sales), and with a current market cap of $4.3B, the list of potential buyers may be limited to Nokia, Ericsson, Juniper, HPE, and (provided regulators don't object) Cisco itself. Moreover, management might demand a large premium given Arista's recent momentum.
Could Ruckus get a higher bid?
Brocade has tumbled following the deal announcement, as markets give a thumbs-down to the price tag involved. Brocade, which closed on Friday trading at ~1.9x forward sales, is paying nearly 3x forward sales for Ruckus, after backing out net cash. With much of Brocade's payout consisting of stock, its selloff has lowered the deal's value to ~$13.30/share from an original $14.43/share. Ruckus currently trades slightly above $13.
Meanwhile, there's speculation Ruckus could receive a higher bid. BTIG analyst Walter Piecyk:
"We would not rule out the emergence of other bids given the standard $50 million break-up fee and the interest it might attract from Ericsson, Nokia, CommScope, Juniper, among others … It does not appear that Ruckus had dialogue with any of these companies during the process. … In addition, the reaction of Brocade's stock and their decision to offer a high mix of stock in this transaction despite clearly having enough cash for the deal, opens up the door for a competitive bidder."
Disclosure: I/we have no positions in any stocks mentioned, and no plans to initiate any positions within the next 72 hours.
I wrote this article myself, and it expresses my own opinions. I am not receiving compensation for it. I have no business relationship with any company whose stock is mentioned in this article.