On a macroeconomic level, investors should be very much worried about a beginning of a dip on a broad basis nature within the overall market. Corporate profits - on a large scale level - are shrinking ever so slightly. Valuation ratios like the PE, P/FCF, cash/share, BV/share, and so on are once again very high, as we are at the same cliff we faced before the New Year's day avalanche.
The Federal Reserve stepped in and announced a very cautious outlook on the economy and that further rate hikes would be unlikely, while QE could be reintroduced. This news artificially inflated the market to where it stands now ... the S&P 500 (NYSEARCA:SPY) hit 2,072 on April 1, once again near all-time highs. Investors should be very worried about a potential 5%, or even 10% correction.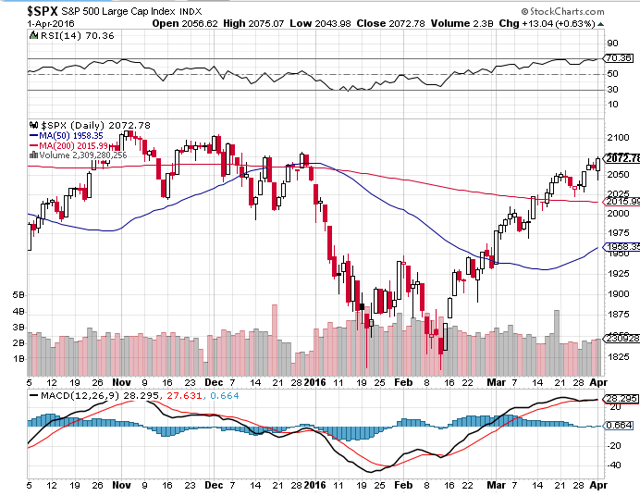 Click to enlarge
If we continue with the market's theme of higher highs and lower lows, and with the RSI (relative strength index) and MACD (moving avg, convergence divergence) in overbought territory, no one should be looking to buy right now unless they are sure the specifics of a firm signal it could still be heading higher in the short term, as well as the long term.
This is where NXP Semiconductors (NASDAQ:NXPI) comes into play as a value pick with massive upside over the long term.
NXPI is involved in a number of high growth, innovative sectors. These include:
Automotive microcontroller (through acquisition of Freescale Semiconductor)
Near Field Communication (NFC) as a growing alternative to credit cards and traditional card payment
Smartwatch chip manufacturing
Involvement with the development of the Internet of Things (NYSEMKT:IOT), which ties in with NFC
Cybersecurity
Through the introduction of a few charts surrounding these four sources of income, I will hopefully illustrate the intense growth and potential this company is receiving.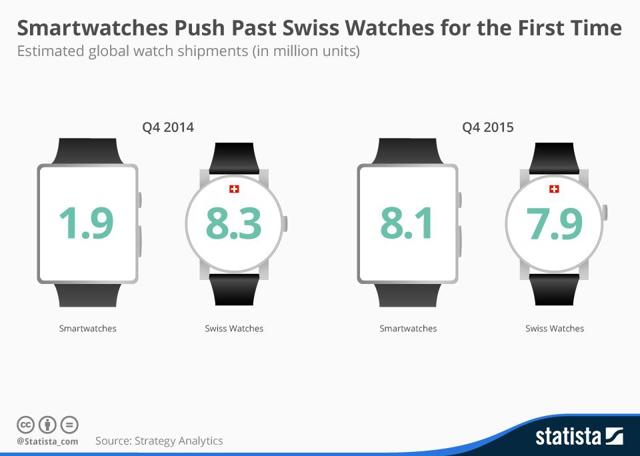 Click to enlarge
In this first graphic, provided by Statistica, we see smartwatches have, for the first time ever, overtaken Swiss watches based on global shipments. Apple (NASDAQ:AAPL) and other manufacturers have slowly cannibalized each other and limited market share, leaving limited room for profit margin and overall growth. Apple may be in the lead in the conquest for differentiation, but no one was won the war just yet, except for those who develop the chips within those gadgets, those firms being Qualcomm (NASDAQ:QCOM) and NXPI.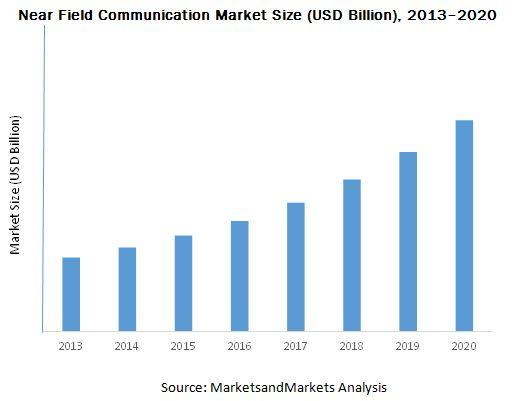 In this chart, the ongoing demand for NFC devices in everyday objects, such as phones (most prominently), refrigerators, cars and even houses is shown to be steadily growing. Some speculation and conjecture suggests that NFC payments by phone could overtake, or eat into a sizable part of the payments market by 2020 and beyond.
Again, those who stand to gain the most are chip makers such as NXPI and QCOM. Whenever you heard the word "smart" mentioned for cars, houses, or any other devise, chances are NXPI could be somehow related. This is a highly innovative and exciting industry to be a part of, that hasn't even started to hit its stride.
Segment Revenue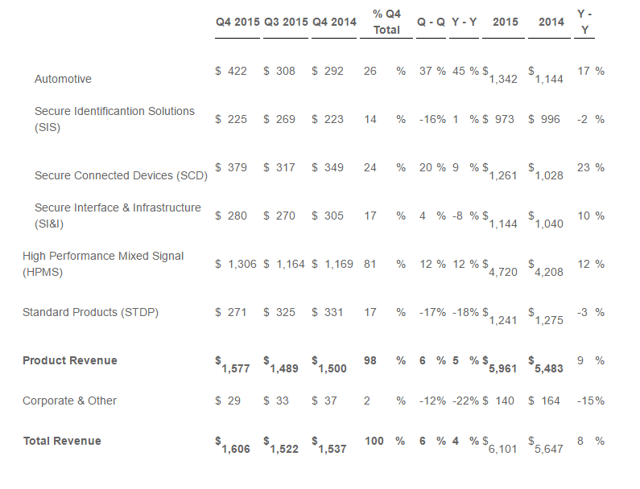 Click to enlargeFord (NYSE:F) is not the only major firm spending massive amounts of money on research and development for smart cars. Google (NASDAQ:GOOG) (NASDAQ:GOOGL) and its smart car ventures have been very well-documented, logging over 300,000 miles driven with autonomous cars, pushing the limits on innovation in the process. NXPI is once again a beneficiary of the development of this industry.
Taking a look at the screenshot above of NXPI's segment revenue, we see massive growth in the automotive (17%) and secured connected devices (SCD) (23%). 76.8% of their revenue goes to High Performance Mixed Signals (HPMS), which grew 12% year-over-year. Revenue is growing at an increasing rate as well, as projected sales and net income for 2016 and 2017 are supposed to jump significantly. In fact, by 2017, their overall revenue is expected to almost double, and expected revenue growth Q/Q for Q1 2016 is expected to increase 38%.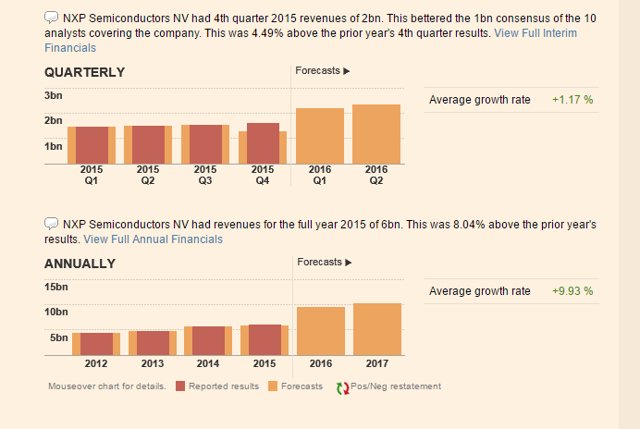 Click to enlargeEffective annual growth that is anticipated for the next two years and beyond is simply astounding for a firm of NXPI's size ($28B market cap).
Valuation and Price Target
A few calculated moves and acquisitions have positioned NXPI for a very prosperous future, with expected high returns across multiple fronts within the firms revenue sources. Involvement in cutting edge markets poised for both near-term and long-term future growth could make NXPI one of the fundamental pillars of technology. Management has shown they are more than up for the task, as efficiency has been the primary catalyst for the firm's innovation.
NXPI's ROE (return on equity) stands at 45.2%, second best out of 24 qualifying firms in the broad line semiconductor industry. Further, both their operating and profit margin (33% and 25%, respectively) are ranked first in the industry.
Due to the substantial projected returns in both top and bottom line figures, and impressive segmentation revenue growth, I will assign NXPI a fair value PE ratio of 16.1. Currently, as of this past Friday's close, the PE ratio stands at 14.4, and a forward PE of 11.1.
Based on projected year end EPS of $7.39/share, this leads to a fair value of $118.98, projecting a 45.01% expected return based on the April 1 closing price.
Recent analyst price targets are similar to mine, but not quite as optimistic, for the most part. Oppenheimer has an outperform rating, and a $100 price target. Drexel Hamilton has a $102 price target, while Canaccord Genuity has a $120 price target. Overall, the consensus since at least May 2015 from all analyst firms with coverage is a "buy" or "outperform" rating, with the exception of Goldman Sachs (NYSE:GS), which has a neutral rating.
Disclosure: I/we have no positions in any stocks mentioned, but may initiate a long position in NXPI, QCOM over the next 72 hours.
I wrote this article myself, and it expresses my own opinions. I am not receiving compensation for it (other than from Seeking Alpha). I have no business relationship with any company whose stock is mentioned in this article.