Despite seemingly strong opposition from some shareholders, it looks like the merger between Lake Shore Gold (NYSEMKT:LSG) and Tahoe Resources (NYSE:TAHO) is now a done deal.
On Thursday, Lake Shore Gold announced that it has received overwhelming shareholder approval at the special meeting held to approve the previously announced business combination with Tahoe Resources to be completed by way of a plan of arrangement (the "Arrangement"). The Arrangement was approved by approximately 95.1% of the votes cast by Lake Shore Gold shareholders.
On the same day, Tahoe Resources announced that the issuance of common shares of Tahoe as consideration under the Arrangement was approved by approximately 99.87% of votes cast by Tahoe shareholders.
The arrangement closed on Friday, April 1, and now, LSG shares are expected to be de-listed from both the Toronto Stock Exchange and the NYSE MKT as soon as practicable.
On Friday, LSG closed at $1.47/share and TAHO at $10.03/share.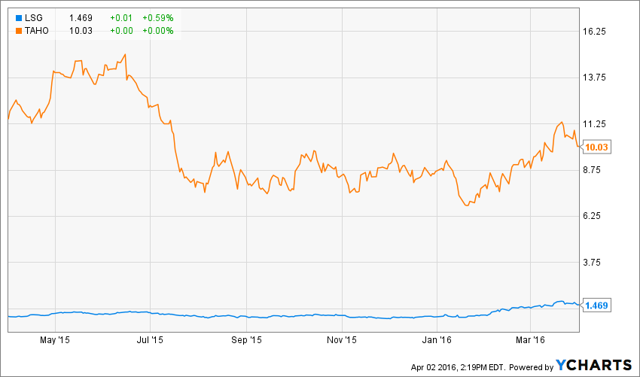 The Transaction Details
As a refresher, the combination of both companies was first announced on February 8 -- Tahoe Resources reached an agreement to acquire all of the Lake Shore Gold issued and outstanding common shares - To be exchanged on the basis of 0.1467 of a Tahoe common share per each Lake Shore Gold common share (the "Exchange Ratio"). Upon completion of the Transaction, existing Tahoe and Lake Shore Gold shareholders will own approximately 74% and 26% of the pro forma company, respectively, on a fully-diluted in-the-money basis.
The Exchange Ratio implies a consideration of C$1.71 per Lake Shore Gold common share, based on the closing price of Tahoe common shares on the Toronto Stock Exchange on February 5, 2016, representing a 14.8% premium to the closing price of Lake Shore Gold on February 5, 2016 and a 28.6% premium to the closing share of Lake Shore Gold on February 4, 2016.
As of market closing on February 5, 2016, the implied equity value was ~C$945 million, on a fully diluted in the money basis assuming the conversion of in-the-money convertible debentures.
The following shows the share price performance of each company, along with Market Vectors Junior Gold Miners ETF (NYSEARCA:GDXJ) since the acquisition was first announced on February 8: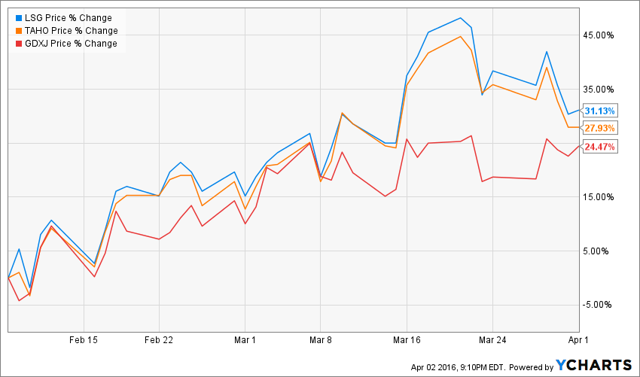 And over the last year: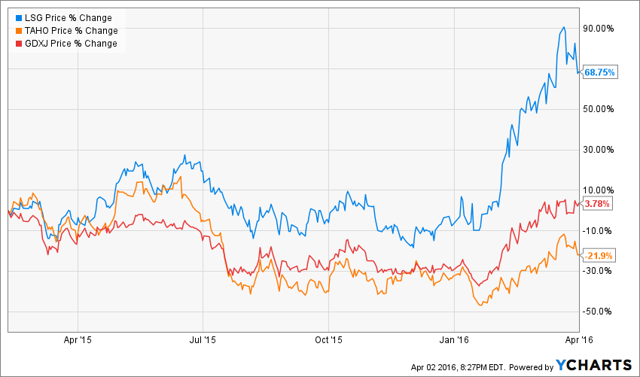 More Mergers and Acquisitions
At the time of the announcement, mining stocks and the spot price of gold were just starting to recover from the severe punishment they had witnessed throughout the first month of 2016. However, even at this early juncture, many LSG shareholders were outspoken and livid with the news, feeling that the terms represented a "low ball" offer; not only that, but the timing seemed premature with a suddenly advancing gold price.
Since the Tahoe Resources and Lake Shore Gold deal was announced, merger and acquisition (M&A) activities have picked up rapidly in the gold space; on March 4, Endeavour Mining (OTCQX:EDVMF) announcing plans to acquire True Gold (OTCQX:RVREF) for a 43.4% premium.
Next to follow, on March 7, Silver Standard Resources (SSRI) made an announcement to acquire Claude Resources (OTCQB:CLGRF) at a 30% premium.
Certainly, the additional datapoints that have followed seem to indicate that the management team at Tahoe Resources made a shrewd acquisition at both an attractive price point and at the right time. On the other side of the coin, it is understandable to see how a LSG shareholders could feel as though management should have held out longer for a better deal.
The Combined Entity
The new company projects to be a 450,000 oz/year gold producer and in addition, a 20 million oz/year silver producer. Total output, would represent between 700-750k oz/year in gold equivalent ounces (GEO). Cash costs for gold should fall below $700/oz, with all-in sustaining costs (AISC) below $900/oz.
For 2016, the combined guidance is as follows:


Source: Tahoe Resources Corporate Presentation
1. See Tahoe press release dated January 14, 2016; 2. See Lake Shore press release dated January 8, 2016; 3. Using Gold price of $1,175/oz and Silver price of $15.00/oz.
Tahoe Resources - Escobal (Guatemala)
The flagship project that Tahoe Resources brings to the table is its Escobal mine in Guatemala.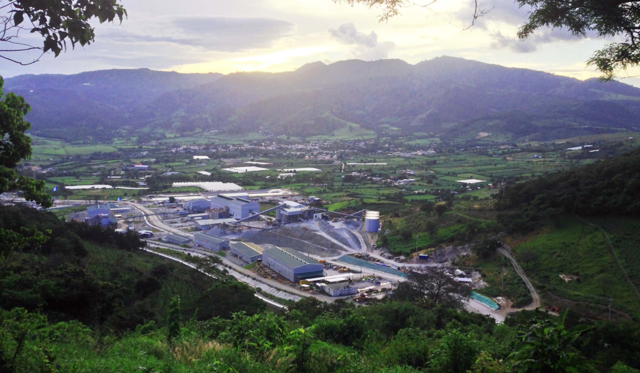 Source: Tahoe Resources
In 2015, silver production from Escobal was 20.4 million ounces.
From Tahoe Resources:
As of January 1, 2016, Measured and Indicated mineral resources for the Escobal deposit totaled 389 million silver ounces at an average grade of 332 grams per tonne (g/t), with significant quantities of lead, zinc and gold. Proven & Probable Reserves are 29.1 million tonnes at an average grade of 332 g/t silver, containing 310.4 million ounces of silver.
Tahoe Resources - La Arena (Peru)
Tahoe Resources also holds gold assets, most notably the La Arena mine, a gold-copper deposit which was acquired from Rio Alto Mining in early 2015.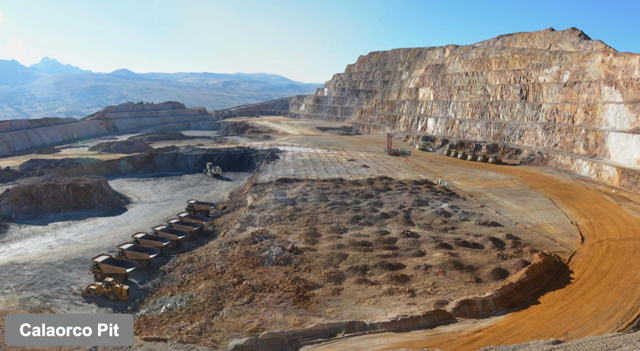 Source: Tahoe Resources
In 2015, gold production from La Arena was 230,436 oz.
From Tahoe Resources:
As of January 1, 2016, Measured and Indicated oxide resources totaled 120.8 million tonnes with an average gold grade of 0.32 g/t and Proven and Probable oxide reserves of 80.3 million tonnes with an average gold grade of 0.36 g/t containing 919,000 ounces of gold. The mine produced a record 230,436 ounces of gold in 2015.

As of January 1, 2016, Measured and Indicated sulfide mineral resources for the La Arena deposit totaled 274 million tonnes with average gold and copper grades of 0.24 g/t and 0.33 percent, respectively. Proven and Probable sulfide reserves are reported at 63.1 million tonnes with average gold and copper grades of 0.31 g/t, and 0.43 percent, respectively.
Tahoe Resources - Shahuindo (Peru)
Tahoe's third project is the Shahuindo gold mine, located 30 km north of the La Arena deposit in Peru.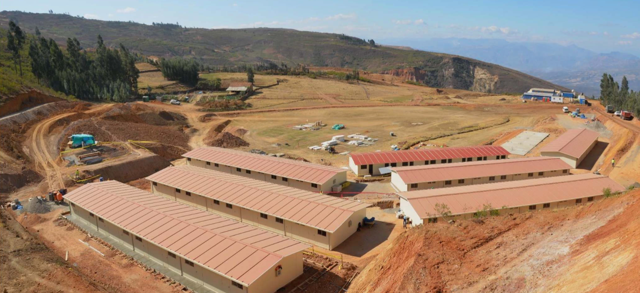 Source: Tahoe Resources
Construction of this mine commenced in mid-2015, with commercial production slated for Q2 of 2016. Shahuindo Phase 1 (10,000 tpd Run of Mine Heap Leach from 2016‐2017) is expected to produce gold in the neighborhood of ~75k oz/year.
From Tahoe Resources:
The mine's technical report, dated January 2016 and prepared in accordance with NI 43-101, estimates Measured and Indicated oxide resources of 143.1 million tonnes with an average gold grade of 0.50 g/t, containing 2.28 million ounces of gold. Proven and Probable oxide reserves total 111.9 million tonnes with an average grade of 0.53 g/t, containing 1.91 million ounces of gold.
Lake Shore Gold - Timmins West (Timmins, Ontario)
Lake Shore Gold's Timmins West underground complex, consisting of the Timmins and Thunder Creek deposits, are located in Timmins, Ontario.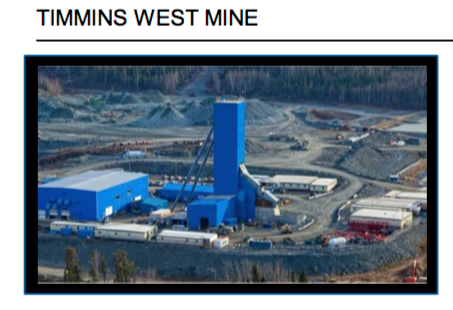 Source: Lake Shore Gold
In 2015, gold production from Timmins West was 139,000 oz.
Probable reserves show 391,800 oz reserves (2.895M tonnes at 4.2g/t), as of December 31, 2015.
Lake Shore Gold - Bell Creek (Timmins, Ontario)
The secondary producing mine in Lake Shore's portfolio is Bell Creek, also located in Timmins, Ontario.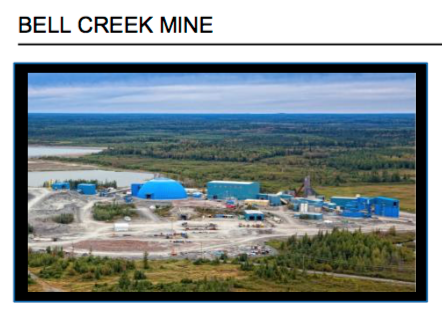 Source: Lake Shore Gold
In 2015, gold production from Bell Creek was 39,700 oz.
Proven and Probable reserves show 309,300 oz (2.131M tonnes at 4.5 g/t) as of December 31, 2015.
Lake Shore Gold - Exploration Projects
The 144 Exploration Area, located southwest of the Timmins West mine has garnered the most excitement thus far, and a new drill program first commenced in August 2014.
From Lake Shore Gold:
On February 8, 2016, the Company announced an initial resource estimate for the 144 Gap Deposit. The resource estimate includes 1,734,000 tonnes at an average grade 5.41gpt for 301,700 ounces in the indicated category and 1,914,000 tonnes at an average grade of 5.19 gpt for 319,200 ounces in the inferred category. Following release of the initial resource, the Company is commencing development with plans for test stoping in the second half of 2016. A total of 10,000 to 15,000 ounces of non-commercial production is targeted before the end of the year.
Additional projects include - Gold River 4 km south of Timmins West (drill program planned for 2016), Whitney, acquired from Temex Resources in September 2015, further potential at Bell Creek to extend the mine life through the Labine Deep Zone, and Fenn-Gibb 60 km east of Bell Creek, which is a potential large-scale open pittable project.
Capital Structure
As of February 5, 2016, the new pro forma of the combined company looked like this: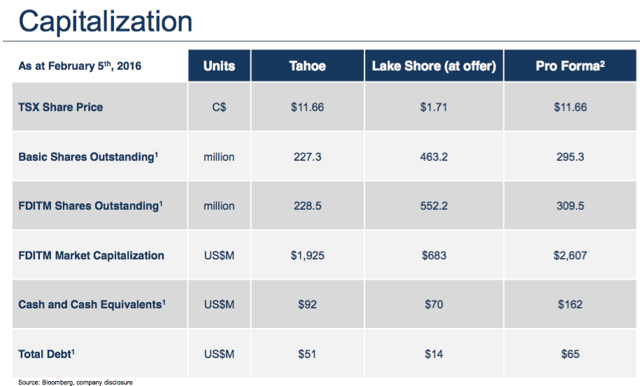 Note: Assumes a C$:US$ FX rate of 0.72231.
1. Share capital and balance sheet items as of September 30, 2015 adjusted for reported subsequent events. Cash excludes proceeds from in-the-money options and warrants and excludes transaction related expenses. Lake Shore convertible debenture is included in the FDITM shares outstanding and excluded from debt. Conversion price is C$1.402.
2. Pro forma figures calculated based on Tahoe's closing price on the TSX on February 5th 2016.
Source: Tahoe Resources Corporate Presentation
At first glance, the balance sheet of the combined entity looks pretty strong at $162 million in cash and cash equivalents with only $65 million in debt. As mentioned in Item #1, Lake Shore Gold's convertible debentures have been excluded from the debt.
On April 1, it was announced -- TAHOE RESOURCES INC. AND LAKE SHORE GOLD CORP. COMPLETE BUSINESS COMBINATION; ANNOUNCE ELECTION TO REDEEM CONVERTIBLE DEBENTURES.
Debentureholders maintain the right to convert the Debentures at any time prior to 5:00 pm (Toronto time) on May 13, 2016 at a conversion price of $9.5433 per Tahoe Share, being a conversion rate of 104.7856 Tahoe Shares per $1,000 principal amount of the Debentures. If all of the outstanding Debentures are converted by debentureholders at this conversion price, a total of approximately 10,811,895 Tahoe Shares will be issued on conversion.
Previously, on February 8, from the Financial Post:
Lake Shore is keen to invest in its growth projects and expand production in Timmins. But its balance sheet is constrained, with $103 million of debentures coming due in September 2017. To develop these projects quickly, chief executive Tony Makuch said the company would have to issue equity or take on more debt, either of which could be negative for shareholders.

"We were a little bit strapped," he said in an interview. "We knew we had some good things we wanted to build, but we knew we were going to have to take our time." He thinks a combined Tahoe-Lake Shore will be in a better position to move forward with these projects. It will have a much stronger balance sheet than Lake Shore has on its own.
By this upcoming May, it now looks like Lake Shore's previous $103 million debt overhang will be no more, when the debentures are fully redeemed/converted.
For Tahoe Resources Shareholders
Through the merger with Lake Shore Gold, shareholders of Tahoe Resources gain access to a safe, first-world jurisdiction and premiere gold region in Ontario. Further, Lake Shore will bring with it a clean balance sheet and ~179,000 oz/year of gold through two producing mines in Timmins West and Bell Creek. With the La Arena mine already generating revenue and Shahuindo due to come online later in 2016, Tahoe will have a good mix of producing assets spread out between Ontario and Peru to complement its flagship silver deposit, Escobal in Guatemala.
Further, Lake Shore will sprinkle in the exciting 144 Gap deposit exploration project, along with a slew of others. By closing the deal when it did, Tahoe shareholders should also be quite pleased with the 28.6% premium it paid out for the acquisition, which will look quite modest should the gold rush recovery of 2016 continue to pick up steam.
For current shareholders of TAHO, the price to pay for these Canadian assets will be felt through share dilution. In the big picture, though, the Lake Shore merger may well prove to be accretive and worth the effort. Time will tell.
For Lake Shore Gold Shareholders
Although the combination of companies might look a tad rosy from the Tahoe Resources perspective, the view is a little bit more hazy from the Lake Shore Gold side of things. Prior to the deal, shares of LSG traded at a market premium in part because Lake Shore was considered an ascending mid-tier gold producer that operated solely in a world class jurisdiction. The merger with Tahoe Resources alters the story, as the previous thesis now changes -- The new company will have operations in multiple regions (Guatemala and Peru), in addition to Ontario. Fair or not, diversification from purely a North America jurisdiction into South America is generally considered a "downgrade" by the market due to an increase in perceived geopolitical risks. Guatemala, in particular, has never been highly regarded as a region most hospitable to mining.
TD Securities analyst Daniel Earle said Guatemala operations will make up 58 percent of the combined company's net asset value. Canada will make up 25 percent, and Peru will be 17 percent.
The Ontario focus now only comprises a fraction of the overall story for the new company.
Further, the introduction of the Escobal mine brings a silver component to the table that was not previously there. The reception from LSG shareholders has thus far been mixed as some are receptive to the diversification silver would bring to revenue streams, while others would prefer the company remain primarily a gold producer.
In addition, the timing of the deal could not have come at a worse time, as far as some LSG shareholders were concerned. With gold and gold mining stocks finally able to catch a bid after a brutal 4+ year bear market, the perception (shared by a minority) is that the LSG leadership team was too insistent on cashing out at the first chance they got. Management's "quick reflexes" have rubbed some long-term shareholders the wrong way, many of who purchased LSG stock with the intent of either selling at a much higher share price later, or presumably after a "no-brainer" take-over bid arrived; the Tahoe bid was clearly not the latter part of the equation that these shareholders had in mind.
Subsequent M&A deals that followed in the sector (e.g. Endeavour Mining and True Gold) suggests that Tahoe Resources did not in fact have to pay a substantial premium to secure the Ontario resources; as shareholders of the company being acquired, it is understandable why the LSG camp would be upset with "only" a 28.6% premium.
Lastly, TAHO does payout a monthly dividend ($0.02), so LSG shareholders who don't elect to sell can look forward to $0.24/year (2.39% yield), which can be viewed as a nice token in this current commodities environment, all things considered.
Conclusion
From a more neutral perspective (and with the dust settled), what we have here now is a new company that will be an emerging player in both the gold and silver space. With 2016 annual production targeted at 370-430k oz of gold (AISC of $950-1,000/oz) and 18-21M oz of silver (AISC of $10-11/oz), total GEOs will range from 600-700k oz (AISC of $885-950/oz).
Further, the portfolio of assets is well diversified and spread out geographically between: Guatemala, Peru, and Ontario.
With a pro forma indicating a rough balance sheet of $162 million in cash and cash equivalents and $65 million in debt, the combined entity should be well positioned to fund further exploration work and development (such as the 144 Gap deposit).
Shares of TAHO have greatly underperformed the GDXJ ETF over the last year. For investors sitting on the sidelines, the relatively weak performance in TAHO shares Y/Y may have created a decent opportunity to tranche into this up and coming mid-tier producer.
Disclosure: I am/we are long LSG.
I wrote this article myself, and it expresses my own opinions. I am not receiving compensation for it (other than from Seeking Alpha). I have no business relationship with any company whose stock is mentioned in this article.