Stocks opened the day Friday gap-lower, but note that at 10:00 AM EDT they started a move higher. In fact, by the end of the day equities were marking their highest close of the year. The catalysts were clear, as a solid monthly jobs report raised concern about near-term Fed action on interest rates. That impacted stocks for the worse to start the morning, but 10:00 AM data on manufacturing was so important, it allowed equities to race higher nonetheless. That was especially true given some good news out of China. But will it last?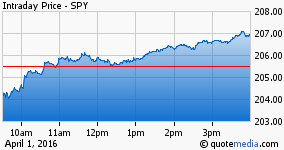 Day-Chart of SPY at Seeking Alpha
In this day-chart of the SPDR S&P 500 (NYSE: SPY), you can see that stocks reacted poorly Friday morning to some relatively good news about employment. The Employment Situation Report was reported at 8:30 AM EDT, as is customary. The data for March showed nonfarm payrolls increased 215K, modestly better than the 210K forecast by economists' on average. Also, February's data was revised higher to 245K nonfarm payrolls, from 242K. Taking out the government contribution, private nonfarm payrolls increased by 195K in March, just slightly short of economists' expectations for 200K and ADP's estimate for the same. Private nonfarm payrolls for February were also revised higher, to 236K, from 230K. The unemployment rate inched higher to 5.0%, but that was partly due to an increase in labor participation to 63.0% from 62.9% (labor force increased by 396K). Employed Americans increased by 246K while the unemployed increased by 151K. So, that is pretty good data, especially considering the softness we have seen in some of the data for January and February. The news appeased my own concerns as well.
However, investors didn't take the news well at all as you can see in the chart above. Why is that? Well, employment improvement was just noted by Chicago Fed President Evans as the potential basis toward a possible rate hike in June. And even if he hadn't said it, we know this data helps to appease Fed concerns about the possibility of a slowdown, and it therefore increases the likelihood of a rate hike in June. I've explained time and again the economic importance of Fed rate actions, but briefly, anything that raises the cost of capital for corporations raises their threshold for return on invested capital to create value. In other words, it really matters in a tangible manner.
The chart shows that this initial reaction did not hold. At 10:00 AM EDT, we received important data on manufacturing. It's important because the manufacturing sector had by some accounts been indicating it was in recession. Well, on Friday, ISM's Manufacturing Index moved up from 49.5 in February to 51.8 in March. The move was meaningful beyond just the fact that it exceeded the prior month and also economists' expectations for 50.5. Crossing over the 50.0 mark signifies the sector's escape from a period of contraction into expansion. Such inflection points are meaningful to markets.
While the change in the ISM data also increases the odds of a Fed rate hike in June (or April), its indication of stability in the U.S. economy via the erasing of some concern about manufacturing is immensely more important. Economic robustness can justify Fed rate hikes and stabilize stocks even through monetary tightening. That was clearly illustrated Friday.
It certainly helped that PMI data from China also improved in March, rising to 49.7, from 48.0 in February. China's economic growth slowdown has been at the heart of global financial market volatility this year. Thus, the sign of a possible turn forming for China added fuel to the fire for investor confidence. But can it last?
I do not think so. My main concern is Europe. The PMI data for eurozone manufacturing, also reported Friday, showed improvement generally. However, there was notable softness reported for Germany (50.7) and France (49.6), the "big two". My concern for Europe goes beyond this data, as I anticipate there will be economic repercussions arising from recent terrorism and concern about more of it. I anticipate European Central Bank (ECB) Chairman Draghi might have something to say about it at this week's non-monetary meeting of the central bank, or after it. Those economic repercussions should reverberate to energy prices and by that means set back U.S. equities.
| | |
| --- | --- |
| Security Sector | 04-04-16 2:30 |
| SPDR S&P 500 | -0.4% |
| SPDR Dow Jones (NYSE: DIA) | -0.3% |
| PowerShares QQQ (NASDAQ: QQQ) | -0.4% |
| iShares Russell 2000 (NYSE: IWM) | -0.7% |
| Vanguard Total Stock Market (NYSE: VTI) | -0.4% |
| Financial Select Sector SPDR (NYSE: XLF) | -0.5% |
| Technology Select Sector SPDR (NASDAQ: XLK) | -0.4% |
| Energy Select Sector SPDR (NYSE: XLE) | -0.9% |
| Health Care Select Sector SPDR (NYSE: XLV) | +1.2% |
| Consumer Discretionary Select Sector SPDR (NYSE: XLY) | -0.8% |
| Consumer Staples Select Sector SPDR (NYSE: XLP) | -0.4% |
| Utilities Select Sector SPDR (NYSE: XLU) | -0.6% |
| Materials Select Sector SPDR (NYSE: XLB) | -1.2% |
| Industrial Select Sector SPDR (NYSE: XLI) | -1.0% |
| iPath S&P 500 VIX ST Futures (NYSE: VXX) | +2.1% |
| SPDR Gold Trust (NYSE: GLD) | -0.6% |
| United States Oil (NYSE: USO) | -2.6% |
Stocks are reflecting volatility Monday, as oil prices are falling. So far, I'm not hearing it being tied to concern about Europe, but I see it as the key issue. I believe popular opinion will turn its focus to the topic after the ECB Chair broaches it, likely this week. I remain negative stocks, oil and gold. I cover the markets closely and will have more to say on the commodities shortly, and invite relative interests to follow my column here at Seeking Alpha.
Disclosure: I/we have no positions in any stocks mentioned, and no plans to initiate any positions within the next 72 hours.
I wrote this article myself, and it expresses my own opinions. I am not receiving compensation for it (other than from Seeking Alpha). I have no business relationship with any company whose stock is mentioned in this article.